Oakwood Elementary teacher Jerrica Dula starts her seventh year teaching today, but her love for education began during childhood when Dula would play pretend school.
"I would set up all my baby dolls in the living room," Dula said.
The Taylorsville native earned her degree in elementary education from Gardner-Webb University. Now, Dula lives in Granite Falls and teaches math and science to Hickory fourth-graders. This is her first year teaching fourth grade after being a fifth-grade teacher for six years.
"It was just an opportunity that was there," Dula said about the switch. "And I thought it would be something great for me. Something different to help me grow and challenge me."
In college, Dula always thought she'd be a kindergarten teacher, but after accepting the job for a fifth-grade teaching position at Oakwood, Dula knew she was in the right place.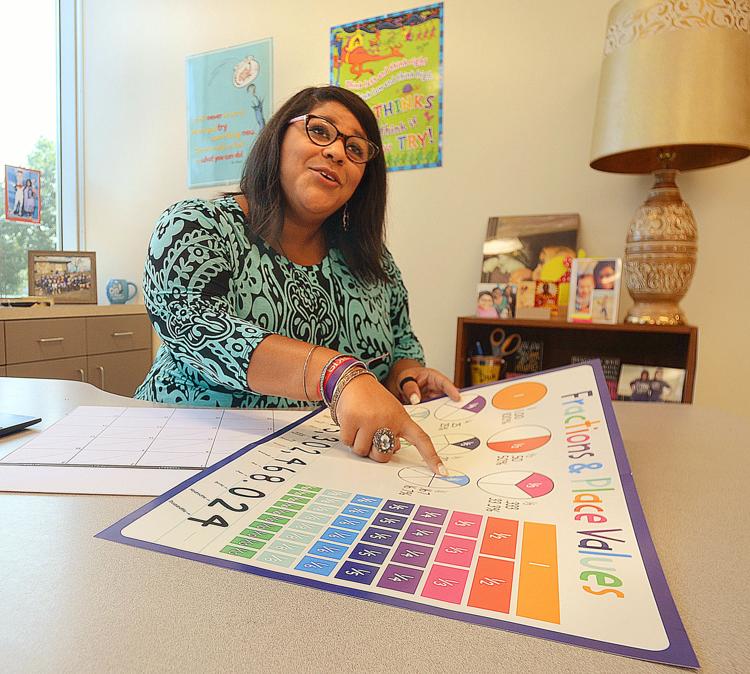 "I loved fifth grade," she said. "I've been (at Oakwood) my whole teaching career. Oakwood is a special place and I love it here. I'm really excited about experiencing a new grade."
Dula's classroom is bright, neat and shows her love for Dr. Seuss.
At the beginning of each school year, Dula reads her students the Dr. Seuss classic, "Oh the Places You'll Go."
"I do an activity with that, you know, just trying to get students to realize don't limit yourself. The sky's the limit," she said.
Dula is beloved at Oakwood. The school's principal, Terry Ashley, wrote a letter as part of the nomination of Dula for teacher of the year. In the letter, he wrote: "In my 38 years in public education, I have never met a teacher who walks in smiling every single day of the year. Her love for teaching certainly shows, and we are honored for her to represent Hickory Public Schools as their Teacher of the Year."
Dula's 2019-2020 Teacher of the Year plaque is displayed in her classroom. She also received a new car from Mike Johnson's Hickory Toyota to drive for free for the next year.
"Growing up, wanting to be a teacher you're never like, 'Oh, I want to be a teacher because I want to be Teacher of the Year,'" Dula said. "It's just one of those gifts that make you feel so appreciated."
Dula is known for her positive attitude and overall love and passion for teaching inside and outside the classroom. Dula also teaches Sunday school at her church and for the last several years she's taught at an after-school program called Inspired Learning.
Dula is a member of the Alpha Delta Kappa Educational Honors Society and presents at math conferences alongside her teaching teammate Caitlan Reese.
Reese shares the same classroom of students with Dula.
"She loves each student as if they are her very own," Reese wrote in her letter to the Teacher of the Year selection committee. "They know without a doubt that she believes in them and wants only the best for them. Students are always smiling and laughing when she is around, but always working hard!"
The following answers were edited for length and clarity:
When students come to your classroom, what do you want them to feel?
I want them to feel safe. I think mindset is huge. I always start the year with us looking at a growth mindset versus a fixed mindset. We know math can be challenging. And I tell them math can be challenging and I tell them there's going to be challenges. And I think it's important that students realize it's OK to make mistakes because those are opportunities we have to learn.
What is your favorite memory of being a teacher so far?
(It's) definitely seeing student success and seeing students realize within themselves they are smart and they can do it … Students finding their self-confidence and being able to be proud of themselves is always rewarding.
What is the best piece of advice you've received?
I would say, educationally, a lot of advice came from my cooperating teacher I had while student teaching. She was a great picture of what a teacher is … When you come into the field, you just want to be the best, but you're new. You're not going to do everything right; not everything is going to be perfect. So it's OK to ask for help … It's OK to grow as a teacher because that's what you're supposed to do … You're a continual learner.
Do you have any unconventional teaching methods?
I really love hands-on learning. I'm a very visual learner … I love the conceptual part of Common Core — drawing models, drawing pictures — I teach math that way daily.
What is the most challenging part of your job?
It's having a class full of students with so many different levels and being able to, in restricted time order, being able to reach every kid … That's a challenge but I think that challenge pushes me because I want to reach every child.
What are some of your other hobbies outside school other than reading?
I love the outdoors. I love to go hiking and bike riding. I love to go on vacation. The beach is my favorite place, so I take a lot of cruises … And I just love spending time with my family.
What's something you know now you wish you knew on your first day of teaching?
That teaching is a learning experience.
Correction: This story was corrected at 8:36 a.m. on Aug. 26 to correct the spelling of Terry Ashley's name.