Cadets with Hickory High School's Army JROTC were overjoyed when they received a visit from a former classmate on Friday.
Pfc. Robert Membreno graduated early from Hickory High last semester and immediately enlisted with the Marine Corps. He is home for a short time following his graduation from boot camp on May 17, and decided to come share his experience and attend the school's flag-raising ceremony for Memorial Day.
"It's kind of unusual, because I'm not used to being away from home … Being over there is different. You learn about a lot," Membreno said, describing his time as a Marine so far. "I didn't get to talk to Mom and Dad every day. If they wrote a letter those first three weeks, I didn't hear from them. But once you hear from them, definitely keeps you going.
"There's nothing better to do than to serve your country, if you're willing to do it. That's what I believe."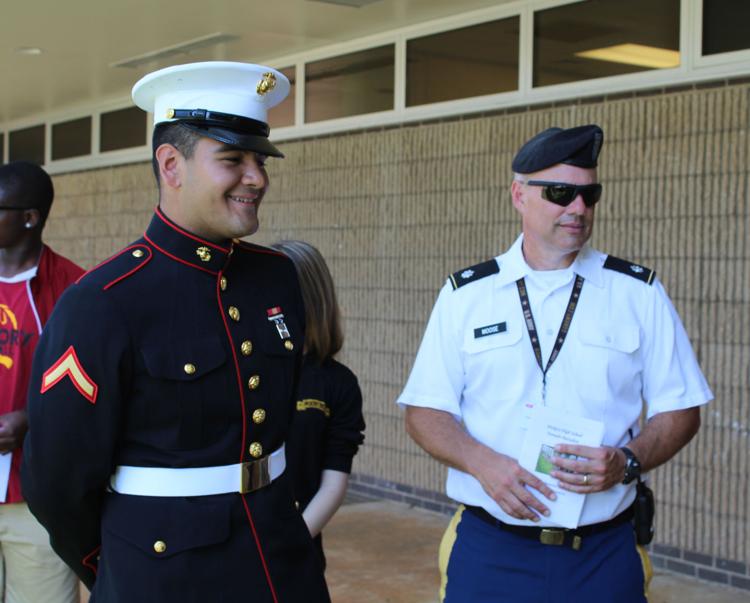 Membreno lost 33 pounds during boot camp. He said his parents didn't even recognize him when he saw them at graduation, noting his voice sounded different.
Membreno will be heading to Camp Geiger in Jacksonville next, which means his family will be able to visit him.
Lt. Col. Channing Moose was thrilled to see Membreno and is proud to have been his instructor while Membreno was a cadet in the Army JROTC program.
"We brag on a lot of the athletes. We brag on a lot of the people going to college, which deserve that, but who really deserves a little bit of accolades for their commitment to serve their country are people like Robert Membreno," Moose said.
Moose hopes other students will see Membreno and feel inspired by his accomplishments and his commitment to his country.
Correction: This article was corrected on May 27, 2019, at 7:20 p.m. to reflect the correct spelling of Pfc. Robert Membreno's last name. The Hickory Daily Record regrets this error.