Corey Richardson did not plan on being an advocate for people struggling with substance use disorders and mental health concerns, especially as he fought his own addiction. 
"I woke from 10 years of (substance) use with nothing but wreckage in my wake," he said. "I have been 21 years clean and sober now and I have tried, through my life's work, to make amends for those wrongs."
Today, Richardson is focused on advocacy. "As long as I can make a difference, that's what is important to me," he explained. He is the CEO and Clinical Director of Integrated Care of Greater Hickory, which offers medical, behavioral, pharmacy, transitional housing, transportation and comprehensive toxicology services to Catawba, Gaston, Surry, Robeson, Iredell and Lincoln counties. 
Richardson is also a psychotherapist in addiction, certified clinical supervisor and research doctorate in the field of addiction. He regularly serves as a peer reviewer for research studies bound for publication in various medical journals, as well. 
His story serves as proof that substance abuse can tighten its grip on anyone. "It's a public health concern, and even more so when you're dealing with a (medical professional) who has a substance use disorder," Richardson said.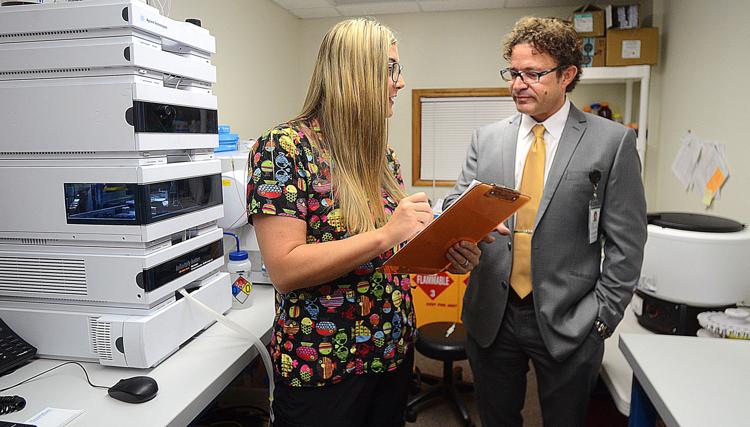 The way Richardson said he's decided to make amends is by helping others, "escape the nightmare of addiction, depression and trauma." By establishing the Integrated Care office, he added that he has reached thousands of people struggling with substance use. 
"I know our life on this planet is very short, and I am doing my best to make a difference," Richardson said. When asked what drives him, he said it's the changes he sees in clients.
"Some have come in sick from cravings, withdrawal and crippling depression. After being with us and working hard in our programs, now they are in long-term recovery from both drugs and mental illness, and living happy and productive lives," he explained.
Another way Richardson advocates for people with substance use disorders is through prevention and educational presentations. He has worked closely with North Carolina Gov. Roy Cooper, U.S. Rep. Patrick McHenry and various other government organizations on discussing the opioid epidemic and intervention strategies.
Richardson has also published over 30 articles and papers on addiction and conducted research specifically on medical professionals with addiction and substance use disorders. 
"I often tell people — whether physicians, social workers, nurses or a group of our new participants in early recovery — I have suffered almost every consequence of this disease called addiction. If I can recover, anyone can," Richardson said. 
"With every breath I have left I hope to reach as many people suffering from addiction and other behavioral health problems, and let them know they do not have to live this way."
What gives you joy? 
"Watching a person destroyed from addiction, codependency, clinical depression, or devastating trauma turn his or her life around in one of our programs. Reaching out to others at one of my talks to let them know that there is hope … today."
What is the greatest challenge you've had to overcome? 
"Asking for help for my own alcoholism and drug addiction. Starting over. Trying to help others every day, even when they don't want help. Trying to explain to some that addiction and mental illness is not a moral failing or personal weakness. These are treatable diseases. But left untreated – they are fatal."
What is something you would change about your life? 
"There are things, but we can never change them. We can be guided by those mistakes, and they can guide our future decisions. I believe that is called living an amended life. I try to live an amended life."
To learn more about ICGH, visit www.integratedcarehickory.com or call 828-322-5915.