Hickory dwellers may know Katye Fredieu for her downtown shop, Artisan Soapery, where she and her team fashion homemade bar soap and other skin care products. Her store wholesales products to shops across the country, and she opens a pop-up store at Valley Hills Mall during the holiday season.
Fredieu finds herself at most downtown events, as she is serving a three-year term as a Hickory Downtown Development Association board member. Others may know her as a speaker, life coach, wife and mother of two.
Born in Honolulu, Hawaii, Fredieu spent a short time dancing and performing with her siblings at Hawaiian festivals, which are known as Ho'olaule'as. She considers her hometown to be Las Vegas, where she moved as a young child and lived for 25 years.
In high school, Fredieu made sure to stay involved.
"For all four years I participated in volleyball, soccer, swimming, choir, and marching band. I played percussion for nine years," Fredieu said. "Every once in a while I still enjoy jammin' on a drum when I find one."
Cake décor appealed to Fredieu, so she opened A Slice of Love in Las Vegas.
"My cake business was thriving, and I could see myself retiring as a baker one day. However, life had other plans for me," Fredieu said.
In 2011, a life-threatening motorcycle crash sent Fredieu to the hospital with 18 fractures and numerous scars. She was in a wheelchair for over a year.
"The scarring on my body caused me to develop severe hypersensitive skin. Every product I tried caused a break out of terrible rashes," Fredieu said. "I began researching and developing my own skin care products out of desperation. Little did I know what a pivotal moment that decision was."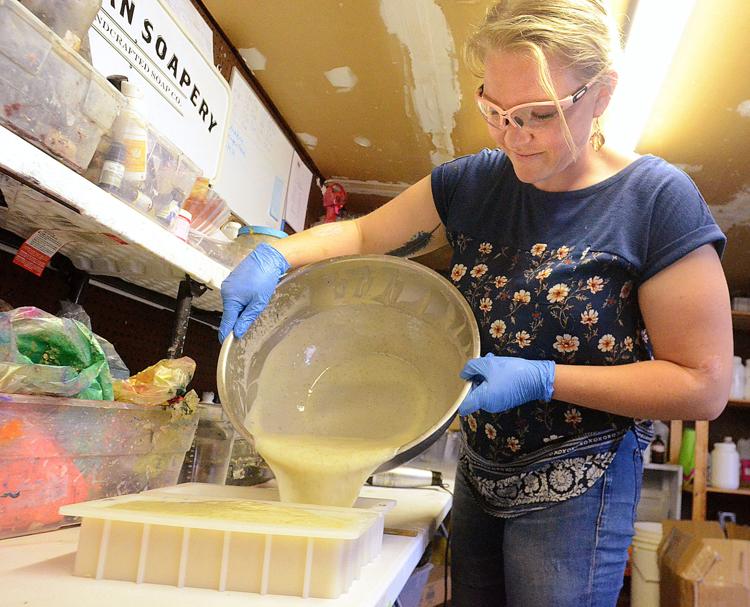 In late 2014, Fredieu opened Artisan Soapery in Hanford, California. She moved the store from the local mall to downtown Hanford before taking operations to a beachfront location at Morro Bay in May 2015.
When Fredieu's husband retired from the United States Air Force a few years later, they both realized it was time to settle down.
"All of our wants and needs led us to North Carolina," Fredieu said.
During her search, Fredieu connected with former Hickory downtown director Connie Kincaid. "While (Kincaid) was explaining what made Hickory so special, I could feel the passion she had for her town," Fredieu said.
Upon arrival in May 2017, Fredieu joined the downtown association, attended committee meetings and engaged with the community all while Artisan Soapery's new location on Union Square was under renovation.
The 32-year-old was named one of Hickory Young Professional's Top 10 Under 40 in November 2018.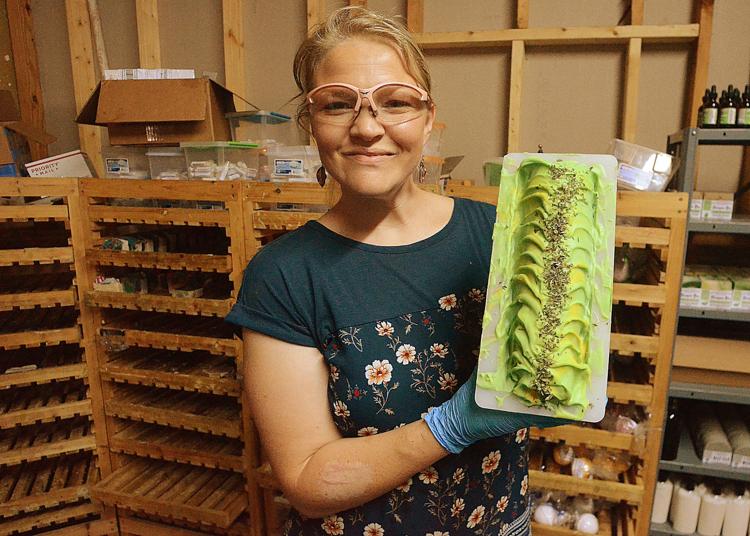 "It was a great honor to even be nominated, and such a humbling experience to win," Fredieu said. "I am very grateful and look forward to continuing my community leadership and contributions in the years to come."
Fredieu shared her thoughts on several topics. The answers were edited for length and clarity.
What motivates you?
My team and my family are big motivators for me. I couldn't be where I am today if it wasn't for the support I've received from my family and the efforts of my amazing team at Artisan Soapery -- from my retail employees, accountant, business operations manager, production assistants, handyman, and professional organizer. They come to work every day radiating positive energy with a love for what we do. That motivates me to be the best leader I can be because they deserve nothing less. Of course, my husband and children are big motivators for me. It's important for me to have my kids grow up seeing what hard work, perseverance, good work ethic, and determination can accomplish.
What makes you happy/gives you joy?
So much! Simply being given another day on this earth makes me happy because I've been given another day to help others and make a difference. Sitting in the backyard with my farm animals makes me happy. Watching my kids laugh themselves to tears gives me joy. Skydiving brings me joy. Volunteering for great causes makes me happy. My family gives me copious amounts of joy. Customer testimonials also make me so happy. I may never be a millionaire, but when customers take the time to let me know how my products have improved their skin's health in one way or another, that's such a rewarding feeling I can't describe in words.
When are you happiest?
I love my business, but I am happiest when I take the time for self-care. Whether that's during free fall when I skydive, holding my kids after a long day, disconnecting from technology to hike up a mountain, or simply sleeping in on occasion (a mom's treat!).
What is the greatest challenge you had to overcome?
All of the failures that come with being a business owner. Learning how to face fear instead of run from it. No matter how many mistakes you make, there are always more to come. That's life! However, I learn from every mistake and use the lesson to make me stronger, smarter and wiser. Another challenge that I have to overcome every day is learning to live in pain. My body is full of titanium hardware from the injuries I sustained in my accident eight years ago. Some days are better than others, but I manage it the best way I can!
What is the best advice you have received? Who gave the advice?
Anything Brene Brown! I absolutely love her books and speeches. She puts so many things in life that I struggle with into perspective. I have gained such an incredible sense of self-awareness and understanding from her research. She's helped me overcome fear, hold myself accountable, be courageous, vulnerable, take a deeper look at myself before I apply blame, and so much more.