When Norman Coley died unexpectedly in 2014, an eagle appeared at his and wife Bondi's Lake Hickory home. "It soared around the house for five days," said Bondi. Thanks to the Norman B. Coley Foundation and the City of Conover, the municipality that Norman loved has its own amphitheater. The stage's roof brings to mind that mighty bird, its wings spread as they were those five days.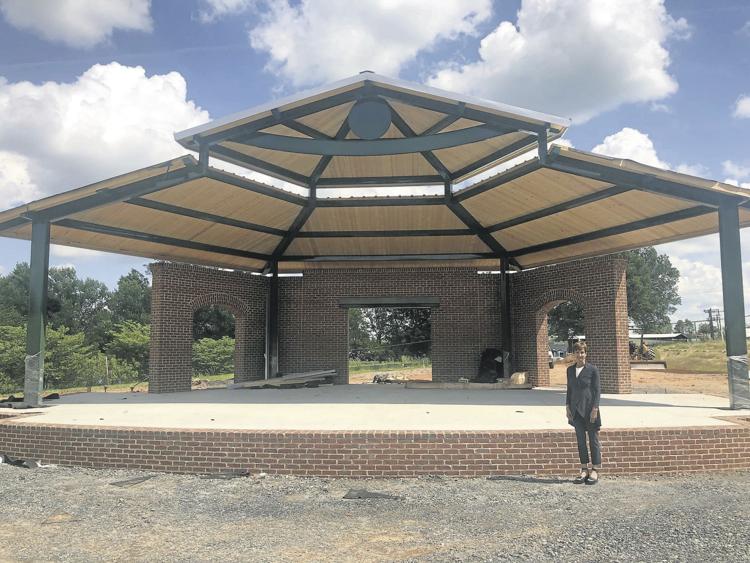 Besides its appearance, the 1,800-square-foot structure, located in Conover City Park at 361 5th Ave. SE, represents another facet of Norman's life: his great love of music. He'd be excited to know that the foundation named for him has joined the Greater Hickory Jaycees to bring a four-concert series to Conover. The first event is May 18. It will feature two groups: On the Border and Coconut Groove.
Bondi said that after Norman's death, she and members of his family gathered at Conover City Park to talk about arrangements for the funeral service. They took notice of how "great" the park is, Bondi shared. Norman's appreciation for music came to mind and an idea took shape. Said Bondi, "Wouldn't it be awesome to have a stage here in Conover to bring the community together, and everyone sit around and make memories and have a good time?"
Thus was born the Coley family's Norman B. Coley Foundation "to support community efforts," said Bondi. The first would be the construction of the Norman B. Coley Amphitheater, "something that artists would want to play at," said Bondi. Next would come concerts. And in the mix would be the raising of funds for charitable organizations. Donations gathered at the May 18 event will benefit Meals on Wheels.
Norman loved Newton and Conover, Bondi pointed out, saying that he was the one who had the vision to turn what used to be the tired-looking, neglected Conover Chair building into the impressive LEE Industries corporate campus — a state-of-the-art manufacturing and office facility at 210 4th St. SW in Conover. Norman was the president of LEE Industries, which manufactures upholstered furniture. The company was founded in a Newton factory by Norman's parents, Bill and Dottie Coley, in 1969. Its current headquarters was up and running by 2013.
"We wanted to do something to honor [Norman]," said Bondi, who talked to Conover's city manager, Donald Duncan, about a stage or amphitheater at the park. It just so happened that Conover residents had recently voiced a desire for more gathering places in the city.
Bondi also mentioned meetings with other City of Conover staff members as well as fire and police chiefs. Everyone was on board. "It's been a joy to work with them," Bondi emphasized.
With grant money that Conover secured and a commitment from the Norman B. Coley Foundation to build the stage, the construction of the amphitheater got underway in the park that's part of the Conover Station site, an area of redevelopment containing businesses, the city's library, and a community park with a playground, splash pad, exercise equipment, walking trail, pavilion, and butterfly habitat to name some of the area's amenities.
"We're just thrilled to be a part of it," said Bondi, who contacted friend, musical artist and producer Jonathan Birchfield of Hickory to consult on the amphitheater project. Jonathan was — and continues to be — the go-to person for booking artists, bringing in entertainment, even working with the City of Conover on a variety of technical issues, such as electrical needs for the amphitheater.
"We wanted to make sure that any size artist could come in and play the amphitheater," said Jonathan, who, along with Bondi, is eager to bring about the appearance of bands not normally heard in Conover and its environs. "A different level of music," Jonathan described. "We're bringing in really good tribute bands."
The stage faces three-tiered seating. Combined with standing area, thousands can enjoy the talent that Jonathan secures for the amphitheater. It's close to being ready for performances, but not completely in place for the May 18 concert, so Jonathan has arranged for a stage to be brought in. By the time the next concert date, June 21, rolls around, all preparations will be finished, and performances from that time forth will take place in the new amphitheater, whose stage, by the way, was partially constructed with materials – the bricks in particular – that are reminiscent of the factories, such as the Broyhill Furniture manufacturing building, that used to operate on the Conover Station site.
Plans are still being made for an Aug. 10 NORMFEST, during which the stage will be dedicated. Also already under consideration are 2020 events and the second annual NORMFEST.
"We want to make this a destination place for music," said Jonathan.
Should an eagle happen to wing his way to Conover for a bird's eye view of a concert, I know he'll be most impressed.
Share story ideas with Mary at marycanrobert@charter.net