A couple of weeks ago, Karen Sain, a friend and much appreciated sharer of story ideas, emailed me about "the neatest experience" she'd had at Campbells Berry Farm in Bethlehem, where she "picked 5 pounds of the most delicious blueberries I have ever eaten," she wrote.
Karen continued, "They have you wash your hands thoroughly before giving you a bucket that hangs around your neck and then directing you to the best areas for picking . . . Aside from the task of picking, it is relaxing and addicting—-the beauty and peacefulness of the land mixed with the gentle breeze and solitude of the moment made me want to remain and just keep picking. It's hard to describe the feeling I got, but it is one I want others to experience."
So, off to Campbells Berry Farm I went – not to pick berries; I wanted to pick the owners' brains. Karen had suggested that Holly and Tracy Campbell's story was as good as their fruit.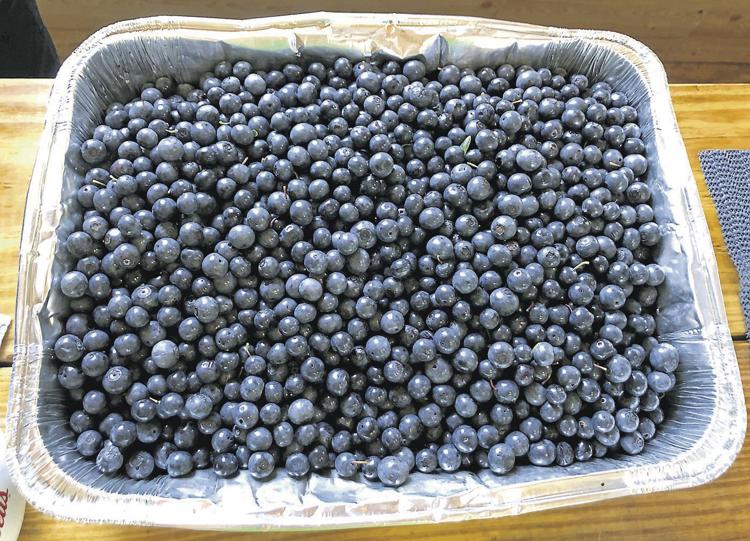 Holly told me right off that her and Tracy's six acres of some 2,800 blueberry bushes constitute a "you-pick blueberry farm," though they do have some already plucked berries for sale and are currently putting up frozen packs of the juicy orbs for folks who want to enjoy summer sweetness during the winter.
First surprise was how quickly the couple got the blueberry farm going. They planted around 1,500 bushes in late 2015 and another 1,300 or so in 2016. By 2017 they had fruit but weren't ready to open to the public. In 2018, Holly and Tracy welcomed blueberry pickers onto their property. Wow! According to Bill Cline, an NC State blueberry expert who visited the farm, the Campbells have accomplished something that usually takes much longer.
Holly and Tracy will tell you they wanted to get on with the business because they started it a little late in life and want to get it going well enough to eventually hire full-time workers, so the Campbells can enjoy more of a supervisory position. They currently get up early, work hard all day, and sometimes find it challenging just to walk home as dusk approaches.
So, why a business such as this in one's middle age? To answer that question, I must start at the beginning.
Holly was born and raised in New Hampshire. There was a family move to Vermont at some point, and when Holly was grown, her dad, Scott MacKenzie, started a blueberry farm with 2,000 bushes. Holly helped out the year before her father died and then ran the operation while it was on the market.
Tracy is an Alexander County native, though he attended Hickory High School. The land on which the blueberry farm exists is property that's been in Tracy's family for six or seven generations. In his 20s and 30s, Tracy farmed some 900 acres of field crops – corn, soy beans, wheat, and oats – on leased land in Burke, Catawba, and Alexander counties.
Then Tracy turned to building spec houses in the Hickory area. He had something in the back of his mind, though, and started construction of a charter boat on his Alexander property. Neighbors' eyebrows went up. "People wondered if he knew something," said Holly with a smile.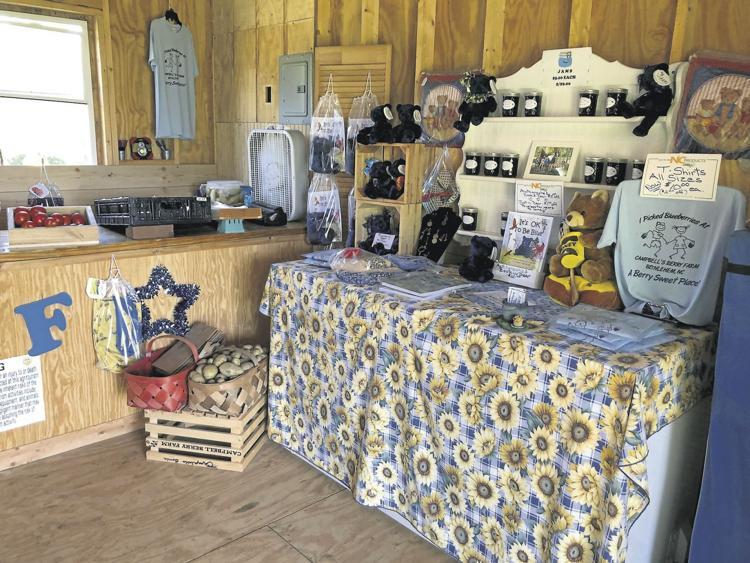 After 15 years in the construction business, Tracy hauled his charter boat to the Morehead City area and "fished it 10 to 12 years," said Tracy. Then he bought another charter boat – a 55-footer, rebuilt it, and "fished that one 10 or 12 years," Tracy explained.
Thinking back, Tracy suggested, "I phased into building while I was farming and phased into fishing while I was building." The fishing segment of his life "was a lot more fun than building," Tracy pointed out. His business was called Island Girl Charters. And let me just say that with his beard and rugged appearance Tracy can look the sea captain part as well as the farmer role.
Enter Holly, who'd moved to Newport, NC, and was working as a chiropractic assistant when she met Tracy sometime during his fishing days. They dated 10 years and then in 2011 tied the knot (nuptial, not nautical) while aboard the Island Girl.
"Once he brought me to Bethlehem for a visit, I fell in love with the place. I'm a mountain girl at heart, not a beach girl," said Holly. "I kept bugging him to move here." Holly got her wish a few years later when a man who'd previously worked as Tracy's mate – as had the man's son — offered to buy the Island Girl.
Clearing began on the Alexander County acreage, which hadn't been worked in a long time. Tracy and Holly were hands-on from the beginning, including placing every piece of pipe of a creek-fed irrigation system. The Campbells bought bare-root blueberry plants from a nursery. Tracy described them as "sticks with some roots on them." The couple planted them. When they started producing, Tracy sold the berries at the Taylorsville Farmer's Market; Holly on the side of the road. She also peddled them to restaurants. The goal was always to leave one person working at the farm while the other sold fruit.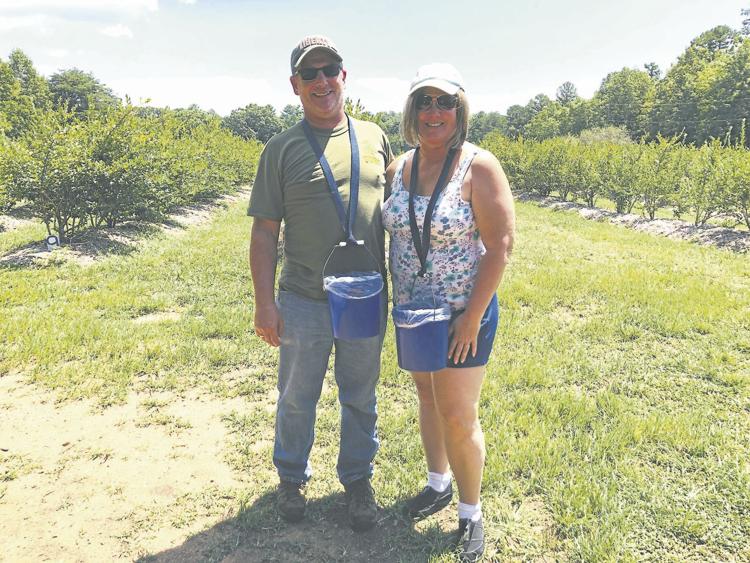 To be ready for pick-your-own customers, the Campbells needed what Holly's father had called a "picking shed." It's always convenient to have an experienced builder in the family, so Tracy – with Holly's assistance – constructed the picturesque structure that has plumbing, electricity, and a cooling room; a store where patrons can buy berries as well as produce from the couple's vegetable patch, ice cream, T-shirts, jam, copies of a children's book "It's OK to be Blue" that Holly wrote and occasionally shares with visiting children, all-natural birdfeeders made of dried sunflowers from the Campbells' sunflower garden, and blueberry plants; and a covered outdoor area where visitors can enjoy post-berry-picking relaxation.
Sitting in that outdoor area that in one direction faces rows of blueberry bushes and the wooded area beyond, in another direction a view of the Campbells' shiny tractors and their 5,000-gallon water tank as well as the little farmhouse that's been on the property for years, and then in looking still another way, a large zinnia patch, a breeze wafting through. . . well, I can understand why Karen Sain was so attracted to the farm. 
"He's the farming genius, and I'm the mouth of the operation," said Holly, who's thinking she might employ those verbal skills to convince a winery or brewery into incorporating the Campbells' berries into some of their recipes.
So that's a good chunk of the Campbells' story. Now here's the bad news. The farm, which is located at 27 Tracy Bolick Lane in Bethlehem, has closed for the season. Yes, Saturday was the last day folks could pick fruit. But you've got 2020 to look forward to. The operation will be open for berry pickers in early June. Until then, keep up with the Campbells on their Facebook page at Campbells Berry Farm or give Holly and Tracy a call at 828-598-0707.
Share story ideas with Mary at marycanrobert@charter.net