This May, Miguel Aparicio was arguably the Hickory Crawdads' best hitter. Among qualifying hitters, the 20-year-old outfielder led the team in batting average (.317), on-base percentage (.370) and OPS (.943) and also ranked second in slugging (.573). In May a year ago, however, Aparicio was at a crossroads in his career.
He was overmatched as an 18-year-old in a brief stint with Hickory in 2017, but an all-star season at short-season Spokane showed the Rangers he was ready to return to Hickory.
He started 2018 at Hickory as the Texas Rangers' 14th-best prospect, according to MLB.com. The scouting service lauded him for his above-average defense and a promising, left-handed contact hitter with the ability to smack line drives to all fields. But that's not what the Crawdads received. After a 1-for-16 stretch dropped his slash line to .207/.268/.319 on May 13, Aparicio was assigned to the Rangers' extended spring training camp in Arizona. In an interview with manager Matt Hagen about the demotion, he didn't mince words about Aparicio.
"He's going to be working on a little bit of everything," Hagen said at the time. "He does a lot of things that the organization values. But just like everybody else, he's got things to work on and hopefully he will make the most of his time down there."
Aparicio admitted that as things went downhill for him a year ago, he tended to get distracted by what was happening on the field.
"On my bad days, I didn't feel good in the field," said the native of San Carlos, Venezuela. "I was thinking so much and not having a good mindset for the next day."
A couple of weeks back at Spokane again showed the Rangers what Aparicio was capable of. It also impressed then-Spokane hitting coach Jared Goedert, who is still Aparicio's hitting coach this year at Hickory. He still saw a distracted Aparicio at times, but in a different manner.
"I think in the past he'd start to get a little bit out of control," Goedert said. "He'd have a good at-bat and he'd be like, 'I want to get more. I want to get greedy the next at-bat.'"
Aparicio returned to Hickory in late June for the remainder of the season but never really got untracked, finishing the year at .214/.263/.361. While the numbers didn't reflect a change, Hagen said the attitude did.
"When Miguel came back last year after going to Spokane for a little bit, we saw a different player in terms of his preparation, his effort and his hustle on the field," Hagen said during an interview prior to opening day this season. "From that time, all the way through Instructional League, through the winter programs in the Dominican, through spring training, that's the guy we've seen."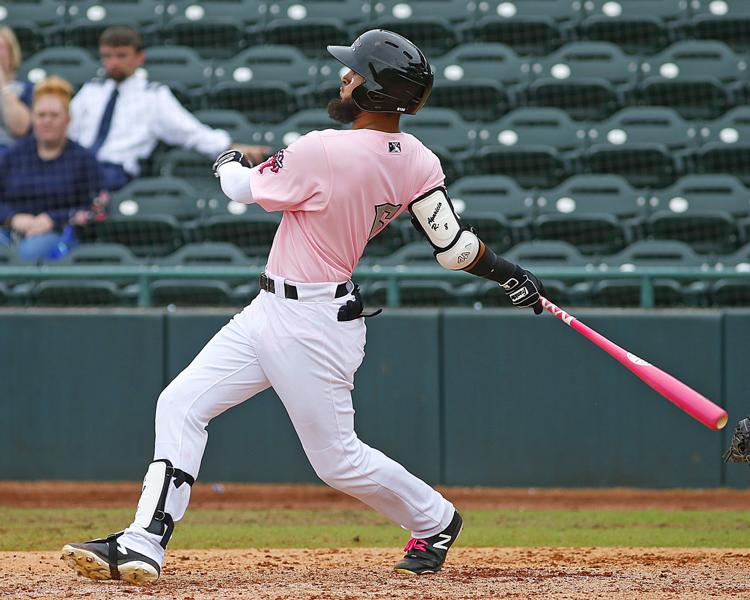 Rangers assistant general manager Mike Daly, who oversees player development and international scouting, also saw that the young outfielder had come to a crossroads.
"I think players reach a point in their career where they have an increased level of urgency," Daly said. "I think Miguel has kind of reached that point. He's been here a couple of years and is a talented player. There's a different level of focus and a different level of maturity and urgency, and he's played great. He's been able to show that on the field and the type of player he is, and to be able to step up and be a leader."
Aparicio's teammate, pitcher Jean Casanova, expanded on Daly's comments about the leadership ability, perhaps drawing on personal experience.
"When one of our teammates is down and he's not having a good game, he's right there picking them up," Casanova said. "He's saying, 'Come on, you know you're worth that. You're just having a bad day. I've been through it. You can get up and make a play in the game.'"
While Aparicio is pleased with his success on the field, he is happier with his ability to handle situations as they come and to quickly put them aside.
"Last year, I'd do something bad and sometimes I feel bad when things aren't happening good," he said. "This year, I'm just trying to play for my team and I try to be a good teammate."
---
The Hickory Crawdads begin a seven-game homestand Monday night with the first of three games against West Virginia. Below is a preview of that homestand with daily promotions, top prospects and additional notes.
SCHEDULE/PROMOTION
Monday: West Virginia at Hickory, 6:30 p.m. (Make-a-Difference Monday)
Tuesday: West Virginia at Hickory, 6:30 p.m. (Dollar Dog Tuesday)
Wednesday: West Virginia at Hickory, 10:30 a.m.
Thursday: Columbia (S.C.) at Hickory, 7 p.m. (Thirsty Thursday, Woodstock 50th Anniversary)
Friday: Columbia (S.C.) at Hickory, 7 p.m. (Postgame Fireworks, Llamas de Hickory weekend)
Saturday: Columbia (S.C.) at Hickory, 6:30 p.m. (Llamas de Hickory weekend, bobblehead giveaway)
Sunday: Columbia (S.C.) at Hickory, 3 p.m. (Llamas de Hickory weekend, Church Bulletin Sunday, Father's Day celebration, Hospitality Night)
PROSPECTS
Hickory Crawdads (MLB.com rankings) (Texas Rangers affiliate): RHP Hans Crouse (1), RHP Cole Winn (2), IF Jonathan Ornelas (18), 3B Sherten Apostel (22), RHP Ronny Henriquez (30)
West Virginia Power (Seattle Mariners affiliate): OF Keegan McGovern (28)
Area connections: RHP Devin Sweet (SE Guilford, NC Central)
Columbia Fireflies (New York Mets affiliate): SS Ronny Mauricio (2), 3B Mark Vientos (3), 2B Shervyen Newton (4), RHP Simeon Woods-Richardson (6), RHP Christian James (24)
Area connections: RHP Allan Winans (Campbell)
NOTES OF INTEREST
Hickory picked up a pair of infielders during the recent road trip. Jax Biggers (eighth round 2018/Arkansas) and Kole Enright, a returnee from last year's team, both made their 2019 debut last weekend during a series at Kannapolis. Second baseman Tyler Depreta-Johnson went to AAA Nashville and catcher Isaias Quiroz went on the extended spring roster…
Pitcher Hans Crouse went onto the extended spring roster after being scratched from a start at Kannapolis on Sunday. He will skip a start in what is an effort to control innings. Lefty Lucas Jacobsen (27th round 2016/ Long Beach State) returns to action after a year away following Tommy John surgery…
After 10 seasons as the affiliate of the Pirates, West Virginia signed a new player development contract with the Seattle Mariners last fall. This is the first season the Mariners have an affiliate in the South Atlantic League…
The Power are without two of the Mariners' top prospects. Outfielder Jarred Kelenic (No. 2 prospect) was promoted last week to High-A Modesto (Calif.), while outfielder Julio Rodriguez (No. 5) remains on the injured list with a broken hand. Another top-30 prospect, RHP Nolan Hoffman (No. 27), is out with an undisclosed injury…
Power shortstop Cesar Izturis Jr. is the son Cesar Izturis, who played seven years in the majors.