HICKORY – During World War II, thousands of professional baseball players put their careers on hold to serve in the United States military. Many of those were minor league players who would never see action in the big leagues. But more than 500 major leaguers sacrificed years of their prime to defend their country, including Bob Feller, Joe DiMaggio and the greatest hitter who ever lived, Ted Williams.
Williams racked up a host of accolades during his 19-year career with the Boston Red Sox. A career .344 hitter with more than 500 home runs, Teddy Ballgame won two MVP trophies and two Triple Crowns on his way to becoming a Hall of Fame inductee. He is also the last player to hit .400 or better in a season, ending with a .406 average in his 1941 campaign.
Two years later, Williams and a handful of his big-league counterparts were on the campus of UNC-Chapel Hill, training at a Navy Pre-Flight School during the height of the war. The players went through rigorous training, but baseball didn't end on the base. In fact, the Pre-Flight team in Chapel Hill was among the best squads in the country. The Cloudbusters played in the local Ration League against the likes of UNC, Duke and other base teams. They also took long bus rides to faraway towns to play exhibitions, raising war bonds and boosting morale. 
When Williams and the Cloudbusters dropped their bats, 9-year-old Jimmy Raugh was there to pick them up. As one of the team's batboys, he lived out a fantasy most baseball fans could only dream about. He spent countless hours that summer around The Splendid Splinter, along with Johnny Pesky, Johnny Sain and other major leaguers. The young boy went on to become an All-American pitcher in college and a highly touted prospect. He played professionally for five years, but Raugh never earned that final call-up. 
His dreams shattered, he eventually settled in Hickory in the 1970s. He put all of his baseball memories in a nondescript metal trunk in the basement of his house, where it remained hidden from his family for decades. When he died a few years ago, his story – and that of the Cloudbusters – may have gone to the grave had it not been for one woman who wanted to understand and honor her father's legacy.
Anne R. Keene, a Hickory native, has done just that with her book "The Cloudbuster Nine: The Untold Story of Ted Williams and the Baseball Team That Helped Win World War II." With the keepsakes she finds inside her father's trunk, combined with extensive research and in-depth interviews, Keene shines a spotlight on one of the greatest untold stories in baseball history. 
"There's probably too much in the book, but I had trouble parting with the content," Keene said. "If it was a cake, there would be 100 layers in it."
Keene, 53, knew her father had a special connection to baseball but didn't fully understand it until after his death. She writes in the introduction to her book that baseball was "a double-edged sword" in her house. It caused her father both extreme joy and great sadness. As a kid, Keene heard the stories of his golden days, the time spent with the Detroit Tigers or that one time he struck out the great Mickey Mantle with the bases loaded during a spring training game. But behind those stories, Keene saw the pain of a career that never materialized. 
Her father suffered as many athletes do, maintaining a devout love of the game long after his body broke down. He lived with that pain, both physical and emotional, for the rest of his life. 
A heavy smoker during his final few decades, Raugh died of emphysema on New Year's Day 2014 at the age of 79. The family tasked Keene, then a public relations specialist, with writing his obituary. Knowing that baseball had to be part of the story, she began searching the house for clues. 
Her trip led her downstairs to the basement, where she discovered her father's metal box – and a portal to an era nearly forgotten to the annals of history.
THE YOUNG BATBOY
James Plummer "Jim" Raugh Jr. was born in Cleveland, Ohio, in 1934, two weeks before the St. Louis Cardinals won their third World Series trophy. He grew up in suburban Philadelphia but spent a summer in North Carolina during World War II, when his father served as a commander at the Navy Pre-Flight School set up on the Chapel Hill campus. It was there that Raugh developed his love for baseball, and those youthful memories brought him back to North Carolina a decade later for college.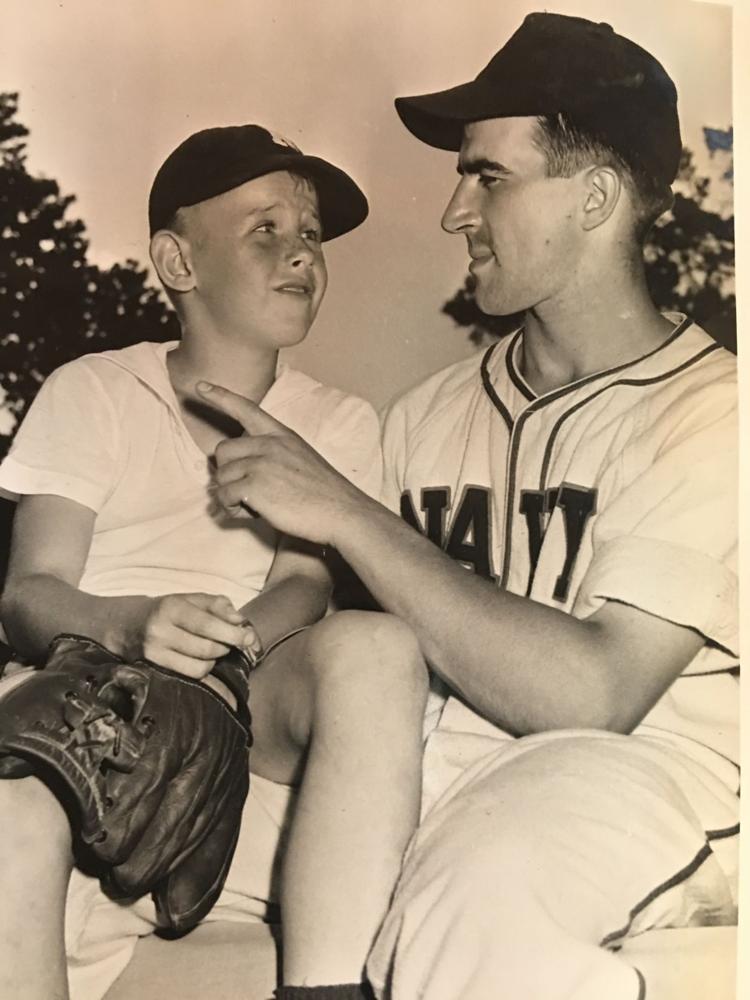 He quickly became a rising star for the Tar Heels. He was named an all-conference pitcher in each of his final three seasons. During his senior year, the right-hander went 7-3 with a 1.81 ERA, becoming the first All-American pitcher in program history when he was named to the third team in 1957. He was just as successful off the field that year as well, winning an election for class president.
He signed with the Detroit Tigers the same week he graduated, and began his pro career down the road for the Durham Bulls. He won 30 games in five seasons between Double A and Triple A, but never got the proverbial cup of coffee. His best season came in 1960, when he went 11-4 with the Victoria Rosebuds of the Texas League. But he threw 192 innings that year – crushing his previous career high – and could no longer ignore the pain in his elbow.  
Just weeks into the next season, he abruptly retired. 
Though he was only 26, his arm had nearly turned to rubber. There was nothing that could save his career. The first Tommy John surgery was still more than a decade away, and there weren't enough painkillers in the world to fight through an injury of that type. He gave up on his dream as he watched many of his friends and teammates make it to the majors.
"I think for me, the shock was seeing that (his suffering) was so much bigger than even he described, and probably so much more painful," Keene said. "I could understand why he was so sad in what he lost. He had it and then it was gone. I think a few people really knew, but I don't think that people really understood." 
Raugh stashed the memories – hundreds of newspaper clippings from his games, letters and business cards from pro scouts, photos of him as a boy with Williams and Pesky. That metal footlocker stayed tied shut for more than 50 years until Keene finally pried it open. But she knew next to nothing about baseball, so she didn't understand the scope of what she was looking at. What she did find validated all of the stories she had heard growing up, and she quickly understood the pain from the rise and fall of his career.
At the memorial service, she arranged for a display of her father's memorabilia, including photos from his time with the Cloudbusters. But after delivering the eulogy, Keene realized his story couldn't end there. She needed to learn more about this team that birthed and influenced his baseball dreams.
UNCOVERING A STORY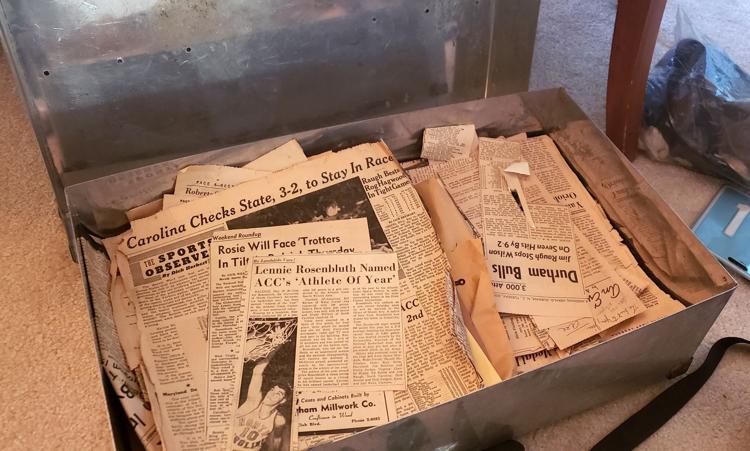 An estimated 90 percent of all American professional baseball players served in some capacity during World War II. Quite a few of them passed through Chapel Hill, which had been converted to a Navy training base for pilots – something that would be unheard of today. But as Keene began to research these players, she struggled to find a single published book about the Cloudbusters. In fact, of the little coverage the team received – most reporters were focused on the war and didn't have time for exhibition baseball games – few printed documents survived the test of time. 
The memories of those who were there, however, lived on. So Keene went searching for those.
She began looking for descendants of the players and Navy cadets she saw in photos. She gained access to UNC's archives, viewing hundreds of photos from that period. Her curiosity only grew from there. But as she learned more and more about the Cloudbusters, and realized there was a book to be written, she started to feel out of her league. She wasn't sure if she was the right person for the job.
"I didn't think I could write it," Keene said. "I didn't think I had any business writing this. But (my agent) said, 'No, you can do this. I really want your father's story.'"
Her agent told her that any military person could write the Navy side of the story, and any baseball historian could write the baseball side of the story. But only Keene could write the unique story about her father, his time as a batboy and the summer of the Cloudbusters. The story had the most important thing a writer looks for – a relatable human element.
So she dove headfirst into the project, exploring a world she previously knew nothing about. (One example: she didn't understand why Williams' name was put in the title, claiming the story "wasn't about him." Her agent quickly helped her understand the Hall of Famer's appeal.) Keene interviewed more than 100 people – and still has many of the recordings saved on her iPhone – and talked to hundreds of other historians, researchers and librarians. She made fascinating discoveries along the way. 
She found that Chapel Hill played host to not just the baseball stars, but the likes of Bear Bryant, John Glenn, George H. W. Bush and numerous other luminaries. She learned that many sons and daughters of these baseball vets also knew little of their fathers' time with the Cloudbusters, to which she happily shared what she knew. She even discovered what likely made Williams such an incredible hitter: his time in Pre-Flight School studying the theory of flight.
Years of extensive research resulted in "The Cloudbuster Nine," which was released in April. It sold so well that an updated second edition – featuring 16 pages of Cloudbuster-era photos, bios of the more than 20 major league players who trained in Chapel Hill, and a well-sourced bibliography of nearly 20 pages – has already been printed. 
But Keene's work is far from done.
CONTINUING A LEGACY
When she finished the book, there were only 45 remaining major league veterans who served in World War II still alive. In the short time since, that number has dropped to 41. Keene has spoken to many of them through her research, but is still trying to reach out to the final few and help preserve their stories as well.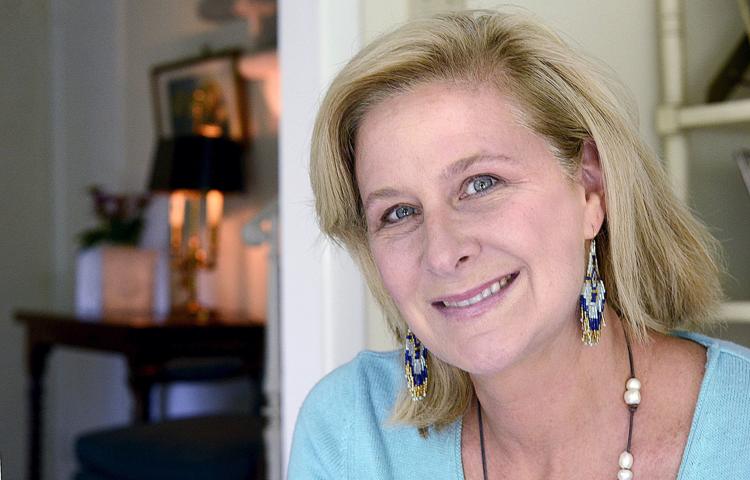 She has maintained a few clients through her PR work, though the book and her 15-year-old daughter occupy most of her time these days. She resides in Austin, Texas, but has spent most of the past couple of months on a media blitz, traveling across the country to give talks at bookstores, Naval academy alumni groups and even her former high school. As a self-proclaimed behind-the-scenes person, she's taken the new attention in stride. 
And as for the Cloudbusters' tale, she knows it is far from complete. Week by week, she hears a new story or uncovers new information to add to her exhaustive collection, which she hopes to make available to the public.
"My goal is to get it in a museum at the University of North Carolina, either at the Wilson Library or maybe the baseball stadium," Keene said. "I think that we easily have an exhibit."
Most of her book takes place in Chapel Hill. Its roots, however, are right here in Hickory where Keene spent her formative years. 
She may never have gone to a Crawdads game, and it would be many years after leaving that she would come back to discover this incredible story. But Keene was quick to recognize the important role her hometown played in writing her book.
"I feel like Hickory helped me do this, and that's very important," Keene said. "People that were neighbors rallied around me and they were there and they'd say, 'Yes, I have this information.' Or I'd call and say, 'Do you remember that?' And they'd say, 'Yeah, that's true.' Or they would come and tell me stories."
To learn more about Keene, including where to purchase her book, visit her website at www.annerkeene.com.