Baseball and softball season may have come to an end in Catawba County, but there are still a handful of area teams remaining in the NCHSAA state playoffs.
South Caldwell is the lone softball team standing from the area, while four baseball teams from the three local conferences are still clinging to state championship hopes.
Here's a preview of all of Friday's fourth-round action:
SOFTBALL
4A: No. 5 South Caldwell vs. No. 9 Providence, 6:30 p.m.
When it comes to the playoffs, home is truly where the heart is for South Caldwell. The Spartans (20-3) have won eight straight postseason games on their own field over the past three seasons, and are 15-3 in such contests since coach Casey Justice took over six years ago. They'll have the benefit of home-field advantage once again when Providence visits with a spot in the West Region finals on the line.
The Panthers (18-5) set up a date at South Caldwell after knocking off top-seeded Richmond 6-5 on Tuesday. Their second straight road upset marks the program's best postseason run this decade after falling out in the third round a year ago. The fourth round is somewhat familiar territory for the Spartans, however, after reaching the state semifinals in 2015 and becoming state runners-up a year ago. 
Tuesday's 10-0 run-rule win over No. 20 Ronald Reagan was the 10th straight victory for South Caldwell. It also pushed the program over the 20-win threshold for a sixth year in a row. Nothing comes easily at this point of the year, but if the Spartans can get to 21, they'll be one step closer to their stated goal of becoming the final 4A team remaining this season.
Next up: No. 3 Mooresville or No. 7 Hickory Ridge
BASEBALL
4A: No. 4 South Caldwell vs. No. 8 Ronald Reagan, 6:30 p.m.
For the first time since 2016, South Caldwell overcame its third-round demons and continued its season with a 5-2 victory against Davie County. Similar to their softball counterparts, the Spartans (22-5) got the benefit of another home playoff game as well after Ronald Reagan knocked off the top seed, Myers Park, earlier in the week. Now they find themselves one win away from a regional final appearance.
The Raiders (20-5) didn't enter the postseason with much momentum. They lost two of their final three regular-season games and then dropped out of the Central Piedmont 4A Conference tournament in the semifinal round. But they used the extra days from their first-round state playoff bye to fix whatever ailed them, shutting out No. 24 Ragsdale 6-0 in the second round before pulling off the upset against the West's top seed to continue the school's best season in recent history.
These two met in the opening round of the 2016 4A state playoffs. As the top seed in the West, South Caldwell ended Ronald Reagan's season with a 4-0 win. If the Spartans can do that again, they'll inch even closer to the program's third state title and first since 2007.
Next up: No. 2 Providence or No. 11 Mooresville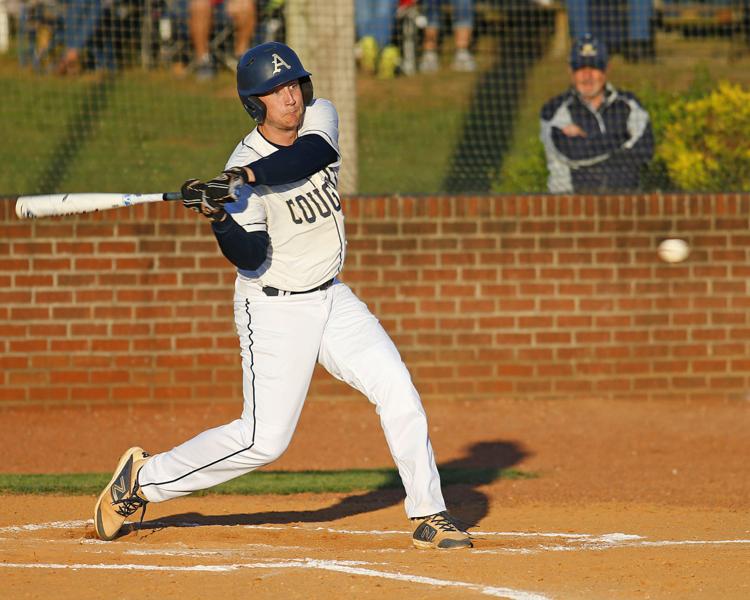 3A: No. 3 Alexander Central vs. No. 10 Marvin Ridge, 7 p.m.
The wins keep coming for coach Pete Hardee and Alexander Central. The Cougars (23-7) have now won 12 in a row after handling Cox Mill 5-1 on Tuesday to reach the fourth round. It's the furthest Hardee has taken the program in his four years, and the 23 wins are also the most in one season since he took over.
The Cougars – who have already won titles this spring in the Easter Baseball Classic and the Northwestern 3A/4A Conference tournament – won't be satisfied with stopping there. But Marvin Ridge is hoping to have a say otherwise. The Mavericks (23-5) have pulled off two straight road upsets in the playoffs, the latest coming against second-seeded Crest 5-2 earlier this week. The program has a solid championship pedigree as well, having won back-to-back 3A state titles in 2015 and 2016.
Marvin Ridge has won 20 or more games for a fifth straight season and for the seventh time in the past eight years. While the Cougars can't match that lengthy period of success, they can continue to build upon one of the best springs the program has seen with another impressive victory.
Next up: No. 1 Jesse Carson or No. 12 North Gaston
2A: No. 2 North Lincoln vs. No. 11 North Davidson, 7 p.m.
After needing a walk-off hit in the opening round against No. 31 Central Academy, North Lincoln has been locked in over its past two games. Wins over No. 15 Wilkes Central and No. 23 West Stokes were the seventh and eighth shutouts of the season for the Knights (21-5), who have now won seven in a row coming into this fourth-round matchup.
It's a newfound success in the postseason for North Lincoln and coach Jon Carpenter. They got their first-ever state playoff wins last year following a move down from 3A, and in fact went all the way to the state semifinals. The Knights have a chance to do that again this year, but standing in the way is a giant killer in North Davidson.
The Black Knights (21-8) smashed three home runs – including a pair of grand slams – to beat No. 6 Fred T. Foard 18-5 in the second round. They followed that up by blanking third-seeded West Wilkes 4-0 for their second straight road upset. This is now the fifth straight year the program has won 20 or more games.
North Davidson has also benefitted from a drop in classification, coming from 4A two years ago. Last season, the Black Knights – who won 2A state titles in 1966 and 1967 as well as a 4A title in 2016 – advanced to the fourth round before losing to Ledford Senior, who then knocked out North Lincoln.
Next up: No. 13 West Lincoln or No. 17 Oak Grove
2A: No. 13 West Lincoln vs. No. 17 Oak Grove, 5:30 p.m.​
Much like the South Fork 2A Conference regular-season title, the 2A West championship could come down to an all-Lincoln County final should North Lincoln and West Lincoln both take care of lower-seeded opponents. After a 7-4 win at No. 4 Franklin in the second round, the Rebels (20-7) beat No. 28 Smoky Mountain 5-2 to advance to round four. Once again, they have the added benefit of playing in front of a home crowd.
Meanwhile, Oak Grove is attempting to continue what has been the best season in the school's very young history. The Grizzlies (17-8) began play just a year ago, finishing 10-10 and missing out on the postseason. But that's not the case this year.
They finished third in a tough Central Carolina 2A Conference behind Ledford Senior and North Davidson. And they've pulled off upsets in each of their three playoff games so far: No. 16 Brevard (7-2), top-seeded East Rutherford (5-2) and No. 8 Madison (8-4). They may also be facing a league opponent in the regional finals should North Davidson upset North Lincoln.
Next up: No. 2 North Lincoln or No. 11 North Davidson