When South Caldwell left its first-ever state title appearance empty-handed a year ago, coach Casey Justice made a strong declaration: "We're going to be back here. This won't be our last one."
Twelve months later, his prophecy has come true. And this time, the Spartans don't plan on leaving Raleigh without that championship trophy.
South Caldwell, the fifth seed in the West, will battle the East's No. 4 seed, Hoggard, this weekend for the right to be called the NCHSAA 4A state champion. The best-of-three series will see both teams competing to win the first title in their program's history.
"I know the mood last year was we knew we got beat by a team that wasn't as good as us," Justice said earlier this week, referencing last year's title series loss to Jack Britt. "I felt like whether it be nerves or pressing or I don't know, it's hard to put your finger on one thing. But we for some reason didn't play well all weekend, not like we were capable of playing. Hopefully that's changed."
The Spartans (23-4) have a roster stacked with players who know what it's like to play on the biggest stage. Twelve members of last season's state runner-up squad returned in 2019. They remember the pain of coming up short a year ago. They also know what it will take to overcome this final hurdle and lift the trophy.
"I think we learned to not go off the field with any regrets, like you could have done more," sophomore Regan Weisner said. "To leave everything out on the field and give it everything you've got. You don't always know what's going to happen. We could have won last year. There were errors, stuff that happened that we couldn't control. I just think it's taught us to give it our all, not to take anything for granted."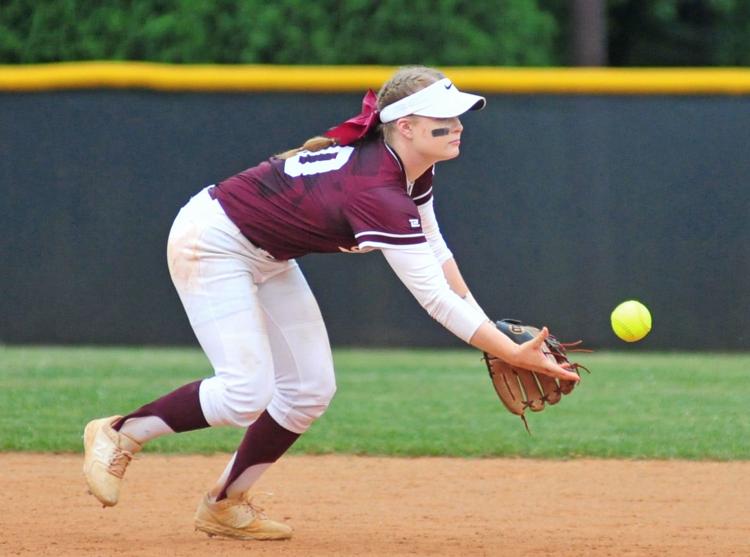 Meanwhile, Hoggard (19-7) comes into this series with the most losses of any team to reach the 4A state championship finals this decade. That's of little concern to the Vikings, who have won each of their past eight games – five by shutout and three in late-game fashion.
Each team feels like destiny is on its side. So who will walk away Saturday with the championship?
SERIOUS SLUGGERS
The most dangerous hitter in this series is undoubtedly Weisner, who has launched 16 home runs this season to be tied for the state lead. No homer was more important than the one she hit last Friday, though.
In a winner-take-all game for the West Region title, South Caldwell and Mooresville were knotted in a scoreless tie going into the ninth inning. Weisner stepped up and provided the heroic moment, propelling her team to victory with a solo shot to return the Spartans back to the state title series for a second straight year.
"I had been struggling the whole regional series, and I just needed to relax," Weisner said about the moment. "I went up there and she pitched me three straight balls. I knew she was going to try to come back up in the count because she didn't want to walk me. We had good batters – Ciara (Hanson), Addison (Blair), Kenley (Jackson) – coming up. So I knew she was going to try to get back up in the count.
"I was telling myself I was swinging no matter what. It was going to take everything in me to stop my swing. She pitched it right down the middle and I just drove it."
Justice admitted that his team wasn't sharp at the plate that night – South Caldwell managed just three hits all game – and he wasn't sure where the offense was going to come from.
"I knew with her at the plate though, there's a possibility for a run any swing she takes," Justice said. "Being a 3-0 count, you're over there hoping they groove her one. She looked at me and she knew that if it was there, to hit it. And they did. They grooved one low and down the middle and she got all of it."
It was the latest success for Weisner in what has been a season full of them. She has a ridiculous .513 batting average, while her home run total makes her one of just nine in state history to hit 16 or more in a season. Her 51 RBIs also put her among elite company – only 16 other North Carolina high school softball players have ever reached that total in one year.
"She's strong enough that she's able to mishit balls and hit them out of the ballpark," Justice said. "She can get under balls and hit them out. She hits balls on a line that's usually a gap shot for anybody else – they get out of the ballpark. That's just an advantage she's had.
"But it's an advantage that she's built on her own. Obviously some of it is given, but not all of it. She's really pushed herself in the weight room."
The Spartans boast plenty of pop ahead of and behind Weisner as well. Blair has six homers and 27 RBIs of her own. Jasmine Hall has hit five out of the park while adding eight doubles. Hanson is hitting nearly .400, one of eight on the team with a batting average north of .300. And the lineup features nine hitters who have driven in at least 10 runs, making the South Caldwell offense a serious challenge for opposing pitchers.
IN THE CIRCLE
Speaking of pitching, this series will feature a trio of top hurlers. Jesse Mathis has pitched all but 3.1 innings for Hoggard this year. The senior leads the state with 262 strikeouts, posting an 18-7 record and 1.39 ERA.
But South Caldwell counters with the 1-2 punch of Anna King and Jenna Pittman. King, a junior, missed the first nine games of 2019 with a broken foot but has rebounded to go 7-1 with a 1.65 ERA. She famously pitched a no-hitter in the Spartans' lone win in the state championship series last season.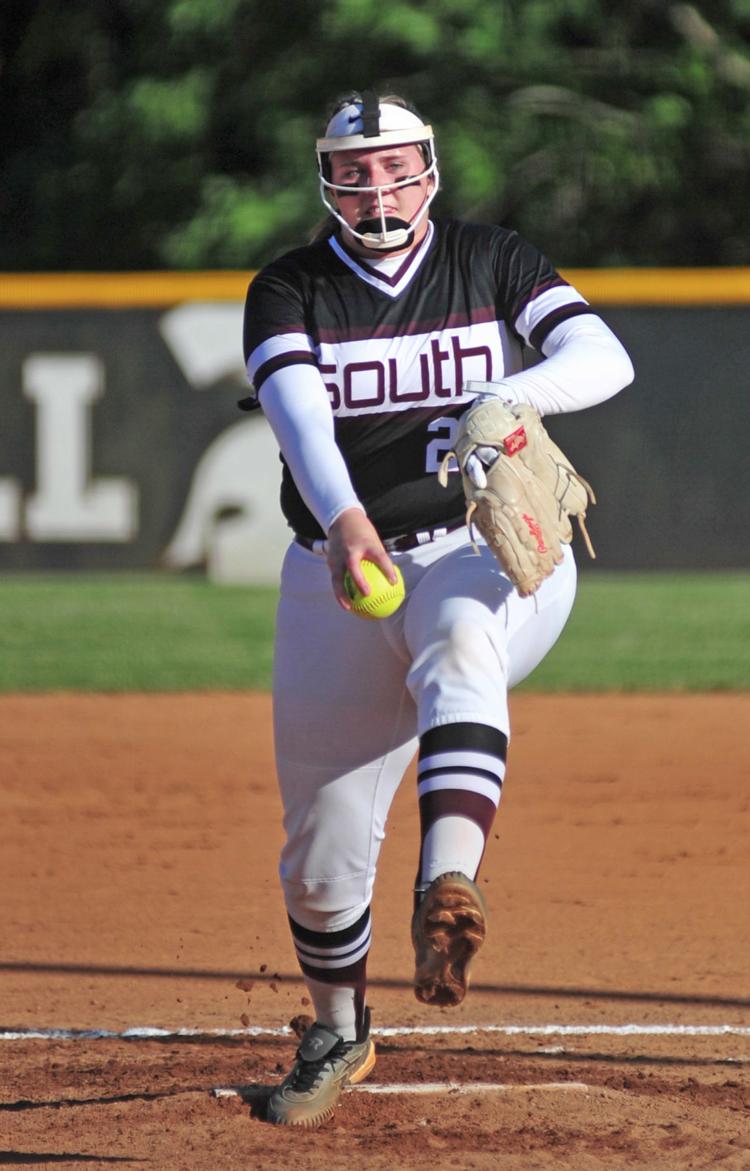 Pittman, a senior, has won 45 games in her high school career. This year has marked her best season with a career-high 101 strikeouts to go along with a 15-2 record.
Together, the pair gives Justice two distinct options to shut down the Vikings' bats.
"I think it's a big advantage just because anything can happen any given night," Justice said. "Injuries or anything can happen. It's nice to have two just in case. It's also nice to give hitters different looks. If one's not on one night, to bring another one in. Or mix and match them both just to keep girls in the lineup off-balance and not see the same angle, the same arm, the same velocity from the same kid all the time."
HOW THEY GOT HERE
Both teams opened their state tournament runs with first-round byes. South Caldwell then beat No. 21 Glenn 5-1 while Hoggard had to walk off in the seventh inning to defeat No. 13 Lumberton 4-3.
The third round saw the Spartans blank No. 20 Ronald Reagan 10-0 in five innings and the Vikings claim a 6-4 win against No. 5 South View.
In round four, Hoggard went on the road and shut out the East's top seed, South Central, 5-0. South Caldwell advanced by plating six runs in the sixth inning of an 11-3 victory against No. 9 Providence.
The Vikings rallied late to sweep their two regional final games against No. 2 Heritage. They opened the series with a 5-0 road win after scoring all five runs in the top of the seventh. Back at home, they scored twice in the seventh to force extras and won it 4-3 on a walk-off in the eighth to move on to their third state championship appearance.
The Spartans faced a bit more adversity in the West Region finals. They lost 10-1 at No. 3 Mooresville in the opener before rebounding for a 6-3 home win. Weisner's home run heroics provided the difference in a 1-0 win that sent South Caldwell to its second consecutive state championship series.
SERIES SCHEDULE
The first game of the 4A state championship begins at 5 p.m. Friday at N.C. State's Dail Softball Stadium. As the higher seed, Hoggard will serve as the home team in game one. Game two is set for 11 a.m. Saturday with South Caldwell the designated home team.
Should the series require the decisive third game, that will take place later Saturday at 5 p.m. Once again, Hoggard will get the final at-bat.