RALEIGH – Last year, South Caldwell left Raleigh dejected following a disappointing runner-up finish in its first-ever state championship appearance.
There was no such feeling in the Spartans' return trip to the capital city this year.
Ciara Hanson's go-ahead two-run single in the eighth inning provided the difference as South Caldwell beat Hoggard 7-5 on Sunday at N.C. State's Dail Field, clinching the first NCHSAA 4A softball title in the school's history and kicking off a raucous celebration for the traveling Spartan faithful. The victory completed a 12-month mission coach Casey Justice and his team had set ever since leaving here without the championship a year ago.
"I'm so proud of these kids," Justice said. "Things weren't going our way. I think we lined out like, eight times. Couldn't get a break. A couple questionable calls, I felt like. But you know what, they didn't stop fighting. They didn't get upset. They just kept digging."
Photos: South Caldwell softball wins state championship
South Caldwell won its first-ever NCHSAA 4A softball state championship Sunday at N.C. State's Dail Field after beating Hoggard 7-5 in eight innings to take the series two games to one. 
The title series wasn't without plenty of drama.
On Sunday, it was Hanson's turn to deliver the winning hit. Logan Keller started the eighth with a bunt single, and Jasmine Hall followed with a walk. Jenna Pittman then laid down a perfect sacrifice bunt, which allowed Hoggard (20-9) to intentionally walk Regan Weisner.
That loaded the bases for Hanson, who drove a single through the left side to score two and give the Spartans the lead for good.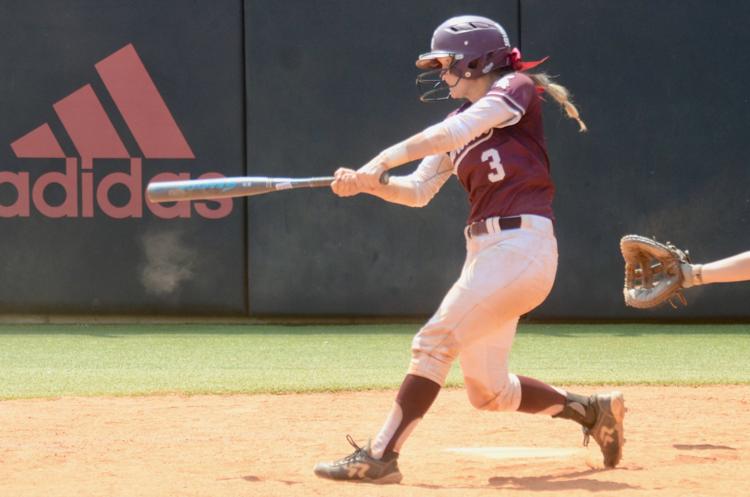 "I knew that all I had to do was get it on the ground to get the people moving on base," Hanson said. "And I trusted all my baserunners to get home and know what to do."
South Caldwell fought a ferocious battle just to reach extras. Hoggard freshman Allie Royal hit a solo homer in the second for the initial lead. Weisner countered a half-inning later with a double to the wall in left-center to score Keller and Pittman for a 2-1 lead.
But a four-run fourth for the Vikings nearly took all the wind out of the Spartans' sails. Royal drew a bases-loaded walk against Anna King, prompting Justice to bring Pittman into the circle. After a pop up, Pittman walked in the go-ahead run before Icess Tresvik plated two more on a single to right.
"I just knew I had to step up," Pittman said. "As a senior, I know how to be a leader. I just had to come in and do my best. I was nervous and it's a lot of pressure, but I just dug deep and found a way to get out of it."
From there, the senior hurler settled down. Pittman got the final two outs of the inning and didn't allow a runner to advance past first throughout the remainder of the game.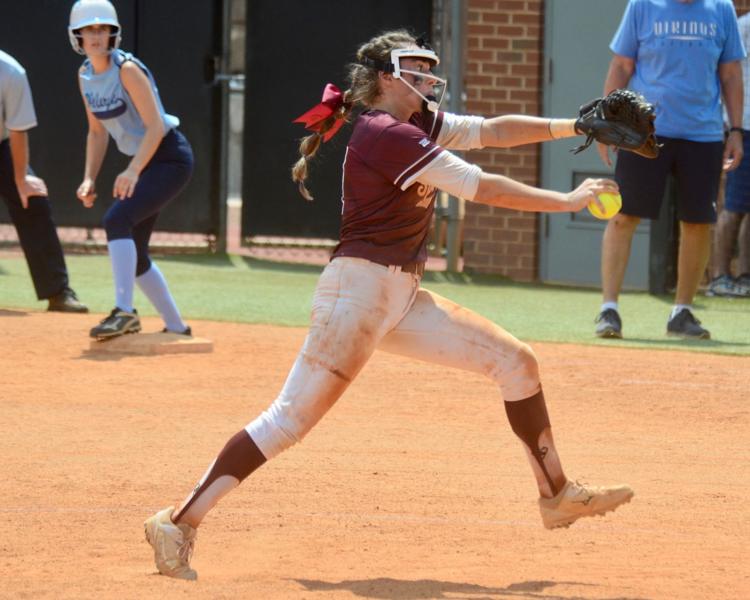 "It's a sad day because we lose her, man," Justice said. "But she has gave so much to these kids and this program. It's unreal. To see her get to come in and have that moment was great."
Trailing 5-2, South Caldwell made it a one-run game in the fifth. Pittman reached safely on an error, and a pair of two-out walks to Katie Wright and Addison Blair loaded the bases once again. Kenley Jackson came through with a sharp single off the glove of Tresvik at short as the deflection into left field gave Wright enough time to score from second.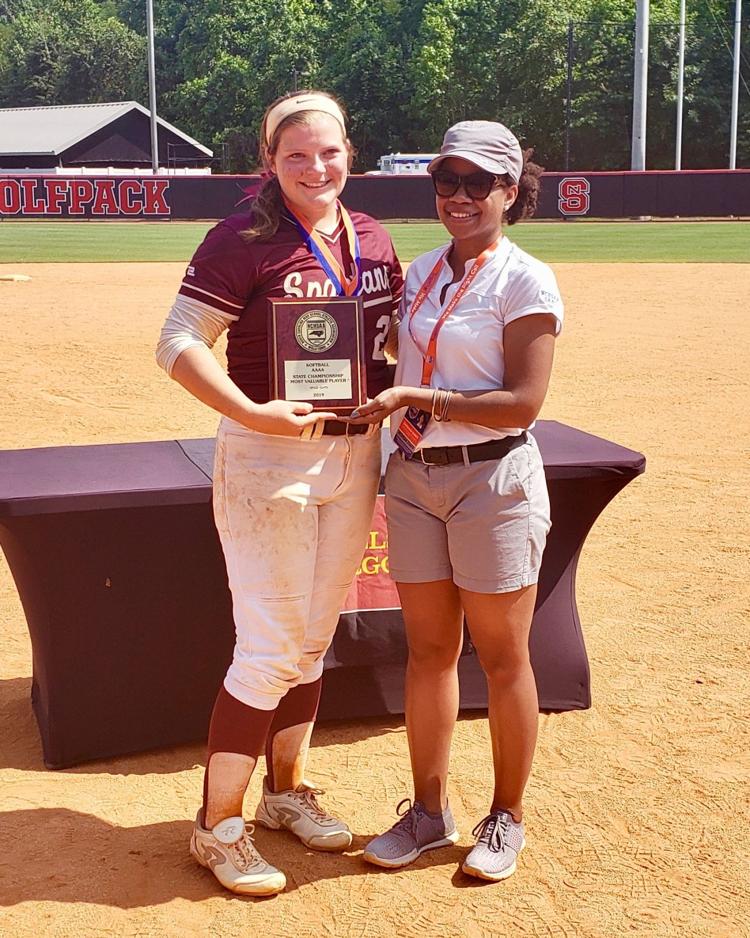 Weisner, who was named the tournament MVP after the game, tied the score an inning later. Pittman reached on a two-out single before Weisner dropped a fly ball just in front of the Hoggard right fielder. The ball rolled past the defender, allowing Pittman to score and putting Weisner on third.
"She's good at softball," Justice joked about his sophomore slugger. "Unbelievable year. Unfortunately she didn't get the Gatorade Player of the Year (award), but I think she'd rather have this right here than that. Just a great year. You can't say enough about her."
In the home half of the sixth, right fielder Catherine Huggins made a leaping catch to rob Tresvik of a double and potentially save a run. That kept the score tied heading to the seventh as the pressure cranked up another notch.
But the pressure was no match for Pittman. She struck out the side in the seventh to send the game to extras. After Hanson's hit put South Caldwell ahead, Pittman went back out and struck out two more before allowing a single. But with the tying run at the plate, Kira Soodek flew out to center, where Keller squeezed the ball and sprinted in to join the celebration.
"She looked me in the eye when she went out there and said, 'It's over,'" Justice said. "When she gets in that mode, you're not hitting her."
Pittman (16-2) pitched five innings, striking out six while not allowing a run to pick up the win in her final game at South Caldwell. She also finished with a hit and two runs at the plate.
Weisner went 2-for-4 with three RBIs in the win. Over the three-game series, she hit 4-for-9 with the triple, her state-leading 17th homer of the year, five RBIs (giving her 56 for the season) and three walks.
Hanson, Jackson and Keller each collected a pair of hits Sunday as the Spartans tallied 10 hits and nine walks against Hoggard's Jesse Mathis (19-8), who pitched a complete game.
"It is the greatest feeling ever," Weisner said. "To come out here from last year and win it, it's just an amazing feeling. It's undescribable."