Fall down seven times, get back up eight.
That's exactly what Addison Blair did on Saturday at N.C. State's Dail Field. The sophomore overcame a tough day at the plate to drive in the winning run for South Caldwell in a 3-2 walk-off victory over Hoggard and even the NCHSAA 4A state softball championship series at one game apiece.
With the score tied going into the bottom of the seventh, Ciara Hanson led off the inning with a bloop single to right. Katie Wright moved her over with a sacrifice bunt, and Hanson advanced to third on an Icess Tresvik wild pitch.
That provided the moment of redemption for Blair, who at that point had struck out six times in seven plate appearances between two games Saturday. She chopped a grounder to the Hoggard second baseman that couldn't be corralled, which allowed Hanson to score and forced a winner-take-all game three.
"I knew I had to get it on the ground," Blair said, "so I was mostly just trying to make contact and really get it on the ground, and mostly right side because (Tresvik) was going outside. I knew we needed that run."
"I'm proud of them, man," coach Casey Justice said. "Again through adversity, we still haven't played good yet. But they didn't give up. Things weren't going their way and they keep fighting. Addie Blair has had probably the worst series of her life so far and just hangs in, steps up and has a great at-bat to finish the thing.
"That's all it takes, man. It takes kids that love each other and want to fight."
Hoggard came dangerously close to pulling ahead in the top of the first. South Caldwell senior pitcher Jenna Pittman worked herself into trouble after a Tresvik leadoff bunt single and a pair of two-out walks. She got Isabella Colbert to fly out to center, however, to escape the jam.
Vikings starter Jesse Mathis retired the first two Spartans she faced before walking Regan Weisner and giving up a single to Ciara Hanson. But she got Katie Wright to strike out swinging to complete a scoreless first inning.
After neither team plated a run in the second, South Caldwell took the initial lead in the third. Jasmine Hall drove a Mathis offering deep over the wall in left for a solo shot. The sophomore's sixth homer of the year put the Spartans ahead 1-0.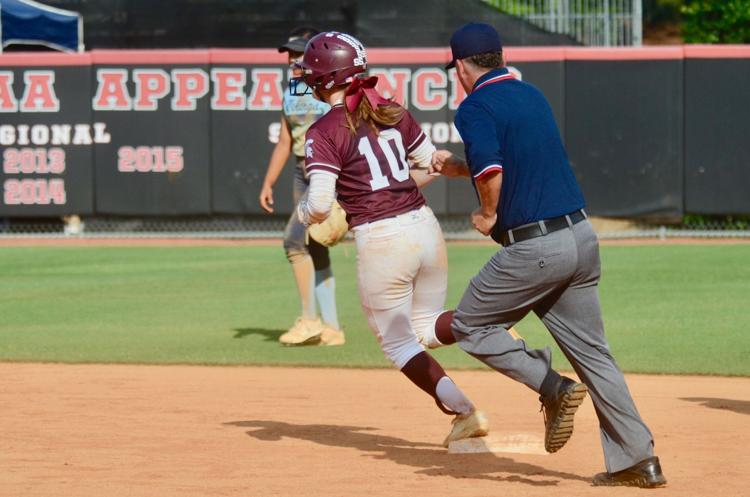 "I was swinging at the up stuff a lot and that one was really just right down the middle," Hall said. "I really was just trying to get a gap shot or something to start something up because our team was down. We needed a run obviously. Yeah it just kind of went out. I didn't try at all."
Tresvik ensured that the South Caldwell lead was short-lived. Pittman struck out Jaclyn Jordan for the second out of the fourth, but Kira Soodek's single put runners on first and second. Tresvik then roped a double down the left-field line for a 2-1 Hoggard advantage.
Mathis exited the pitcher's circle to start the Spartans' half of the fourth and in came Tresvik, who had faced just one hitter all season before Saturday. She plunked her first batter, Kenley Jackson. After Lauren Spears' sacrifice bunt, Logan Keller drew a walk and Hall then lofted a ball to center.
The Vikings' outfielder had a momentary lapse in judgment, however, and couldn't squeeze the hit. That allowed Jackson to score the tying run.
Justice was surprised to see Hoggard go away from its main pitcher – Mathis had thrown all but 3.1 innings for her team coming into this game – and bring in Tresvik, though he was very complimentary of the reliever's abilities.
"We knew she could throw because my girls who played against her, they were all telling me, 'Coach, she can pitch. She's good. It's not just somebody throwing. She's got good stuff,'" Justice said. "I hadn't seen her obviously, but they were telling me."
An important moment for the Spartans came in an otherwise uneventful fifth as Tresvik retired the side in order. Blair popped out to short, snapping her streak of six consecutive strikeouts.
Justice believes that restored a bit of confidence in his slugger.
"We were telling her in the dugout, 'Build on that, build on that,'" Justice said. "I think she's like a shooter shooting threes. You've just got to see it go in once."
In the sixth, two fly balls and two walks put two on with two out and ended Pittman's day in the circle. Anna King came in to face Tresvik and got the sophomore to fly out down the right-field line.
King (8-2) worked a flawless seventh to keep the score tied and give the Spartans the walk-off opportunity at the plate. Hanson led the offense with a pair of hits, while Hall, Pittman, Blair and Keller collected one hit apiece.
Tresvik (0-1) was charged with the loss after allowing two runs (one earned) and striking out three in 3.1 innings. She also finished 2-for-4 with both of the Vikings' RBIs at the plate.
The 4A championship will come down to a decisive third game, which is set for 1 p.m. Sunday. One team will walk away with its program's first state title.
"We're just going to eat good, sleep a lot and get real focused," Hall said. "Come out strong tomorrow ready to hit. If we hit, we'll win."