Statesville forced two turnovers and scored on four possessions in the third quarter Monday night as it breezed to a 40-12 victory over Hickory in the teams' delayed season opener.
To view more photos, scroll to the bottom of this article. 
The win was Randall Gusler's 100th as Statesville head coach. He shied away from making that a focal point afterward when asked about reaching the milestone.
"It's not about me," said Gusler, who's in his 14th season leading the Greyhounds. "I want to give all the glory to God. I thank all my coaches and obviously the players. That's what makes this a good thing."
The Greyhounds turned a tight ballgame — it was 14-6 in their favor at halftime — into a rout thanks to a dominant third quarter.
Nebanye Moore hooked up with Amauri Gibbs for a 39-yard pass that took them to the Hickory 3-yard line. The opening possession of the second half culminated with a Caylon Imes 1-yard touchdown run.
Defensive lineman Josh Agnew recovered a fumble on the Red Tornadoes' first possession of the third quarter. It didn't take long for the Greyhounds to capitalize. Moore connected with Jasaiah Gathings for a 42-yard pass, and that led to Moore's 1-yard TD run.
Chavion Smith rushed for a 29-yard TD after Hickory's offense went three-and-out.
Hickory had the ball briefly thereafter before Quintin Blackmon intercepted quarterback Jack Tomlinson. Statesville needed only two plays to score from the Hickory 39. Marquis Dalton hauled in a 24-yard Moore pass. Then Imes rushed for a 10-yard TD, extending the Statesville lead to 40-6 with 3:08 left in the third quarter.
"We started scoring like we should have," Gusler said. "We had opportunities in first half and shot ourselves in the foot. We got onto them at halftime, telling them to execute and finish drives."
The game was originally scheduled for Friday night. The teams tried to wait out the weather but storms in the area ultimately forced the game to be postponed to Monday.
"You could see they were ready to play tonight," Gusler said. "They had seen other teams already having gotten to play their first game. They were excited to see what they could do."
Aided by two 15-yard Statesville penalties, Hickory marched down the field and scored on the game's first possession. Tomlinson, a sophomore quarterback stepping in due to preseason injuries, scampered into the end zone for a 13-yard TD. The Red Tornadoes led 6-0 with 9:42 left in the first.
The Greyhounds answered immediately. Smith took a handoff up the middle, bounced off defensive contact and sprinted down the left sideline for a 64-yard TD on their first offensive play of the season.
Turnovers, penalties and bad snaps stalled drives for both teams after that.
Zamari Stevenson's 30-yard punt return to the Hickory 20 paved the way for the only other score of the first half. Imes' first of two 10-yard TD runs coupled with Gathings' reception for the two-point conversion propelled the Greyhounds to a 14-6 lead with 2:40 remaining in the second.
Statesville's Smith finished with 168 yards and two TDs on 12 carries. Imes added 71 yards and three TDs on eight carries. He also made a difficult 44-yard reception in traffic late in the second quarter.
Moore completed 13 of 20 passes for 206 yards. Seven different Statesville players caught at least one pass.
Defensive lineman Jason Shuford had five tackles and 1 1/2 sacks. In addition to Blackmon, defensive backs Steven Myers and Amonte White also each picked off one pass.
Hickory's Cody Young scored a 31-yard rushing TD in the fourth quarter, and he finished with 106 yards on 16 carries. Tomlinson was 10 of 25 passing for 93 yards and three INTs.
X'zayvion Huitt intercepted a pass for Hickory.
Statesville had 468 yards of offense. It would have been over 500 if not for a 25-yard loss on a snap over Moore's head and a 17-yard loss on a low snap to the punter. Hickory finished with 212 total yards.
Statesville is back in action Friday when it plays at Lake Norman (1-0). Hickory hosts Hibriten (0-1) that same night.
Statesville | 06 | 08 | 26 | 00 — 40
Hickory     | 06 | 00 | 00 | 06 — 12
H — Jack Tomlinson 13-yard run (run failed), 9:42.
S — Chavion Smith 64-yard run (pass failed), 9:21.
S — Caylon Imes 10-yard run (Jasaiah Gathings pass from Nebanye Moore), 2:40.
S — Imes 1-yard run (pass failed), 9:00.
S — Moore 1-yard run (Braxton Peters run), 7:55.
S — Smith 29-yard run (pass failed), 3:44.
S — Imes 10-yard run (pass failed), 3:08.
H — Cody Young 31-yard run (kick failed), 10:31.
---
Hickory vs. statesville (1).jpg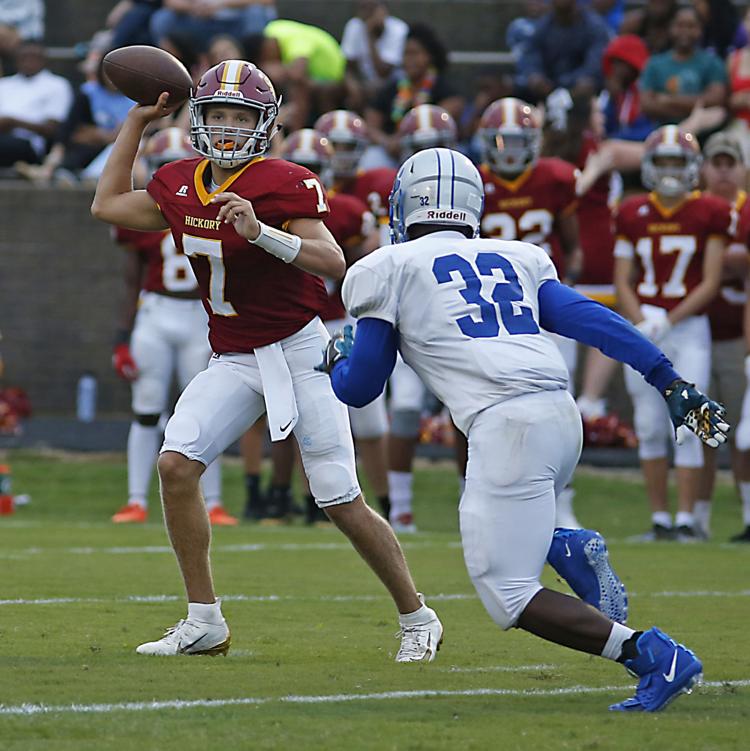 Hickory vs. statesville (2).jpg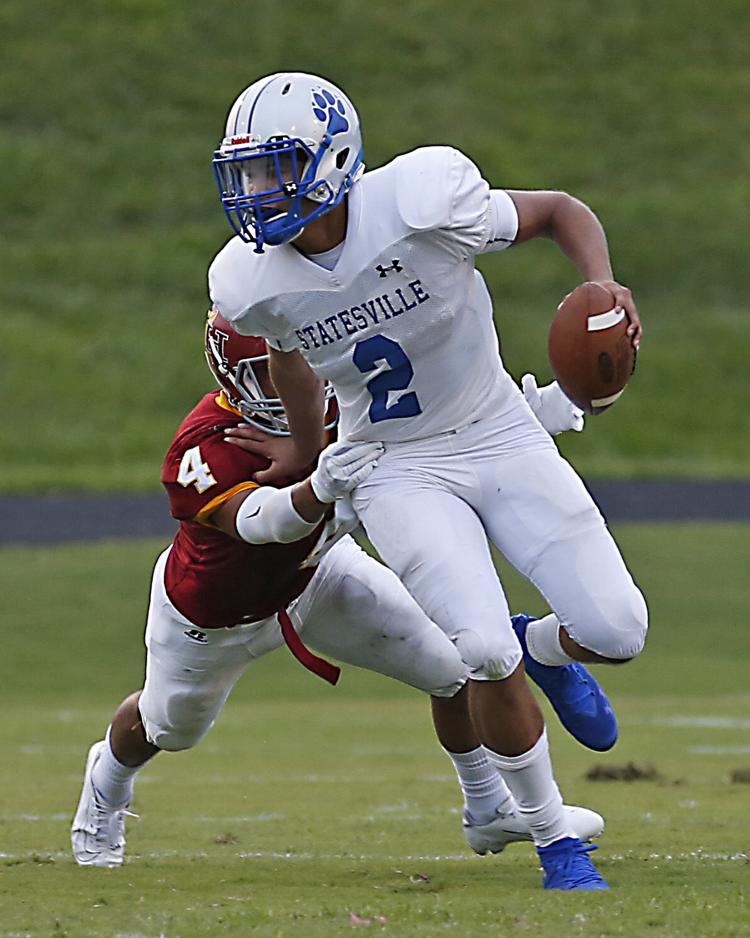 Hickory vs. statesville (3).jpg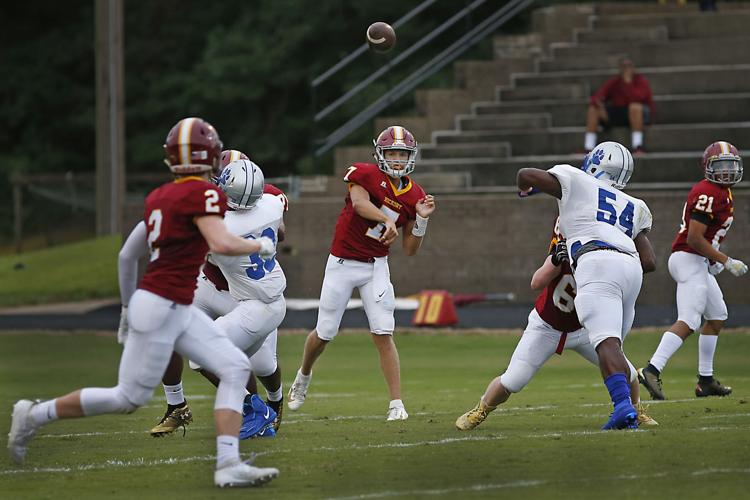 Hickory vs. statesville (4).jpg
Hickory vs. statesville (5).jpg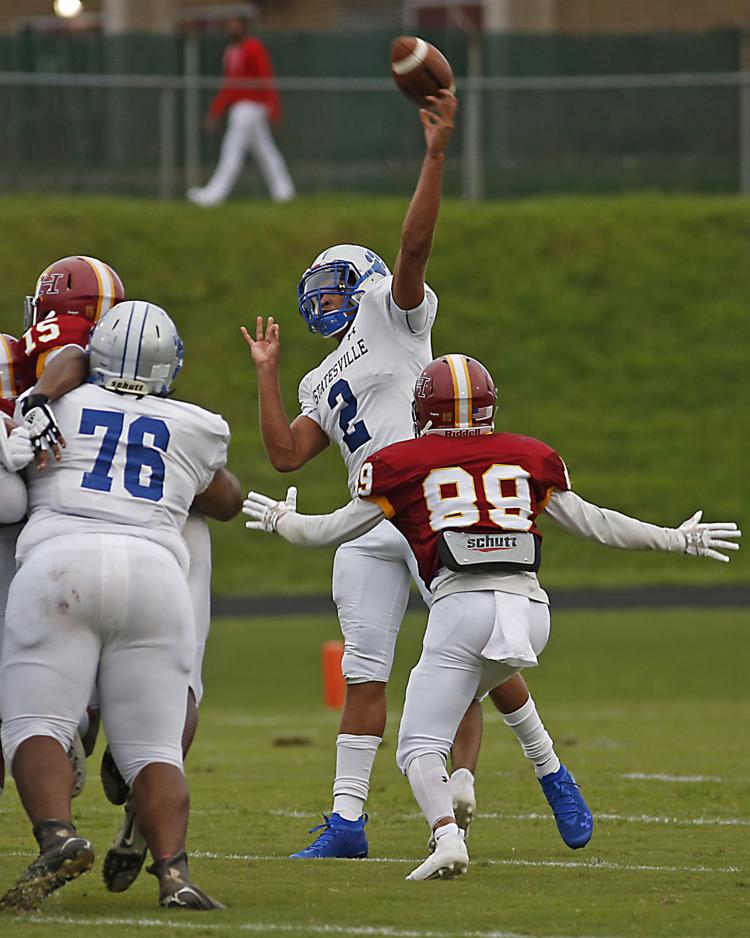 Hickory vs. statesville (6).jpg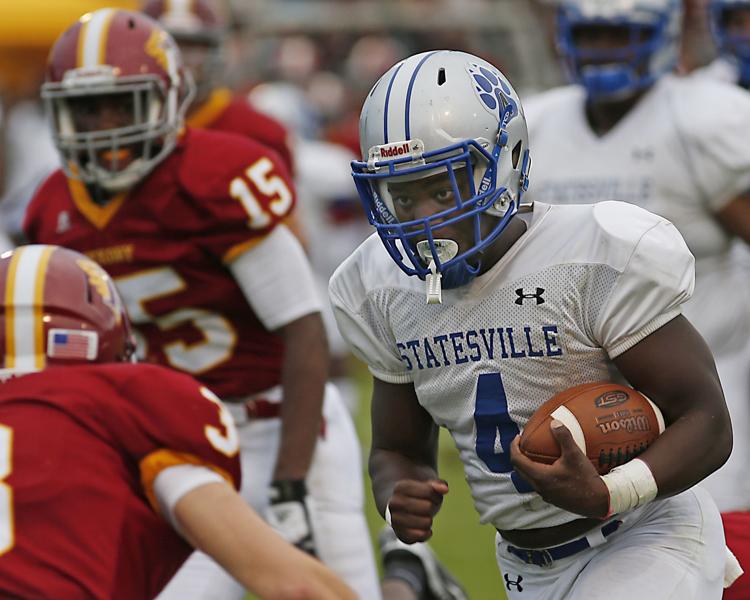 Hickory vs. statesville (7).jpg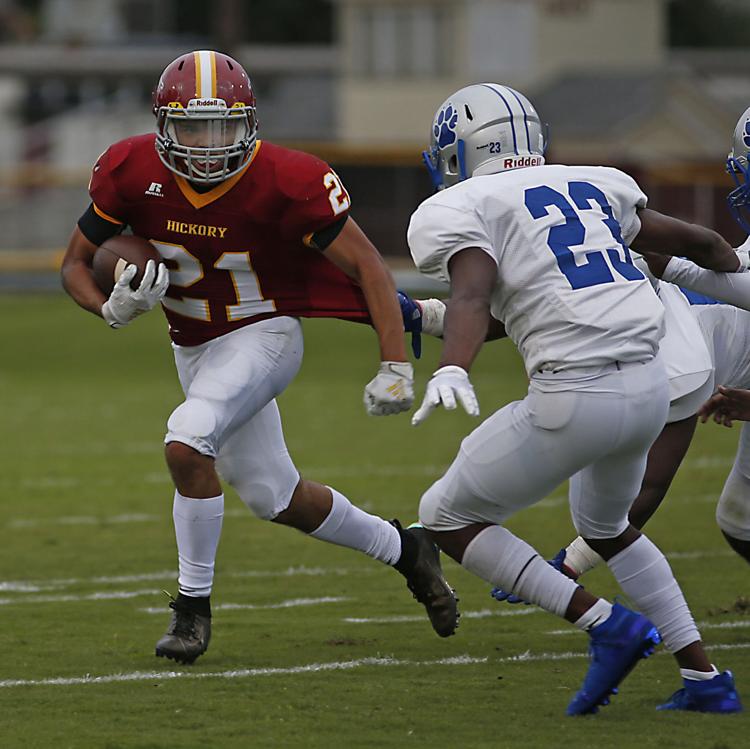 Hickory vs. statesville (8).jpg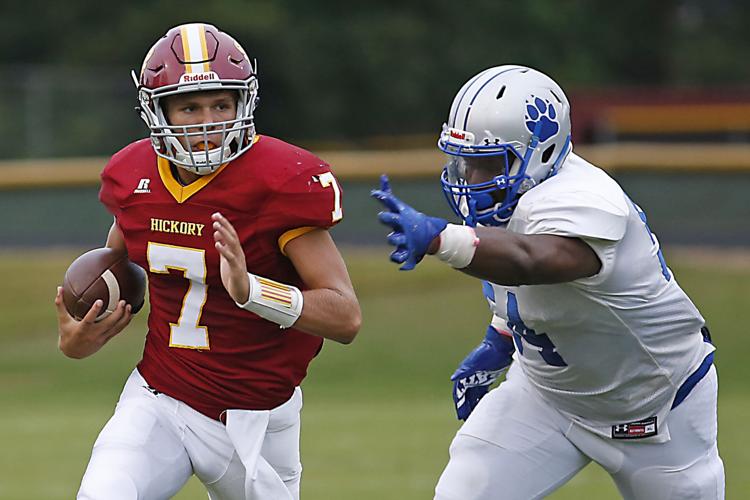 Hickory vs. statesville (9).jpg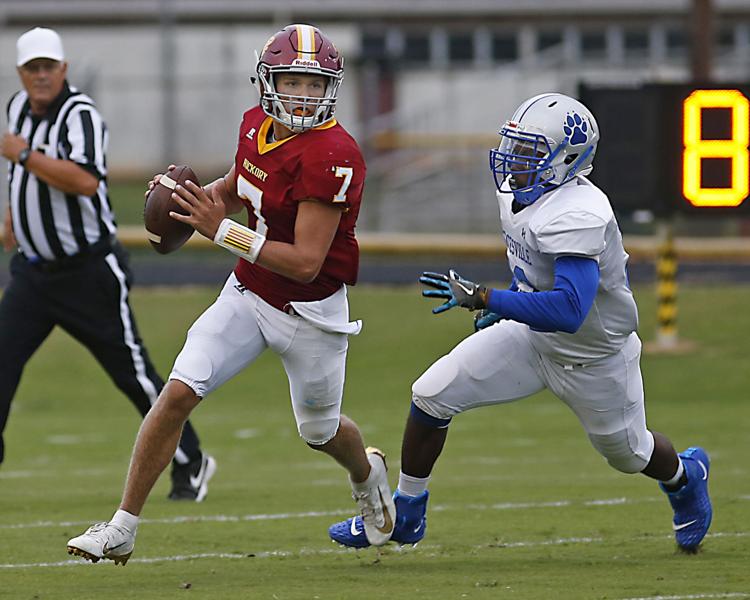 Hickory vs. statesville (10).jpg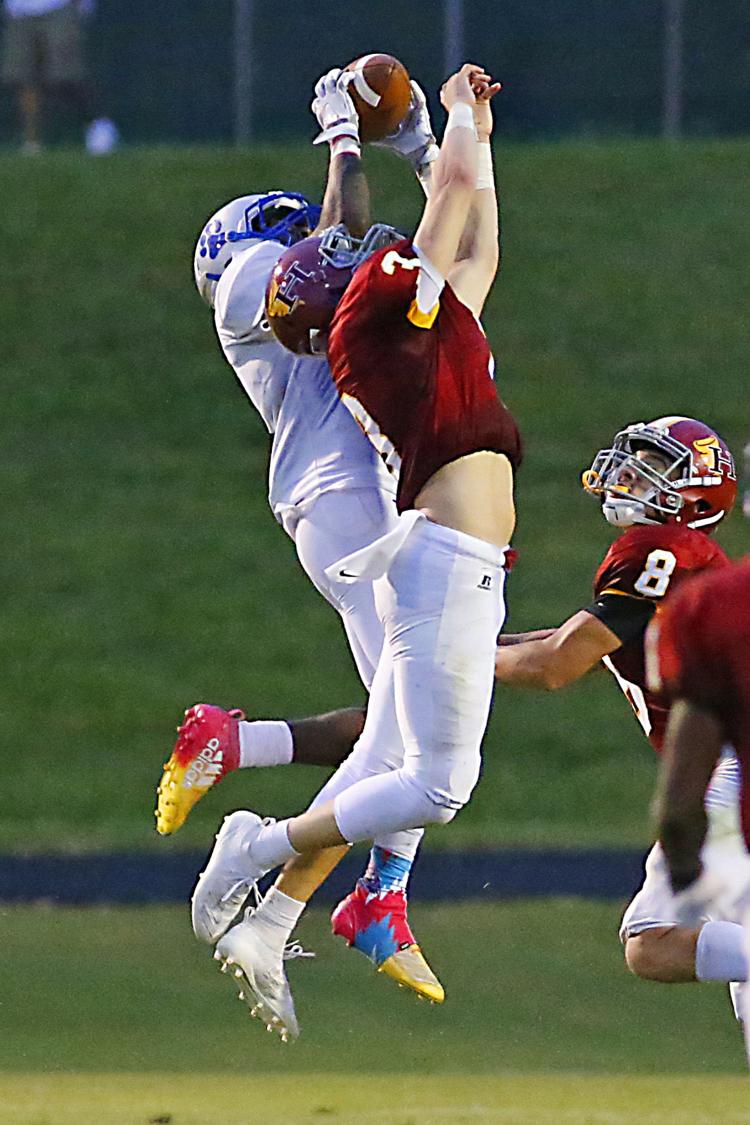 Hickory vs. statesville (11).jpg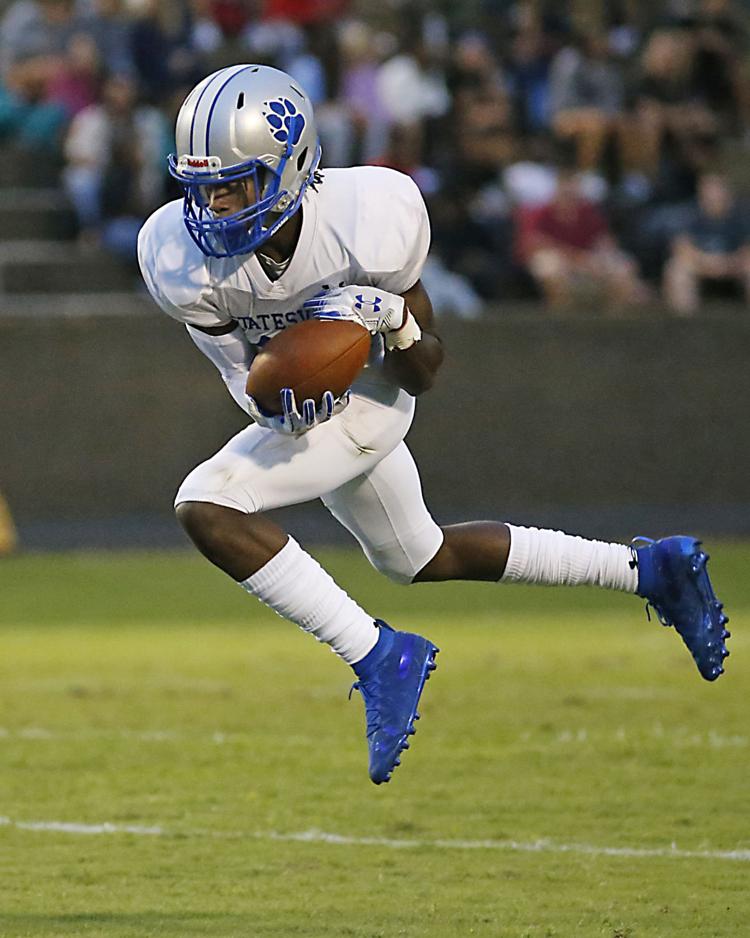 Hickory vs. statesville (12).jpg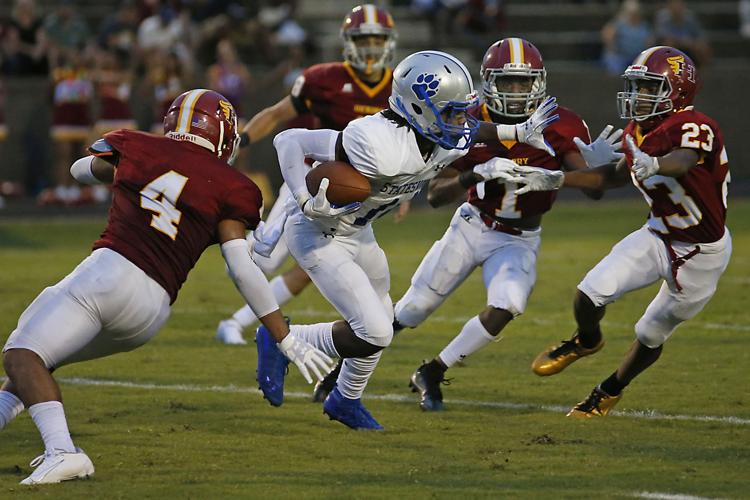 Hickory vs. statesville (13).jpg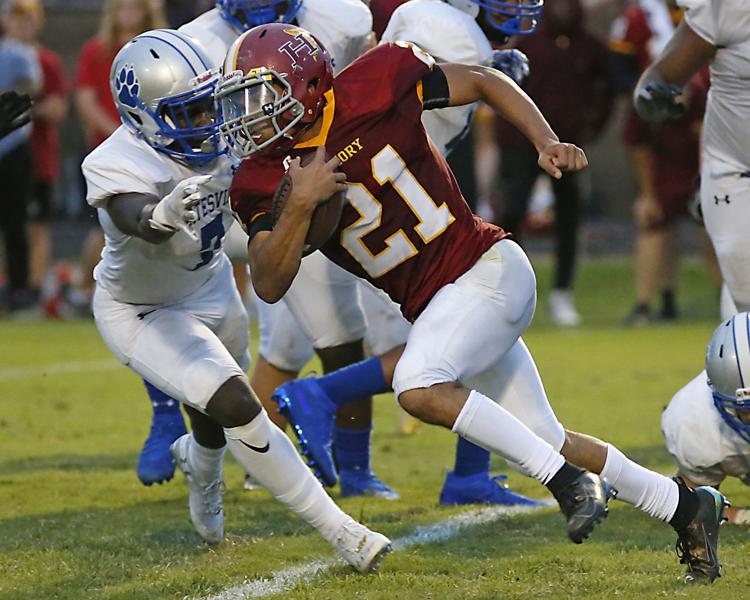 Hickory vs. statesville (14).jpg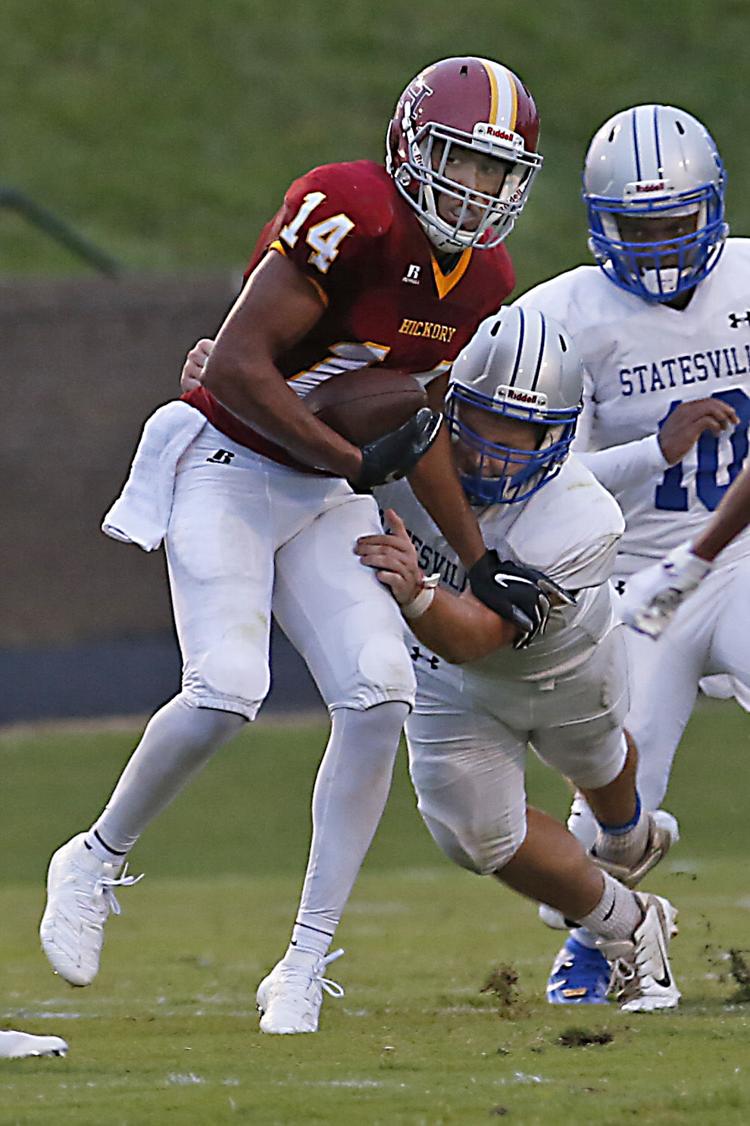 Hickory vs. statesville (15).jpg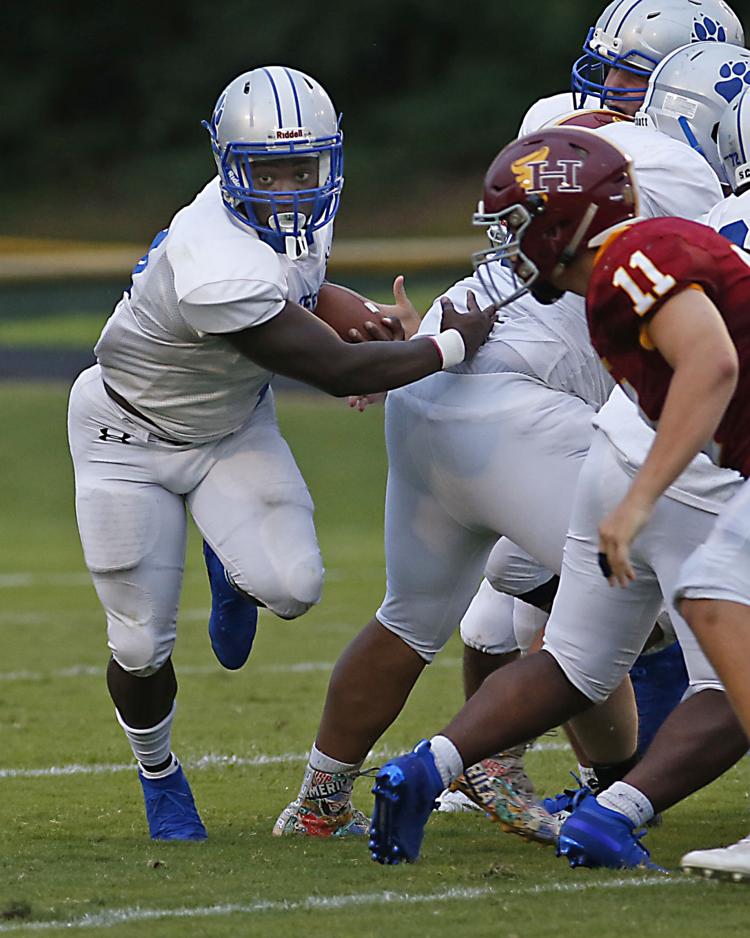 Hickory vs. statesville (16).jpg