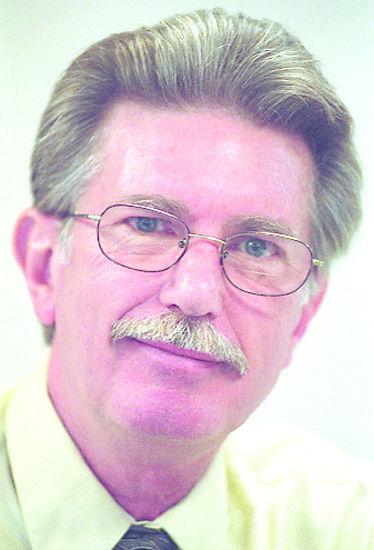 A hurricane moves slowly, and tension is evident in the days leading up to landfall.
The long wait to see if Hurricane Dorian turns away from the U.S. mainland has been tortuous for me. I have family near Lake Okeechobee, and a straight path into Florida would swamp their area. Fortunately, Dorian changed course.
My family members are getting some high wind and a lot of rain, but they're not in the bullseye anymore. However, a hurricane doesn't have to make a direct hit to inflict damage. So it is that coastal regions from Florida to Virginia and beyond must deal with the storm.
On the other hand, a tornado's strike zone is narrow compared to a hurricane, but its force is concentrated and it blasts everything it touches. A tornado can miss you by a mile and you are relieved. The eye of a major hurricane can miss you by 50 miles and your life is still threatened.
Sometimes, a hurricane can make an unexpected visit. Hurricane Hugo was a surprise. The storm made landfall in just the right place, at just the right angle, and we got clobbered. Hugo held together long enough be a borderline hurricane when it reached Catawba County.
It moved fast. It was off the South Carolina coast the previous evening, and the next morning winds howled in Hickory. An evacuation order would have been useless.
My wife and I were without electricity for 11 days.
I feel for people who have suffered from tornadoes and hurricanes. Panic and pure dread are often overwhelming. Meteorology has improved to the point where we have better tornado warnings and much better hurricane alerts, but these storms are still unpredictable.
When my family lived in Texas, we had to duck and cover twice because of tornadoes. There weren't many basements in flatland Texas, so it was get in the bathroom (which was in the middle of the house) or get behind the couch against an interior wall and hide among the cushions.
I was very young then, but my parents' urgency and fear made an impression on me. At that time, we children were still subjected to atomic bomb drills in school. Our bathtub in a tornado gave us a better chance of survival than duck and cover under the desks at school if a bomb was dropped. The tornadoes never came down our street.
I mourn for The Bahamas. We took a trip to Freeport and Port Lucaya in 2008. It was The Bahamas' 35th independence celebration. I loved it. Everyone was friendly, and I loved every minute of the trip.
The commonwealth was still recovering from Hurricane Jeanne (2004) and Hurricane Wilma (2005). Freeport's legendary International Bazaar was a shadow of itself, with most of the stores empty. There were small piles of debris in some places that had to be left to rot.
When Dorian drew near, I noticed on TV that the bazaar was looking good and prospering. Most of the storefronts were occupied. Alas, Dorian hurt The Bahamas harder than Jeanne and Wilma. The aftermath is chilling.
Whatever Dorian leaves behind in the United States won't be pretty, either. Most predictions show the storm will work its devilment on North and South Carolina. As we've heard over and over the past several days, Atlantic barrier islands are fragile.
They're also resilient. It's how they survive. The people who have lived there for generations know a hurricane is not a trifling thing. Many will evacuate. Some will stay. Visitors on all the Atlantic barrier islands should get out. You're simply not needed on Daufuskie or Hatteras in a hurricane.
When my grandparents lived in Tarpon Springs, Fla., the first piece of advice they got from other snowbirds was to have a plan to pack up fast and get out of the way of a hurricane. They had to skedaddle twice.
Both times, they needed little more than an hour to pack the car, secure the mobile home as well as possible and hit the road. Both times, hurricanes went elsewhere – missing the trailer park and Tarpon Springs – but my grandparents already were safely lodged in Madison, Ga.
My grandfather wasn't scared or worried about much of anything, but when the time came to git, he did. He didn't live through the 1940 floods to get smushed or drowned by a hurricane.
It's hard to be upbeat when a vicious storm is at your doorstep or threatening friends and family. That's when we also pray for people we know and don't know.
Here at home, we're probably safe from Dorian, but we still feel the tension and afterward the despair of those who have to cope with nature's wrath because there is simply no way and nowhere to run.