Editor's Note: Today is day two in a three-day series on cold cases in Catawba County. To find Sunday's story on 71-year-old Ken Mohler, click here. If you can help bring these families some closure, please contact the Catawba County Sheriff's Office.
Where is Robert Wayne Connor?
The answer to that question has remained a mystery for 16 years.
In 2003, it was easier to disappear. Social media as we know it today was non-existent and not as many people had cell phones.
At age 60, Robert lived alone in a home on his 20-acre property near U.S. 70 East in Claremont. He wasn't known not to call someone back.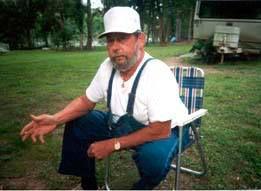 When calls from family went unanswered, Robert's family drove to his home to check on him on July 24, 2003.
In a Hickory Daily Record article from 2007, Robert's daughter Lisa Miller said what she found at her father's home left her uneasy.
Robert's truck was parked in an odd spot and his mailbox looked like it had not been checked in several days.
Inside the home, Robert's beloved dog Rusty had been left behind. He was hungry and frantic, the article states. There were 14 voicemails on the answering machine for Robert's landline.
And probably the most disturbing detail: the .357 Magnum handgun Robert kept under his couch was missing.
In a HDR article from August 2003, Miller said: "This is totally out of character. I think there is foul play. If somebody was going to do some harm to him, that (creek) would be a good location to put him."
The creek she's referring to is Lyle Creek. Robert's property was also searched. In 2003, the search for Robert in the creek began in Connor Park, which is named after Miller's great-great-uncle.
Capt. Aaron Turk with criminal investigations at the Catawba County Sheriff's Office said there was nothing found at Robert's home that would indicate foul play. No sign of a struggle. No biological evidence.
Given the amount of time he's been missing and some of the tips their office has received, Turk said it is possible that Robert has been dead for quite some time. However, his case is not being investigated as a homicide, Turk added. It is still considered a missing persons case.
Robert was last seen at the Boxcar Grille in Claremont on July 18, 2003. He would now be 77 years old. He is 6 feet tall and 210 pounds. When he went missing, he had a full beard with gray/black hair. Some reports say Robert liked to wear a white T-shirt with overalls and a cap.
No amount of information is too small. The Catawba County Sheriff's Office says the smallest tip could help solve this case. If anyone has any information about Robert Wayne Connor's disappearance, please contact the sheriff's office at 828-464-5241.