A team effort to rescue a horse from a Claremont pond Thursday morning ended happily.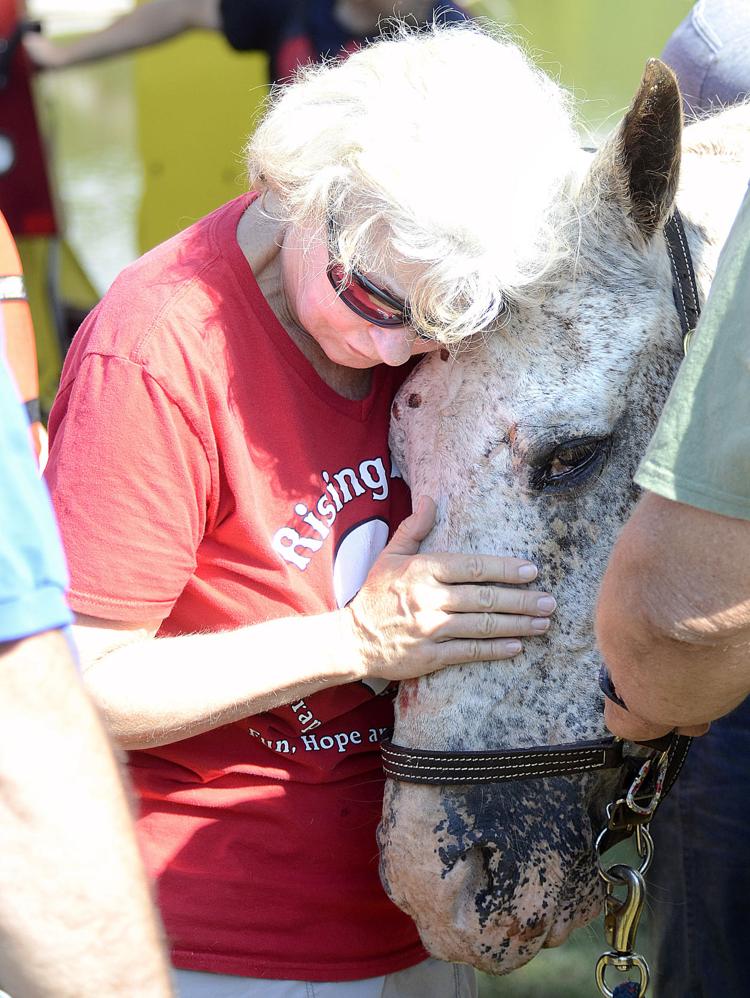 Gail Wartner, executive director of Rising Hope Farms, said Rising Hope volunteer Randy Cline went to feed the horses and a horse named Gideon didn't come to eat. The people at the farm were concerned because Gideon is an older horse with limited sight and hearing. Wartner and Cline found Gideon before 9 a.m. in a pond on the property. His rear legs were stuck in the mud beneath the water.
A call for help went out.
Members of the Claremont Fire Department, Claremont Rescue Squad and St. Stephens Fire Department arrived on scene to assess Gideon's condition. Claremont Rescue Squad member Jerry Peeler, who volunteers at Rising Hope, and Rising Hope volunteer Randy Cline comforted the elderly stallion throughout the rescue.

A large truck equipped with a rotating hoist system from Skeet's Wrecker Services and Storage in Hickory arrived to the pond around 9:45 a.m. Representatives with Henry River Mobile Veterinary Services put Gideon under sedation to calm him before the attempt to lift him from the pond.
Skeet's employees used the truck to lift the 900-pound horse straight up from the water and place him on firm ground. Rescue personnel were worried Gideon's rear legs were broken or could be broken during the process.
Other than a few cuts, Gideon was uninjured throughout the rescue.
 "Oh I was gonna get him out. He's my buddy. All the horses here are," Peeler said. "If you don't know what Rising Hope is, you need to come look at it and check it out."
Rising Hope Farms is a ministry geared to give people with disabilities and those suffering from the loss of a loved one an opportunity to interact with horses in a fun and safe way.  Wartner said Gideon, with help of eight other horses on the farm, has brought joy to hundreds of people over the years.
"He deserved to have this kind of attention on him for a change," Wartner said. "We love him and I'm so glad he's safe."
Wartner mentioned naming the pond after Gideon, who is between 25 and 28, would be a nice memorial to him once he passes.
"No name for the lake, but we're gonna name it now," Wartner said.
Gideon was able to walk on his own within minutes of being pulled from the pond.