Larry "Moon" Teague, 73, has been coming to the Soldiers Reunion in Newton since he was a boy.
He likes to set up his tent, pass out materials and enjoy camaraderie with others, particularly other veterans.
As chief of staff for the state Veterans of Foreign Wars organization last year, Teague said he went to multiple veterans events around the state and touted the local Soldiers Reunion as the best parade he's seen in the state.
On the morning of the 130th Reunion Day, however, Teague said he was concerned by the sparse attendance compared to the 2018 edition.
Teague recalled how big the event was when he was young and how he's seen a change in that over the years.
"We've got to keep this thing alive," Teague said. "A lot of people don't realize what them old veterans had to go through and it's not right."
Teague also bemoaned the decision of some high school marching bands to decline invitations to participate in the parade.
"The people, when they (Confederate statues) was initially put up, is not even living anymore," Teague said. "I mean, don't make sense to me. When you got a good thing, seems like somebody's always wanting to ruin it."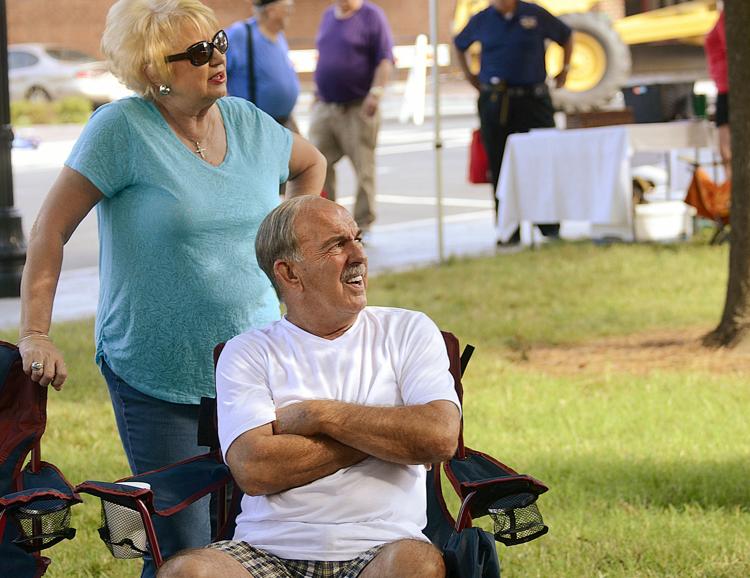 Treva Hager, 67, said she's been coming to the Soldiers Reunion since she was a baby. She said her father was a VFW member who instilled in her the importance of the event.
She enjoys coming to the event to catch up with people she hasn't seen since the last one.
As a child, Hager said she liked coming in the morning when it was relatively cool to hear the bands. She also recalls there used to be more floats and fewer cars than now.
Over the years she has also seen changes in the event.
"It just seems that back then more people came out and participated," Hager said.
Hager's husband Pete, 68, said the purpose of the event is to honor all veterans.
"People try to put it down as about the Confederate flag thing," Hager said. "This is about all the veterans. If it weren't for all them veterans, we wouldn't be standing here."