In her new cookbook, "Jubilee," author Toni Tipton-Martin gorgeously shows the nuance and breadth of African American cooking, revealing its multitudes through recipes drawn from two centuries' worth of cookbooks. "Jubilee" mines the forgotten volumes Tipton-Martin unearthed in her 2015 book, "The Jemima Code," to present dishes translated for a modern kitchen. Tipton-Martin, a journalist-turned-historian who was the first black food editor of a major daily newspaper, uses the knowledge conveyed by plantation cooks, classically trained chefs, entrepreneurs, bartenders and butlers to reveal the range of African American cooking.
We talked to her about the book, her own Thanksgiving traditions - and her cookbook collection. Edited excerpts of the conversation follow.
Q: How did "Jubilee" come about?
A: My goal all along has been to draw attention to the invisible or marginalized African American food professionals who have been in our midst, in plain sight. I knew all along it couldn't be contained in one project, and so we were strategic in planning several books that could help the reader develop the same appreciation that I had for these cooks.
Q: You talk in the introduction about finding within the cookbooks you gathered a "collective culinary IQ." Tell me a little bit more about that.
A: The idea of a culinary IQ is the dexterity that we can see in these cooks. They worked in one capacity all day and then they returned to their homes and to society that has marginalized them, and they are nimble enough to navigate both worlds. The cookbooks prove to us that those professionals believe this food is theirs - it is their intellectual property, even though they prepared it at work and history has portrayed that as "white people food." It has been misunderstood as not somehow representative of their food.
The example that I give is that we honor celebrity chefs today for the food they prepare at work. We don't tend to anoint them with celebrity status for home cooking. A lot of what people are known for is their restaurant food or their cookbook food, and so all I've asked is that we apply that same standard to African Americans.
Q: So much of how we think about African American cooking through history is enslaved cooking or service cooking. Why is it important for you to talk about the joy?
A: As a food writer, I have had the privilege of listening to modern chefs and food professionals talking nostalgically about their introduction to cooking, maybe about how much they loved the aromas in their grandmother's kitchen, or about the loveliness that we all as food people understand exists in the kneading of bread, or creating a nice, warm comforting meal. That story line didn't match the story line that has historically been created for African Americans - at least in the written record.
Plenty of people have had an appreciation for black home cooking, whether they were African American themselves or whether they were the families that had a black cook in their home. They've understood, or have felt themselves, the passion I'm describing, but it just hasn't been conveyed in the written word.
Q: Among all these cookbook writers, was there one you connected with or loved more than the others?
A: Oh, that's like asking a mother to choose her favorite child! But there's Freda DeKnight, who was the food editor at Ebony magazine. I think my allegiance to her is obviously the connection as a food editor, but also as a woman who was clearly aware of the environment in which she was publishing. She saw the ways in which African Americans were being excluded from the conversation, and she set out intentionally to tell the story of the black middle class.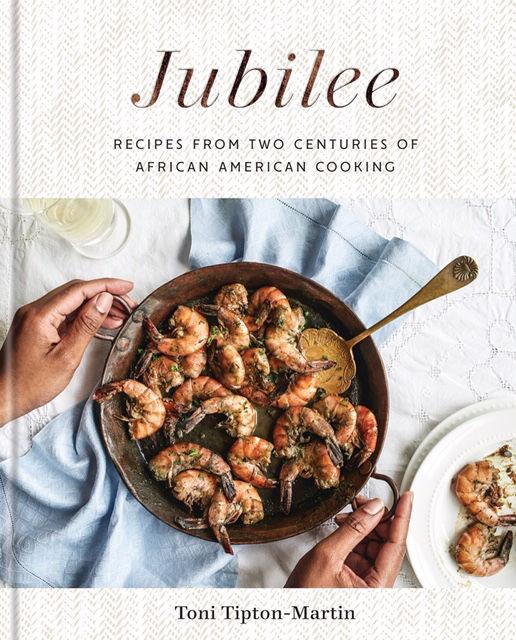 Q: How did you turn often antique recipes into ones a modern cook could reproduce in their kitchen?
A: We gave a lot of thought to the best way to translate those recipes, knowing there were often missing measurement amounts or ingredients that were no longer available. But we reproduced the original recipes, too, because I wanted people to have a flavor of what those kitchens were like.
I tested over 500 recipes and chose those that either resonated with me personally or because they could amplify the story in a different way. So anyone who comes to this looking for a through line - like, what is African American-ness? - might be disappointed, because what I'm showing is the huge diversity within the canon.
We have had so many experiences within the American experiment. I'm hoping people understand that we are all free from the burden of expectations, and that we can create our own identities based on what is interesting and delicious to us. That's not a new cultural practice. All hyphenated American cooking styles, whether it's Italian-American or German-American or Jewish-American - everyone has had that flexibility, and we haven't.
Q: Tell me about your Thanksgiving. The holiday is one where we often cook family recipes or things that say something about our identities. Is that the case for you?
A: Thanksgiving is a bit of a moving target right now, because some of my children and my niece - the Gen Xers in the family - are becoming vegan. It began with my mother, who, as a pescatarian, she always wanted to make salmon on the side. And as a food person, I was just like, "You can't mix those aromas in the kitchen!" We have all this savory, traditional Thanksgiving food - all those warm, fall flavors - and she wanted to insert fish. So that began the transition for us of how to embrace the diversity of our experiences.
One of the things that's always been important to me was to engage my children in the kitchen, like the ancestors did, and so I've found activities that engaged them beyond stemming the green beans or the collard greens. I've created several family traditions that we carry on.
Q: Like what?
A: Well, I have what has become the tradition of the pie class, where everyone gets to make their own pie filling. Each kid sets up in a different part of the kitchen and makes whatever their favorite flavor is. I have an apple-pie-lover, and two cherry pie boys. My niece wants lemon tart. My brother and husband wanted Key lime. My mother wanted pecan. It's a lot of pie - and a lot of leftovers. So we've adapted it over the years. It's been a lot of fun. I've also engaged them in the hot roll-making. I make the hot-roll dough and then they shape the dough.
Q: Tell me a little more about those rolls.
A: The hot rolls are an absolute staple at our table. Were I to arrive at a holiday dinner without them, I would not be allowed through the door. The no-knead dough is so forgiving. In looking through these books, you learn that African Americans were incredible bakers, and their books are filled with desserts and hot rolls. Hot rolls seem to be the mark of an excellent cook.
They also make incredible sandwiches the next day. The first thing people want to do in the morning is to start toasting that bread or start wrapping them around slices of ham or turkey. I double or triple the recipe.
Q: What's your next project?
A: A couple of things, but I'm working on my memoir right now, looking back at my food career: the obstacles, the barriers, the joys. And I'm looking at how similar my experiences have been when compared with my ancestors, despite what people might see as my success and accomplishments. A lot of it is what it was like to exist in the food world at a time when there was no diversity. We weren't looking at the culture of food as generously as we are today. There was just less curiosity, there were no food-studies majors.
Q: You clearly love cookbooks. How many do you own now?
A: I think there are only two that I don't have in first edition, and what we know from book dealers is that if those two do become available, it's just going to be astronomical. After years and years of being a food editor, I can't even tell you how many cookbooks I have. It's in the thousands.
I've always kept them in different places around the house, but right now, we're restoring a 1902 rowhouse in Baltimore, and it will be the first time they've all been in one place. The parlor is set off with pocket doors, and we're going to house them there, so there will be an actual cookbook library. And then I'm debating what to do with that. It will be our home, but we're thinking through how we might be able to make that accessible to the public.
Q: Since you're renovating, I have to ask - what are you doing to the kitchen?
A: That's going to be a really interesting adjustment. These homes were created for service: There's a back stairs, and all the buzzers and bells are still in place. I'm thinking about retaining that concept. It's contrary to what I've experienced, which is the open kitchen, that flowing connection to the family room that you have in new construction. During construction, I've taped over the bells and buttons that I want to stay in place. I haven't yet threatened the lives of the contractors - but I might!
I think it's going to create some new conversation for me, for friends and colleagues that gather in this house. It will be an extension of the work that I'm doing.
* * *
RECIPES
CHILE-RUBBED ROAST TURKEY
10 to 14 servings
Cookbook author Toni Tipton-Martin got this recipe from one of the rarest black cookbooks known to librarians, historians and collectors - a 1929 "The Lone Star Cook Book and Meat Special (From the Slaughter Pen to the Dining Room Table)" by Ataway Fillmore, a Dallas-based chef - which she got at an auction. Tipton-Martin was drawn to Fillmore's use of Creole and Southwestern flavors and bold use of spices and herbs.
This is not the bland turkey of yore. Instead, it's brash, flavorful, unapologetically smoky and spicy. A couple of hours before you plan to roast the turkey, remove it from the refrigerator and let it come to room temperature.
MAKE AHEAD: The chile rub can be made up to 1 week ahead and stored, tightly covered, in a cool, dark place.
Leftover turkey may be refrigerated for up to 5 days.
Ingredients
For the chile rub
2 tablespoons paprika
1 tablespoon chili powder
1 tablespoon ground cumin
1 tablespoon light brown sugar
1 tablespoon kosher salt
2 teaspoons freshly ground black pepper
1 1/2 teaspoons chipotle chile powder
1 1/2 teaspoons dried oregano
1 1/2 teaspoons garlic powder
1 1/2 teaspoons onion powder
For the turkey
One (10-pound) turkey, at room temperature
1 small apple, cored and quartered
1 small onion, quartered
4 large cloves garlic, smashed
2 ribs celery, preferably with leaves, halved
2 medium carrots, halved lengthwise
1/4 cup vegetable oil or melted butter
2 cups no-sodium-added turkey, chicken or vegetable broth
Steps
In a small bowl, whisk together the paprika, chili powder, cumin, brown sugar, salt, black pepper, chipotle chile powder, oregano, garlic powder and onion powder until combined. You should have about 1/2 cup.
Preheat the oven to 325 degrees with the rack in the lower third. Using paper towels, thoroughly pat the turkey dry.
Remove the giblets and neck from the turkey and set aside (you will need them for the stock for the Chile-Pecan Gravy; see related recipe). Using string, tie the legs close to the body, and, if necessary, tuck the wings under the bird. Place the turkey, breast side up, in a deep, heavy roasting pan fitted with a rack. (If you don't have a rack, you can fashion one from aluminum foil: Make a "snake" from a long piece of foil and coil it around in a flat, expanding spiral.) Insert a meat thermometer into the lower part of the thigh, being careful to keep it from touching the bone. Set the thermometer to 161 degrees.
Fill the turkey cavity with the apple, onion, garlic, celery and carrots. Rub the turkey all over with the oil or butter, then, using your hands, rub the turkey all over with the chile rub, making sure to get into all the crevices. Cover the turkey loosely with foil. Add the stock to the pan.
Roast the turkey for about 2 1/2 hours, basting with pan juices every 30 minutes, until the temperature reaches 161 degrees. (The temperature will continue to rise to 165 degrees while the turkey rests.) Remove the foil during the last 30 minutes to let the turkey brown. Do not baste.
Transfer the turkey to a carving board (or platter) and reserve the pan drippings for the Chile-Pecan Gravy. Let stand for 20 minutes - this is important as it allows for the juices to distribute and not run during carving. Slice the turkey and serve warm with the gravy.
Nutrition | Per serving (based on 12 servings and a 10 lb turkey): 580 calories, 63 g protein, 6 g carbohydrates, 34 g fat, 9 g saturated fat, 230 mg cholesterol, 870 mg sodium, 1 g dietary fiber, 1 g sugar
(Adapted from "Jubilee: Recipes from Two Centuries of African American Cooking: A Cookbook" by Toni Tipton-Martin. Clarkson Potter, 2019.)
* * *
CHILE-PECAN GRAVY
10 to 12 servings makes about 2 cups
We adapted this recipe from Toni Tipton-Martin's play on Chile-Pecan Sauce. We loved the flavor but missed our traditional gravy, and so a hybrid was born. With pecans, it's a bit more exciting than you might be used to; the nuts add a sweet, earthy flavor to balance out the assertively seasoned sauce.
MAKE AHEAD: The gravy can be made up to 3 days ahead and stored, tightly covered, in the refrigerator.
Ingredients
3 cups water, or more as needed
Giblets and neck (reserved from a whole turkey)
1 small onion, quartered, plus 2 tablespoons minced onion
1 rib celery, quartered
2 garlic cloves (1 crushed and 1 minced or finely grated)
1/2 teaspoon kosher salt, or more as needed
1/4 teaspoon freshly ground black pepper, or more as needed
2 tablespoons pan drippings from a roasted turkey
3 tablespoons unsalted butter
2 tablespoons flour
1 small Scotch bonnet chile pepper, minced, or more as needed
1 tablespoon chili powder
1 teaspoon ground cumin
1/2 cup pecans, toasted
Steps
In a large saucepan, combine 3 cups water, the turkey giblets and neck, the quartered onion, celery, the crushed garlic, salt and pepper. Bring to a boil, then reduce the heat to low, partially cover, and simmer while the turkey roasts, adding water as necessary to maintain the water level. Remove the stock from the heat when the turkey is done. Strain the stock through a colander and reserve. Discard the solids.
Pour off and discard all but 2 tablespoons of the pan drippings from the turkey roasting pan. Place the pan over medium-high heat, then add the butter and flour. Whisk to combine. Add the minced onion, minced garlic, and chile, and cook, stirring, until softened, about 1 minute. Sprinkle in the chili powder and cumin and cook, stirring, for about 2 minutes. Gradually whisk in 2 cups of the reserved stock into the pan, scraping up bits from the bottom of the pan. Cook until the sauce has thickened, 5 to 8 minutes. Taste and season with more salt and/or pepper, if desired. Then stir in the pecans.
Serve alongside turkey, or refrigerate and reheat over low heat until warm.
NOTE: Toast the pecan halves in a small, dry skillet over medium-low heat for a few minutes, until fragrant and lightly browned. Cool completely before using.
Ingredients are too variable for a meaningful analysis.
(Adapted from "Jubilee: Recipes from Two Centuries of African American Cooking: A Cookbook" by Toni Tipton-Martin. Clarkson Potter, 2019.)
* * *
SWEET POTATO SALAD WITH ORANGE-MAPLE DRESSING
6 servings
Serve this bright and citrusy salad as an antidote to Thanksgiving's heavier dishes. The acidic dressing keeps the sweetness of the potato in check and livens up the entire meal.
MAKE AHEAD: The salad and dressing can be made up to 4 days ahead, kept covered and refrigerated in separate containers.
The salad can be stored, covered and refrigerated, for up to 4 days.
Ingredients
3 pounds sweet potatoes, peeled and cut into 3/4-inch cubes
1/4 teaspoon kosher salt, or more as needed
1/2 cup extra-virgin olive oil
2 tablespoons maple syrup
1/4 cup fresh orange juice (from 1 orange)
2 tablespoons balsamic vinegar
2 tablespoons minced fresh ginger
1/4 teaspoon ground of freshly grated nutmeg
1/2 cup chopped scallions (about 3)
1/2 cup chopped fresh flat-leaf parsley
1/4 cup coarsely chopped toasted pecans
1/4 cup golden raisins
1/4 cup dark raisins
Freshly ground black pepper
Steps
In a large pot, combine the sweet potatoes and enough lightly salted water to cover. Bring to a boil, then reduce the heat and cook until just tender, about 10 minutes. Drain and allow the potatoes to cool to room temperature, then transfer to a large bowl.
In a small bowl, whisk together the oil, maple syrup, orange juice, vinegar, ginger, nutmeg and the 1/4 teaspoon of salt.
Add the scallions, parsley, pecans and raisins to the sweet potatoes and toss to combine. Gently stir in the dressing, tossing just until combined. Season lightly with salt and pepper. Refrigerate until ready to serve.
Nutrition | Per serving: 450 calories, 5 g protein, 63 g carbohydrates, 22 g fat, 3 g saturated fat, 0 mg cholesterol, 180 mg sodium, 8 g dietary fiber, 22 g sugar
(Adapted from "Jubilee: Recipes from Two Centuries of African American Cooking: A Cookbook" by Toni Tipton-Martin. Clarkson Potter, 2019.)
* * *
NO-KNEAD ICEBOX ROLLS
24 servings (makes 2 dozen rolls)
The dough for these delicious rolls comes together in a flash and, outside of rising time, which takes overnight and a few hours the next day, is simple and straightforward. Baking the rolls in muffin tins ensures a delightful presentation, as the rolls come out looking like small popovers. Serve with softened butter.
MAKE AHEAD: The dough needs to be made the night before baking and stored, covered, in the refrigerator. It also needs a 2- to 4-hour rise at room temperature, then a secondary 1-hour rise.
Ingredients
1/4 cup (50 grams) shortening
2 tablespoons sugar or honey
2 teaspoons kosher salt
1 cup (240 milliliters) boiling water
One (7 1/2 grams/0.25-ounce) package active dry yeast (2 1/4 teaspoons)
1/4 cup (60 milliliters) warm water
1 large egg, lightly beaten
4 cups (500 grams) flour, plus more for your work surface
1/4 cup (57 grams) unsalted butter, melted, plus more for greasing the tins
Flaky sea salt, such as Maldon
Steps
In a large bowl, combine the shortening, sugar (or honey) and salt. Pour the boiling water over and stir until the shortening is melted. Set aside to cool until lukewarm.
Meanwhile, in a small bowl, sprinkle the yeast over the warm water and whisk until dissolved. Let stand 5 minutes. Using a wooden spoon, stir the yeast into the shortening mixture until thoroughly mixed.
Stir in the egg, mixing well. Add the flour 1 cup (125 grams) at a time, stirring after each addition until well blended. Cover tightly and refrigerate overnight.
The next day, remove the dough from the refrigerator and set aside in a warm place. Cover loosely with a damp, clean kitchen towel. Let the dough rise until doubled in size, 2 to 4 hours.
Butter two muffin tins. Divide the dough in half and, on a lightly floured surface, roll the dough into two (12-inch) logs. Divide each log into 12 equal pieces. (This is easiest to do by dividing each log in half, dividing each half in half again, and eyeballing three equal pieces per quarter.) Roll each piece into a ball, then place in the muffin tins. Brush the tops with the melted butter and sprinkle with flaky sea salt. Cover loosely with clean kitchen towels and let rise in a warm place until the dough balls reach the top of the pan, about 1 hour.
While the dough is rising, preheat the oven to 375 degrees with the racks in the middle and lower third of the oven.
Bake the rolls for 25 to 30 minutes, swapping the tins from top to bottom and rotating them front to back, until lightly browned. Brush with melted butter immediately. Let cool about 10 minutes and serve warm or at room temperature.
Nutrition | Per roll: 130 calories, 3 g protein, 20 g carbohydrates, 5 g fat, 2 g saturated fat, 15 mg cholesterol, 95 mg sodium, 0 g dietary fiber, 1 g sugar
(Adapted from "Jubilee: Recipes from Two Centuries of African American Cooking: A Cookbook" by Toni Tipton-Martin. Clarkson Potter, 2019.)
* * *
WHISKEY-LACED PECAN PIE
8 to 10 servings
A splash of whiskey or rum adds a surprising and delicious flavor to this seasonal favorite pie and tames the sweetness while amplifying pecans' earthy nuttiness.
MAKE AHEAD: The pie crust can be made up to 3 months ahead and frozen, tightly wrapped. The pie crust can be made 3 days ahead and stored, tightly wrapped, in the refrigerator. This recipe makes 2 crusts. You will use 1 for this pie; save the other for a future pie.
Ingredients
For the crust
3 cups (375 grams) flour, plus more for rolling
3/4 teaspoon kosher salt
1 1/2 sticks (170 grams/6 ounces) unsalted butter, cut into 1/2-inch pieces and chilled
6 tablespoons lard or shortening, cut into 1/2-inch pieces and chilled (can substitute more butter)
12 to 15 tablespoons ice water
For the pie
1 1/2 cups (180 grams) chopped toasted pecans, plus 3/4 cup (75 grams) pecan halves
2 tablespoons whiskey or rum
6 tablespoons (85 grams) unsalted butter, at room temperature
1 cup (220 grams) packed dark brown sugar
3/4 cup (180 milliliters) dark brown corn syrup
3 large eggs, beaten
1/4 teaspoon kosher salt
1 teaspoon vanilla extract
Steps
Make the pie crust: In a large bowl, whisk together the flour and salt. Sprinkle half of the butter and lard over the flour and use your fingertips, a pastry blender or two knives to cut and mix until the mixture resembles large peas. Sprinkle in the remaining butter and lard and cut and mix until you're left with coarse crumbs. Sprinkle the dough with ice water, 1 tablespoon at a time, and use a fork to lightly mix until the dough just comes together and pulls away from the sides of the bowl. Gather the dough into a ball. Divide the ball in half. Press into two 1-inch-thick disks and wrap in plastic. Refrigerate for 30 minutes before rolling, or freeze for later use. You will use 1 for this pie; save the other for a future pie.
Make the pie: Place the chopped, toasted pecans in a small bowl and toss with the whiskey or rum until coated. Let stand 1 hour.
Preheat the oven to 350 degrees with the rack in the middle.
Over a generously floured counter, roll the disk of dough out to roughly a 13-inch circle. (As you are rolling out the dough, give it a quarter turn every so often and flip the crust onto the other side. Continue doing so until you reach your desired crust shape/size.) Transfer it to a 9-inch pie pan, then trim and tuck excess crust and crimp as you like.
Using a hand mixer on medium, beat the butter and brown sugar until light, about 3 minutes. Mix in the corn syrup, eggs, salt and vanilla. Stir in the whiskey-soaked pecans. Pour into the pie shell, and arrange the pecan halves on top in an attractive pattern.
Bake 55 to 60 minutes, until the filling is set but still has a slight jiggle in the middle. (While baking, check to see that the edges of the crust or the pecan halves aren't browning too quickly; cover them with foil if they are.) Cool the pie slightly, then serve warm or at room temperature.
NOTE: Toast the pecan halves in a small, dry skillet over medium-low heat for a few minutes, until fragrant and lightly browned. Cool completely before using.
Nutrition | Per serving (based on 10): 750 calories, 8 g protein, 74 g carbohydrates, 48 g fat, 18 g saturated fat, 120 mg cholesterol, 170 mg sodium, 3 g dietary fiber, 4 g sugar