After vaping enough nicotine to equal 80 cigarettes in a single day, Luka Kinard, 16, of High Point, N.C. experienced something he never had before: a grand mal seizure.
Following the seizure, Kinard spent a chunk of his sophomore year in rehab to help kick his nicotine addiction. Now he's traveling the state with his mother, Kelly Kinard, to tell his story and to warn his peers about the dangers of vaping and nicotine.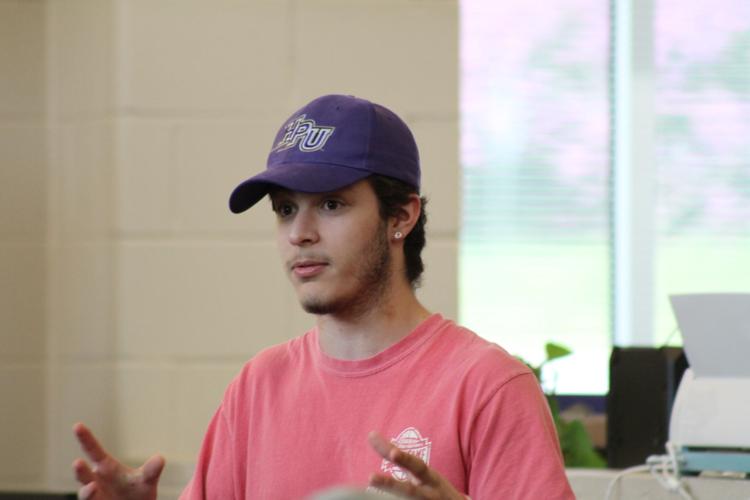 "I'm trying to spread awareness for teen vaping and to have support for teenagers because I know when I was using I didn't feel like I had the support. So, I just want to be that support," Luka Kinard said.
Luka and Kelly Kinard visited Newton-Conover Middle School on Tuesday.
Luka Kinard said he smoked cigarettes before switching to vaping, so he was already addicted to nicotine. Kelly Kinard agreed to let him try vaping because it had been advertised to help nicotine addicts quit.
While vaping, Luka Kinard said he lost friends.
"Some people didn't want to be around me because of my attitude," Luka Kinard said.
Luka Kinard sold many of his valuables including jewelry and clothes in order to have the money to buy more vaping products. He says he spent about $150 a week vaping supplies.
Luka Kinard said on the day he had the seizure, he vaped four JUUL pods. Four pods contain enough nicotine to equal 80 cigarettes according to Zack King, public health strategist for Catawba County Public Health.
Kelly Kinard decided to send her son to rehab for 40 days in 2018.
"My mom told me the night before and said I was for going eight days," Luka Kinard said. "They knew I wasn't going for eight days. If they had told me 40 days I would not have gone."
After returning from rehab, Luka Kinard said he's a lot happier. He returned to his Boy Scout troop and is working to become an Eagle Scout.
"I feel a lot better," Luka Kinard said. "Six months ago, I had a very negative outlook on the world. It was me versus the world. Now I feel like I'm a part of everything. I have more of a sense of belonging."
Kelly Kinard said she hopes parents will start a conversation with their kids.
"It can happen to anyone. It doesn't matter where you live, how well you do in school, so many kids are doing it," Kelly Kinard said. "It only takes a handful of times before you become addicted."
Luka Kinard said that after hearing his story he hopes teens will see how dangerous substance abuse can be.
"It's not something you need to do," Luka Kinard said. "You can go without it. You can have fun without it. You can fit in without it."
Luka Kinard said that he doesn't want teens to see vaping as a key to gaining acceptance among friends and social groups.
"We worry that once we get into this type of thing we think that it's our acceptance," he said. "It becomes our identity. Just because you use something, that's not your identity."
Luka and Kelly Kinard plan to continue to speak to teens about vaping and nicotine and will soon be travelling to South Carolina in May where Luka Kinard will meet with medical professionals and share his story.
It has not been scientifically proven that vaping causes seizures, but Kelly Kinard said the FDA is currently studying the correlation and she and Luka have agreed to be part of the study.