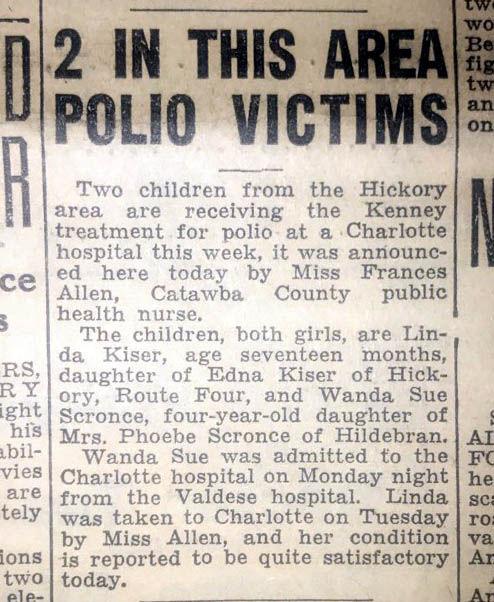 Seventy-five years ago, the Hickory Daily Record reported two local children had been diagnosed with polio. Wanda Ammerman, who will turn 79 later this month, was one of those children.
Ammerman was 4 when doctors in Valdese believed her appendix had ruptured. "They (doctors) didn't know what was wrong with me at first," she said. Eventually, the diagnosis was confirmed as polio.
Ammerman was sent to a Charlotte hospital for treatment. She was formally diagnosed on June 4, 1944, right at the beginning of the deadly epidemic that swept through western North Carolina.
Ammerman was quarantined for six weeks and remained at the Charlotte hospital for eight months. "They used these old, wool army blankets for our legs," she recalled. "Sister Kenny thought that would help it (polio)."
Sister Elizabeth Kenny was an Australian nurse who visited the United States in the 1940s to promote her idea of using warm moist packs to relax and "re-educate" muscles in polio patients, according to polioplace.org
Ammerman was paralyzed from the waist down and returned home. With help from family members exercising her legs, she was able to later use leg braces and crutches for mobility. "Once I got my braces and my crutches, I couldn't be stopped," she said.
"The teachers used to worry about me in grade school when I would get on the monkey bars and sliding board," Ammerman continued, laughing. "Mama Dot (Ammerman's guardian) told them to just let me do whatever I wanted to do, to not stop me from participating. Nothing stopped me."
She also had a series of surgeries on her legs and feet.
Ammerman's unwavering stamina allowed her to graduate high school, attend Lees-McRae College, marry, have a career and raise sons, Tim and Tracy.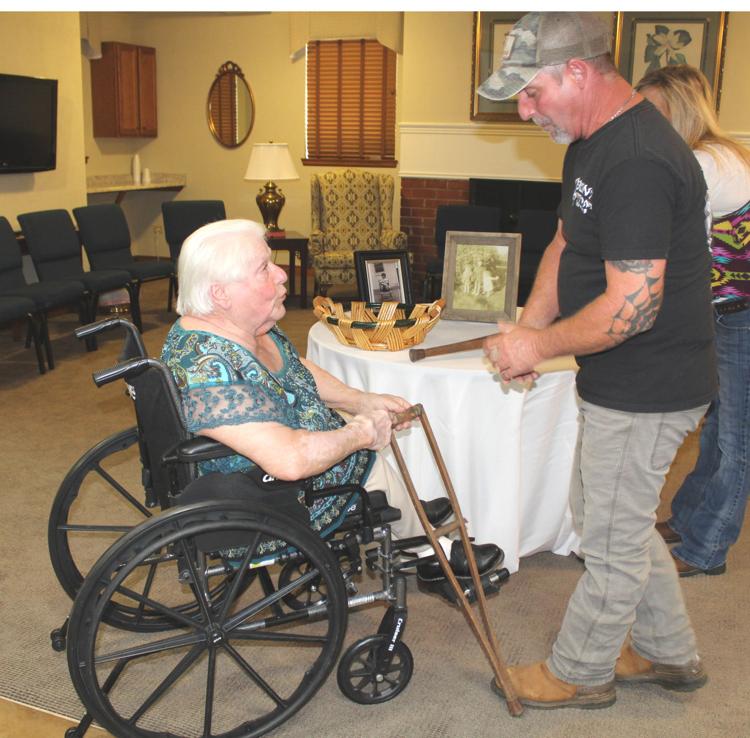 "My children, and now grandchildren and great-grandchildren, are my life," Ammerman said. She added that God, her family, friends and church family at Trinity Reformed United Church of Christ in Conover are the reasons why she has survived the last 75 years.
Ammerman has developed post-polio syndrome, but her smile has yet to fade. "I'm in the wheelchair, but I still get around. I am so loved and so blessed, and I have been my whole life," she said.
"God gave me this strength, I think from the minute I was born," Ammerman continued. "I was a fighter and still am. Nothing has slowed me down — and I'm still going, like an energizer bunny!"