Breast cancer survivor: I focused on God's promise, not the problem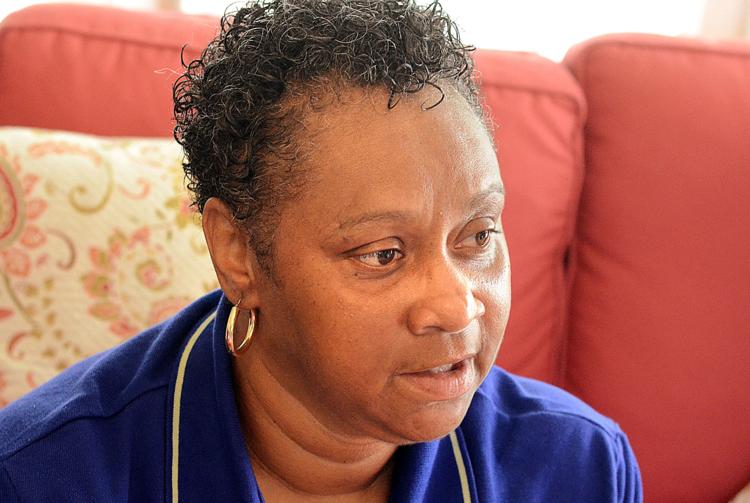 Taylorsville native Sherry Connelly found out she had breast cancer on February 14, 2018.
"Happy Valentine's day to me, right? I was distraught. I was angry," Connelly admitted. She made sure to get a mammogram every year, but somehow it still slipped through the cracks.
"I was like, 'How in the world did we miss this?'" She said she first discovered a lump in her breast, and had it checked by her primary care physician. "She (Connelly's doctor) said it was probably just a cyst, but to be on the safe side she had me go get an ultrasound and tests," she said.
The next doctor told Connelly she also needed a biopsy, which confirmed that she had breast cancer. "It was hard, but I just had to look at the bright side; God had something for me to do," she said.
As she went through many chemotherapy and radiation treatments, she kept her mind on God. "I just prayed and asked God to give me something to do so I wouldn't just focus on the problem. I wanted to focus on His promise, and not on the problem," she said.
During this time, Connelly played a part in a film called, 'Black Widows,' produced by John Robinson. "It was an amazing experience," she said. "It kept my mind concentrated on something else, instead of wallowing and thinking, 'Oh no, am I going to make it?'"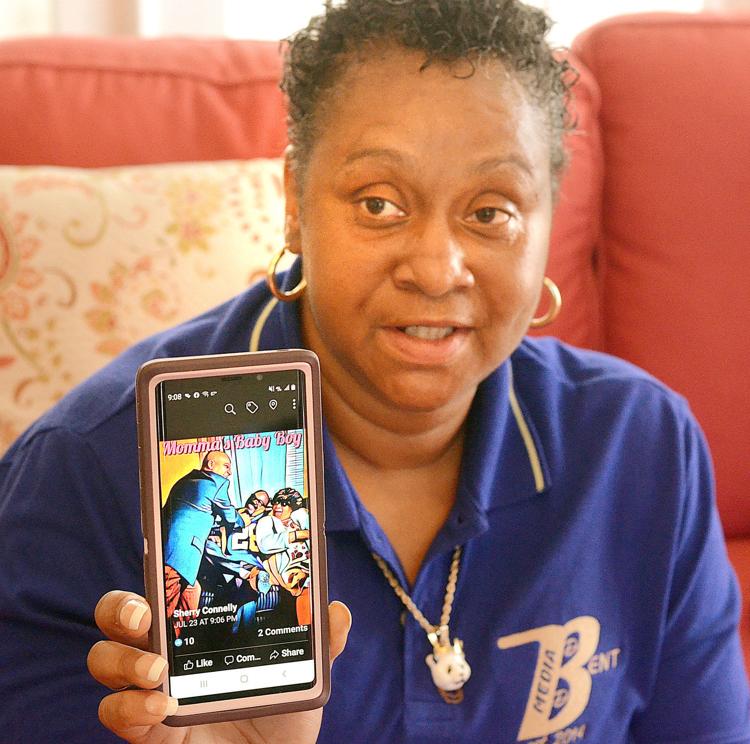 Connelly also plans to act in two more films produced by Robinson. More information on the films can be found at www.bddentertainment.com.
Another factor that played into Connelly's treatment was her support system. "My mom — she's 88-years-old — she came to every treatment and every doctor's appointment. She was right there beside me," she said. "My brother came when he could, too."
Connelly said the staff in the oncology department at Frye Regional Medical Center in Hickory was, "just amazing."
"If I came in and looked like I was not feeling the way I should be feeling, they would call the doctors and let them know," she said. "They would get me anything I needed, and it meant the world to me."
She remembers one nurse in particular — Sherri Stone.
"She has been amazing," Connelly said. "She would be off, and I could inbox her or call her and she would tell me what I needed to do."
When Connelly was in treatment, Stone was an infusion nurse in the oncology department, but would go above and beyond her job description to help patients like Connelly.
"If I needed something, she (Stone) could just tell and she would make that call for me. She made sure that I got what I needed," Connelly said. "I love her."
Today, Stone is an oncology nurse navigator and continues to support cancer patients at Frye. Connelly said without that support, battling cancer is much harder.
"It means everything for you to have a support system," she said. "You're going to have those days where you just feel like giving up, throwing in the towel. I felt like that, but you have to keep fighting and push through."
"People think that cancer is a death sentence," she continued. "It's not now. There is so much technology out there to help, and you can't give up. You've got to keep going."
Connelly is now in remission and plans to continue her acting career as long as she can.
Cancer navigators guide breast cancer patients through the early stages of diagnosis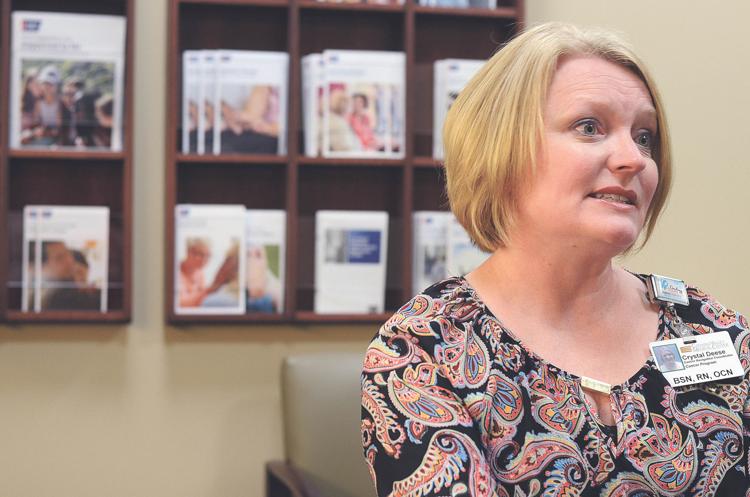 Throughout her nursing career, Crystal Deese has played many roles, but oncology has always had a special place in her heart.
"That's the whole reason I went into nursing was for oncology," Deese said. "I was in high school when my grandmother was diagnosed with cancer. And I just remember her saying, 'I won't be here for you to help me, but you can help someone else.'"
For the last 20 years, Deese has worked with cancer patients in one way or another, whether that is at the start of the cancer journey, at the end of treatment or at the end of the battle with hospice care.
Now, Deese is the interim breast cancer navigator at Catawba Valley Medical Center.
"The navigator, I guess you can say, is the middle person that connects them to the surgeon or the oncologist after the initial diagnosis," Deese said. "I'm the first person that makes contact with them. Me along with the radiologist, when we get the positive pathology report back, we bring them in and then point them to the surgeon."
Deese calls working with cancer patients a calling.
"I have a strong faith," she said. "... It's not something that I would have ever chosen to do for money or write anything that way."
She feels the same way about her time working in hospice care.
"It was a great honor … to be invited into someone's home and you be able to be there to take care of them," Deese said. "It was a privilege more than anything. Then you get to see them where they're happy and they're comfortable, and where they want to be. Not in the hospital setting."
Working as a breast cancer navigator does have its challenges, especially since Deese doesn't have many answers for patients when they're first diagnosed.
Deese and a radiologist are usually first to tell breast cancer patients that their biopsy came back positive for cancer. They can't really tell them exactly what type of treatment they'll receive or how long, but they can sometimes let the patient know that chemotherapy, radiation and maybe surgery are on the horizon.
"You're the first person to make contact with these ladies, and telling them whenever they get the diagnosis that yes, you have cancer," Deese said. "But then we also like to say, yes, you have cancer, but now we know what we're dealing with. And no, nobody has this as part of their plan, but now we can get you going in the right steps as to what's next."
When someone is diagnosed with breast cancer, Deese said, the reaction can vary. Sometimes the patient has many questions, and other times they are silent.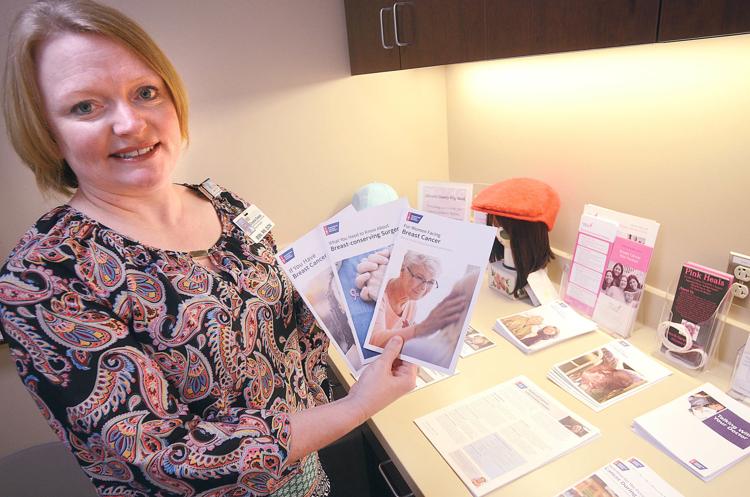 "The initial response, it's so mixed, but most of the time it's: 'Am I going to have to have chemotherapy? Will I have to have radiation? Or will I lose my breast altogether? What happens when you meet the surgeon?'" Deese said. "Some have no questions. Some are just so overwhelmed. They're like 'I'll have to call you back,' and then there are some that come in with questions."
If a patient has a financial hardship, Deese and the other cancer navigators can assist the patient in finding the right financial assistance programs as well as support groups, transportation services and more.
Deese says keeping up with your yearly breast exams is essential.
"I don't think you can stress enough the importance of doing your screening mammograms," she said. "Because I believe with the changes and the advances that we've made in treatment, it's a very curable diagnosis, if we catch it early enough. So it's the screening and prevention I think that can make the biggest difference."
Assessing your risk may help prevent breast cancer from affecting you and your family
By Melissa L. Teague, Frye Regional Medical Center
Most cancers start with abnormal cells growing out of control. Sometimes you will experience symptoms, but often you will not. That's why cancer high-risk assessment programs are so important. Finding and treating cancer in its earlier stages is potentially lifesaving.
Frye Regional's clinic is staffed by a specially trained high-risk coordinator who helps assess your genetic risk for certain types of cancer including breast, ovarian, colon and uterine cancer. The coordinator gathers information about your background and family history and can help determine if further testing is necessary.
What is genetic testing?
Genes are found in chromosomes and are made up of DNA. We inherit genes from our parents. Our gene structure dictates how our body grows and regulates. When genes are normal, they work properly. When genes are abnormal or damaged, they can lead to disease. These are called gene mutations or changes. Some changes run in families (hereditary), and some happen by chance. A gene mutation can be the sole cause of disease. However, most diseases occur from a mixture of genetic and environmental factors.
Genetic testing looks at your genes to check for any mutations. The test is done with a sample of blood or saliva. There are several reasons why you might do genetic testing:
» To diagnose a disease or a type of disease.
» To determine the cause of a disease.
» To determine treatment options for a disease.
» To find your risk of getting a certain disease that possibly can be prevented.
» To find your risk of passing a disease to your children.
How can a genetic counselor and/or high-risk coordinator help me know if I should have the screening?
Talk to your doctor if you think you are at risk for an inherited disease. They may refer you to a genetic counselor, who can review your family history and provide advice. They will ask you questions about your health and the health of your blood relatives. This information can calculate what your risk may be. It can help you decide whether you want to get testing. It also may determine if your insurance will pay for the testing.
How do you know who should be tested?
If one of your family members already has the disease, that person should get genetic testing first. This will show if their disease was passed down or occurred by chance. People from different ethnic groups are more at risk of certain diseases.
What does it mean if you are positive or negative?
A positive test result means that you have the gene change. This increases your risk of the disease. However, it does not guarantee that you will get the disease. It does mean you could pass the mutation to your children.
A negative test result means that you don't have the gene change. This may mean the disease doesn't run in your family or wasn't passed down to you. A negative result does not guarantee that you won't get the disease. It means that your risk of the disease is the same as it is for other people.
What about my children?
If your test is negative, you cannot pass a gene to your children; however, if you are positive, you could pass down the gene mutation to your children. It also means your daughters or sons may need closer surveillance for early detection.
Things to consider
Genetic testing has pros and cons. These can change depending on your situation. Keep in mind that genetic testing is voluntary. You should not feel forced to do it.
Some benefits of genetic testing include:
» You may be less worried about developing a certain disease.
» You may be motivated to change your lifestyle to reduce your risk.
» You may be better prepared to move forward with family planning.
» You may be able to get treatment to prevent the disease. This could include medication or surgery.
» Your doctor will know how often to check for the disease.
Questions to ask your doctor
How do I know if I should see a genetic counselor?
If my genetic testing result is positive, what is my risk of getting the disease?
What can I do to prevent or treat the disease?
Should my genetic testing be done in a clinical setting or can I do it from home?
Breast cancer patients form special bond during treatment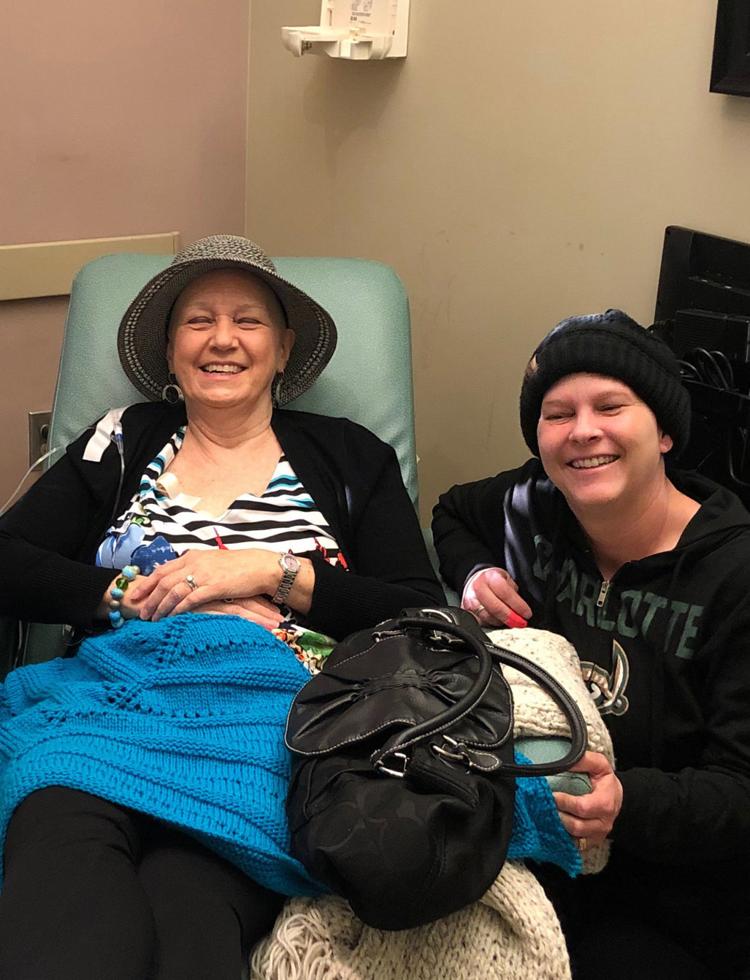 Courtesy of Catawba Valley Medical Center
When nurses noticed the uncanny similarities between breast cancer patients Kathy Rector and Cheryl Kiser, they decided to seat the women together during a chemotherapy treatment at Carolina Oncology Specialists in Hickory.
Rector and Kiser became fast friends, forming a bond over battling the potentially fatal disease and coining a name, "Chemo Country Club," with the tagline — "now accepting short-term members only" in honor of the place they met.
"We were basically therapists for each other," Kiser said. "We shared a wide range of emotions and strength in our determination to beat cancer. We inspired each other, lifted one another up, and found ways to belly-laugh through the process."
Both elementary school teaching assistants, Rector, 63, works with exceptional students at West Alexander Middle School and Kiser, 51, helps in kindergarten and first grade at Sherrills Ford Elementary, where she also drives a bus route.
The women synchronized treatment appointments and remained in touch through texts and calls along the way.
"We found empathy, hope and companionship in the common ground of side effects — hair loss, nausea, vomiting, nerve pain, and 'chemo brain,'" Rector said.
They also drew strength from their husbands, children and faith in God.
How they were diagnosed:
Notably, both women discovered suspicious lumps by self-exam despite having clear 3D mammograms within eight months before diagnosis.
Rector: My sister faced breast cancer two years ago, but we didn't have a family history of the disease before then. When I felt a lump about 2 inches in diameter in the center of my breast during vacation last September, I saw my gynecologist the following week and got the news — a diagnosis of triple-negative T2 breast cancer with positive lymph nodes.
Kiser: My mother and grandmother both had breast cancer, so I took the BRCA genetic test to see if I was prone to the disease. Results showed "no," but when I felt a lump, I made a beeline to Dr. Elizabeth Restino at Catawba Valley Family Medicine-Southeast Catawba, my primary care physician. She ordered a breast ultrasound and biopsy at Catawba Valley Imaging Center which confirmed the presence of T3 invasive ductal carcinoma, meaning cancer had spread to the tissue under my arm. A PET scan also revealed tumors on my ovaries.
Rector and Kiser both recall the quick transition of initial shock to fierce determination. After the sadness of delivering such emotional news to family and friends over the holidays, they faced the difficult process of telling faculty, parents and students at their schools, which triggered additional worry and a more public form of concern.
Rector continued working through treatments, wearing a mask to minimize germ exposure in the smaller setting of her classroom. But Kiser took a leave of absence given the extended population she came in contact with daily. From here, the battle ensued.
Rector: I had a breast lumpectomy in November, started chemo in December and then began 32 radiation sessions at Catawba Valley Health System Radiation Oncology. Two days after Christmas, my hair started coming out. The more I brushed, the more I cried. I tried wearing a wig, but it gave me such a headache, I decided just to wear hats. Late February, my first grandchild, Aubrey, was born when I was sick. I had to wait two long weeks before traveling to Ocean Isle and hold her in my arms.
Kiser: For me, processing my diagnosis was a God thing. He allowed me to absorb things one at a time. I didn't do research on my own. Instead, I protected my mind and trusted Dr. Orlowski's recommendations to first shrink the breast tumor with chemo before having surgery to remove that breast and my ovaries. As radiation began, Kathy and I had radiation mapping done to identify precise targets for the True Beam radiation system to prevent damage to surrounding healthy tissue. Kathy wanted to compare maps, so we laughed about where they marked an "X" on my treasure map, and that her map had a whole lot of hills!
Prayers and acts of kindness enveloped the newfound friends during the long and challenging months of their respective cancer treatments. From extended family to people in their church and school communities, both expressed deep gratitude for the uplifting support that saw them through.
Rector: I'm extremely grateful for all the people who lifted me up in prayer and the churches that sent handcrafted prayer shawls, which I draped over me during treatments. I was also touched when West Alexander Middle School initiated a fundraiser and wore "Team Rector" T-shirts in the Cancer Relay for Life.
Kiser: I didn't think I was very vain. But when I lost my hair, I didn't want to leave my room. Austin, my oldest son, had an ongoing bet with his college roommate about who would first cut their hair. Guess what? Austin cut his hair and made a wig for me!
As the women reached key milestones and learned that treatments worked, they celebrated with each other and their whole care teams.
The pair has fond memories of the doctors and nurses who worked to save their lives: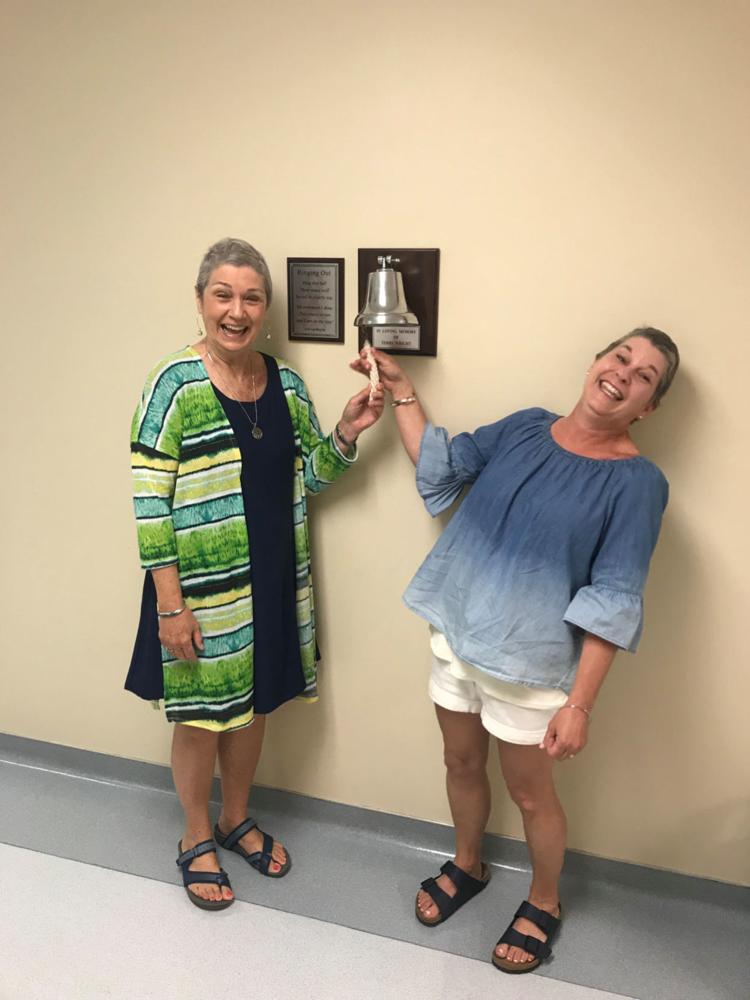 Debbie, at Catawba Valley Health System Radiation Oncology, who inspired them with her personal story of survivorship; Dr. Reggie Sigmon, radiation oncologist and Len Hurst, medical physicist; Dr. Richard Orlowski, oncologist and Diane Fox, physician assistant, both at Carolina Oncology Specialists; and Wake Forest Baptist Health general surgeon Dr. Kenneth Parrish, general surgeon.
Now that Chemo Country Club is on suspended status, Rector and Kiser were excited to return to work as the new school year starts. They laugh about how people don't recognize them now with their new, short hairdos.
While cancer has changed them forever, these "breast friends" plan to remain close and hope other women will find inspiration in their story to seek support in their own journey to survivorship.
Catawba Valley Health System offers a Hearts of Hope Cancer Support Group that meets the last Tuesday of every month from 6:30-8 p.m. Call 828-732-6054 or email the Cancer Support Group for more information.
Bennett Funeral home employees don pink ties during October
By Donna Rudisill, Bennett Funeral Home
The month of October recognizes survivors and victims of breast cancer, and Bennett Funeral Service of Conover is taking this opportunity to acknowledge and remember the many women and men who have been impacted by this disease.
Throughout the month of October, staff members will be wearing the traditional pink that has come to symbolize breast cancer awareness. The men at Bennett Funeral Service will be wearing pink ties to show support for the many individuals and families that have been touched by breast cancer, and to promote awareness of this disease.
Robbie Bennett, owner of Bennett Funeral Service, said: "Every family has been affected in some way by this dreaded disease. I am sure that everyone knows someone who has either had breast cancer or is presently fighting this disease.
The staff of Bennett Funeral Service wants to show our admiration for the ones who are struggling with breast cancer and take time to pay our respects to those who have passed away from this disease."
Bennett added: "According to the American Cancer Society, in 2019, it is estimated that among U.S. women there will be more than 260,000 new cases of breast cancer. By wearing pink during the month of October, we want the community to know we care about them and their loved ones."
Rhonda Bennett added: "In the United States about 2,670 new cases of invasive breast cancer are expected to be diagnosed in men in 2019. A man's lifetime risk of breast cancer is about 1 in 883, according to the American Cancer Society. Many people don't realize that men can also get breast cancer.
"While predominantly women get breast cancer, we hope our pink ties will remind men and women to be diligent in self-exams, and also let them know that Bennett Funeral Service recognizes the devastation this disease can have for men and women." Rhonda adds, "Our employees are happy to wear ties because they have in some way been touched by this disease, whether it be a family member or friend."