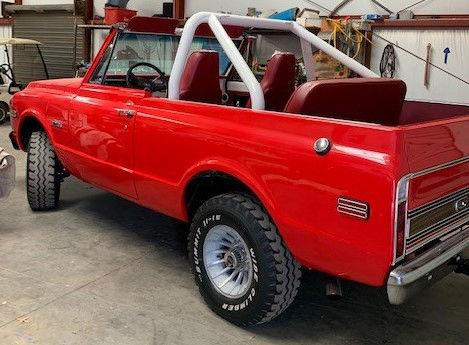 The grand marshal for the 130th annual Soldiers Reunion is Benjamin "Ben" Wilfong Huss, who will be represented by his red 1972 GMC Jimmy in the Thursday, Aug. 15 parade.
Ben Huss passed away Aug. 3, 2018, just before last year's Soldiers Reunion week. He was a longtime supporter and co-organizer of Soldiers Reunion activities. His daughter, Elizabeth Huss Arru, will drive the car in honor of his memory.
"We are super humbled that my father is being remembered in this way," Arru said. "People were crazy about Dad, and he would have loved this."
Arru has fond memories of riding with her dad in the Jimmy. "When I was little, he would take our church group skiing. He would put snow chains on the Jimmy, we would pile in and go up the mountain," she said, smiling.
Arru said her dad's laugh and his relatable personality is what she remembers most. "I admired him for being able to connect with other people, of all backgrounds. It seemed like he had something in common with everyone."
Born Nov. 14, 1949 in Catawba County, Ben Huss was the son of the late Johnny and Mary Wilfong Huss. He was a member of Grace Reformed United Church of Christ, owned and operated Carolina Furniture and Huss Bail Bonds and was a diehard animal lover, according to his obituary.
Ben Huss supported the Soldiers Reunion for many years by sponsoring floats and assisting his wife, Debbie Huss, in organizing the annual Soldiers Reunion Pageant.
"This is very touching. I lost the love of my life," Debbie Huss said. The couple would have been married for 47 years this past June.
"It's been very hard, but it's such an honor to have Ben as the Grand Marshal. He would have been honored."
Ben Huss will be remembered during the Reunion Day official ceremony on the 1924 Courthouse Square in downtown Newton at 4 p.m. Thursday. Arru will then lead the parade in her father's car at 5 p.m., beginning on South College Avenue.