At 5 a.m. Sunday morning, water was creeping into the split-level home of Barry and Sheila Sanders.
An hour later, there was 21 inches of standing water in their den.
"Our backyard was like a roaring river," Sheila said as she walked her property Tuesday in the aftermath of a storm that dumped more than a foot of rain on portions of Catawba County.
Sheila lives on Second Street NE in Hickory. Her yard borders Falling Creek. She says the creek is now 12 feet from her house.
She knew flooding was possible. Water came into the home when heavy rains washed across Hickory in 2013.
Water was pouring in the sliding doors and windows at the rear of her home, the same house her father built in the 1960s. This is the place Sheila spent her formative years, from 9 -19.
"Dad wanted a creek," she said. "When he built here, he had no idea the creek would come out of the bank."
She loves the house but her hopes for it are few.
The rains knocked down her privacy fence, carried the family lawn mower into a neighbor's yard and ruined the lower level of the home.
She said the washer, dryer, hot water heater, refrigerator and possibly the home's air-conditioning unit are ruined. The floors will have to come up. The paneling will have to come down.
She no longer wants to live in the home but can't foresee others living there either.
"We're at a loss for words to say what is going to happen to this place," she said. "It's real hard."
Sheila is 64. She had a knee replaced in February. Barry is 71 and holds down a full-time job. Fortunately, they are not alone.
Sheila is encouraged by the kindness expressed to her and Barry in the days since creek waters damaged the home.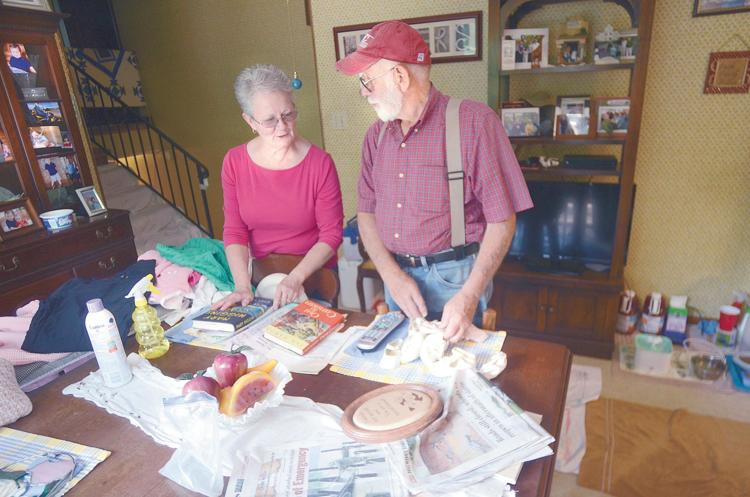 Cox Automotive operates the Manheim Statesville car auction. Barry works there. Sheila says a group of volunteers from the Statesville business are expected Saturday to assist with the cleanup. And a representative from the company showed up with $100 in debit cards this week.
"My husband said, 'You don't find those kind of companies anymore,'" Sheila noted.
She also listed friends who arrived Sunday to help clear the water from the home and those who have offered emotional support.
She spoke of a Bible study group who prayed for them during lunch this week.
"My husband and I have tremendous faith but it has dwindled in the past few days," she said. "It's been wonderful to have people around us."
More prayers are welcome, she said.
Eric Millsaps is editor of the Hickory Daily Record.