Michella Dowdy likes to think of herself as a fairy godmother to the children in St. Stephens Elementary School's Summer QUEST day camp program.
On July 11, Dowdy was greeted by the joyful screams of nearly 50 children as she delivered a special treat, a pep talk and some motherly love. She does this about twice a month.
"Has everyone missed Ms. Dowdy?" she asked. Without even looking at their teachers for approval, the children stood and rushed over to Dowdy, drowning her in a group hug in the middle of the school's cafeteria. Her visits are always a surprise.
Hickory Daily Record readers might recognize the 33-year-old as the woman who pulled a mother and her toddler out of a crashed vehicle outside the Bojangles' on Springs Road in November. The image of Dowdy comforting the child appeared on the front page of the paper and garnered a lot of attention.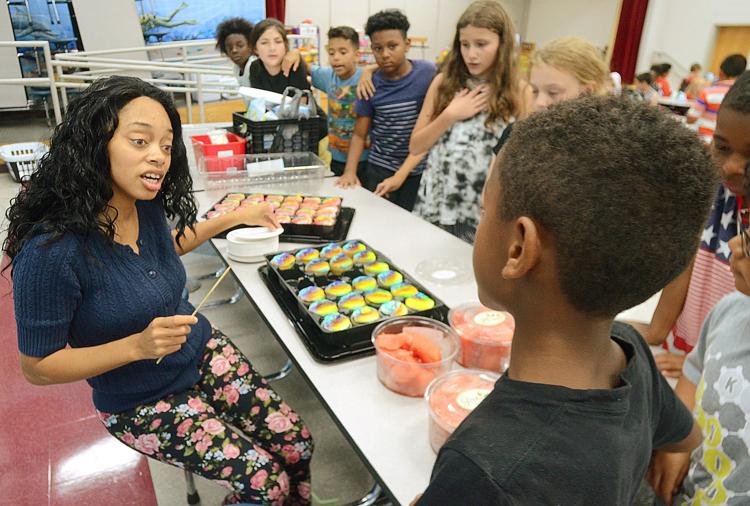 "I pulled them out because the car was leaking gas," she said. "I was afraid it would catch on fire… I don't know. I just knew I needed to do something."
Dowdy is known for helping others, but she didn't realize anyone noticed.
"I'm just shocked," Dowdy said.
The anonymous Notable Neighbor nomination the HDR received said Dowdy spends at least 50 hours a month volunteering. Dowdy confirmed that estimate, adding that it is sometimes close to 70.
"I like to do things for people who can't necessarily help themselves," Dowdy said.
Dowdy, a single mother, often goes through her own son's closet to see if he has any clothes she can give to a child at his school who needs new clothes. Her 7-year-old attends St. Stephens Elementary and is in the Summer QUEST program.
"I'll see a kid wear the same thing three days in a row and I'll go through my son's closet and take out all the clothes he can't fit and give it to them," Dowdy said. "I guess it's because I struggled so much growing up, but I want to make people happy."
Dowdy also will pack up boxes of food for the children who need it.
"Every week, I drop off 12 boxes (of food) and I tell (the teacher) to give it to 12 students who aren't going to eat dinner tonight," Dowdy said.
She said she asks the teachers to carefully put items in backpacks so they're not singled out. She doesn't want the children to know it's her.
For the elderly, Dowdy will bring snacks to nursing homes. She currently spends time with one elderly woman in Hickory helping her cook and clean on the weekends when the paid caregivers are not around.
"I take care of the elderly like they're my mom, and I take care of the kids like they're my own," Dowdy said.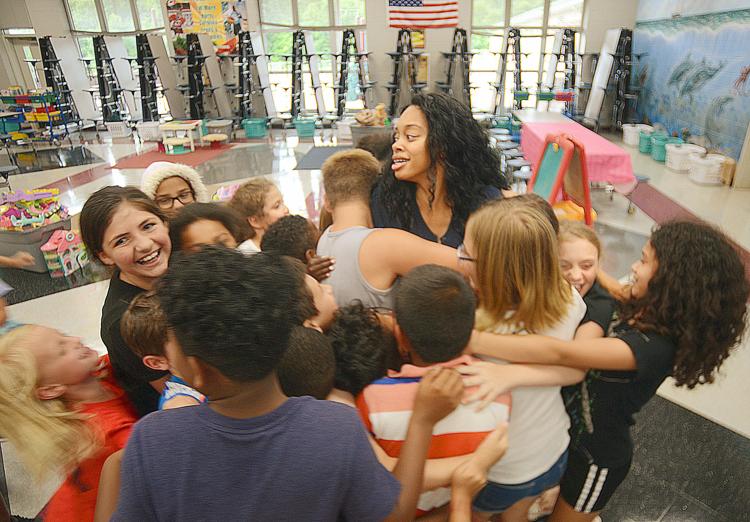 Dowdy often brings her sons, her youngest is 2, along with her when she helps the elderly.
"One day (my 7-year-old) asked, 'Mommy why do you buy gifts for other people we don't know?' and 'Why do you buy extra stuff to bake for my school?' And when I explained it to him, he said: 'Mommy, when I grow up, I want to be like you.' And that was the most important thing… It lets me know I've done something right," she said.
Dowdy grew up in low-income housing. Her childhood experiences greatly influence her desire to help those who cannot help themselves, she said.
For the last three months, Dowdy has been unemployed, but thanks to a healthy savings account, her boys haven't gone without. In fact, they don't know she doesn't have a job. Thankfully, Dowdy has still been able to use her own money to help others.
"My kids have never been without a meal, or heat or water," Dowdy said. "I make it work every day."
Dowdy has been working hard applying for jobs and she is hopeful she'll have one soon.
In the meantime, she plans to continue to help others, read her standard six books a week, spend time with her kids and finish up her degree at Catawba Valley Community College.