Dick Flachbart and Trey Couch appear to have little in common on the surface.
Flachbart is an 82-year-old Navy veteran and a retired IBM employee. Couch, 32, does accounts receivable for Have-A-Cup Coffee, a coffee and water distributor based in Conover.
Couch also has autism. Over the last six years in particular, the two men have formed a strong bond.
Flachbart, a longtime friend of Couch's family, helped Couch get the job.
Flachbart and his wife Pat were having dinner with the Couch family when Pat asked what Couch would be doing in the upcoming year.
Couch's mother Julie said he would likely be going off to community college for another year but wished he would get a job.
Flachbart said he could help find Couch a job. He sent out appeals to various businesses and organizations trying to help find him a job.
Have-A-Cup took him up on it.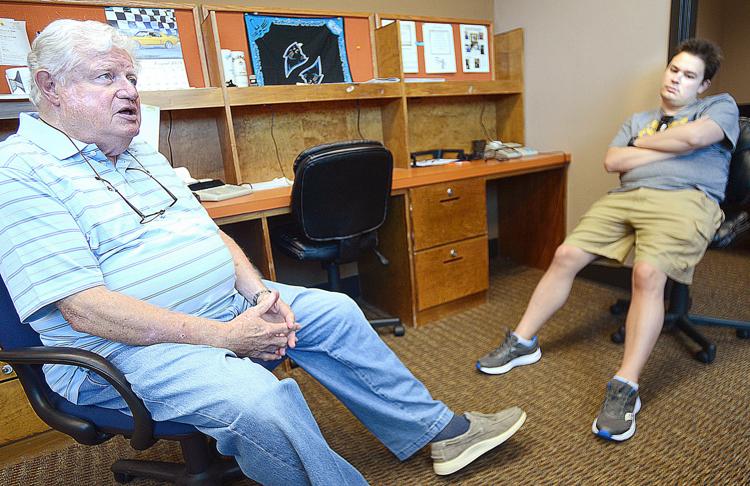 Couch began a three-month trial run with the company in November 2013, with Flachbart helping him to navigate the process. That trial run turned into a job Couch has held since then.
In his time at the company, Flachbart said Couch has made an impression. He makes a point of greeting people in other offices as he makes his way to his own, Flachbart said.
Couch takes great pride in making sure the checks for the company are done right, and he does a good job of it, Accounting Manager Leigh-Ann DelRe said.
Whenever there are mistakes in the calculations, DelRe said, it's not because of Couch.
Couch is good with numbers and has an aptitude for guessing the day of the week a person was born on the spot when given just the birth date.
Flachbart said he works with Couch to help him take on more advanced tasks involving work with the computer.
Outside of the office, Flachbart and Couch go to lunch together every Wednesday, with Couch picking the place.
Ham's Restaurant on U.S. 321 is a favorite spot. Couch enjoys the hamburgers and fries there.
The relationship is significant for both the men. Flachbart said knowing Couch has given him insight and appreciation of people with special needs that he did not have before.
Flachbart has also seen Couch grow in terms of his interactions with others.
About six months ago, Flachbart told Couch that he would be going on a trip to St. Louis with his wife.
"And we were in the car and (he) reached over and gave me a hug and he says, 'Trey will miss you,'" Flachbart said. "Or maybe he said, 'You will miss Trey.' I'm not sure what it was but I was really taken back by it."
Flachbart said he hadn't seen that type of behavior from Couch before, but he's seen examples of it since then.