Aaron Hamm was no stranger to sports when he came to the University of North Carolina Chapel Hill in 2017.
During his time at Newton-Conover High School, Hamm played a number of sports, including football, soccer, tennis, basketball and baseball.
He said he'd decided early on in high school that he did not want to play in college, but he soon found himself missing the competition.
At UNC, Hamm started to play a sport he never played before: handball.
With the help of Myles Bacon, his coach on UNC's club team, Hamm said he was able to get the attention of people affiliated with the Men's Junior National Handball Team.
Hamm said he was selected to the national team in March 2018 and played his first game in May 2018.
The team qualified for the Men's Junior World Championship. Last month, Hamm traveled with his team to participate in the tournament in Spain.
The championship brought the team into competition with teams that had a talent level beyond anything they had experienced before, Hamm said.
Hamm said the team's sole victory came against Australia in match for placement. The team ultimately finished 22nd of 24 teams.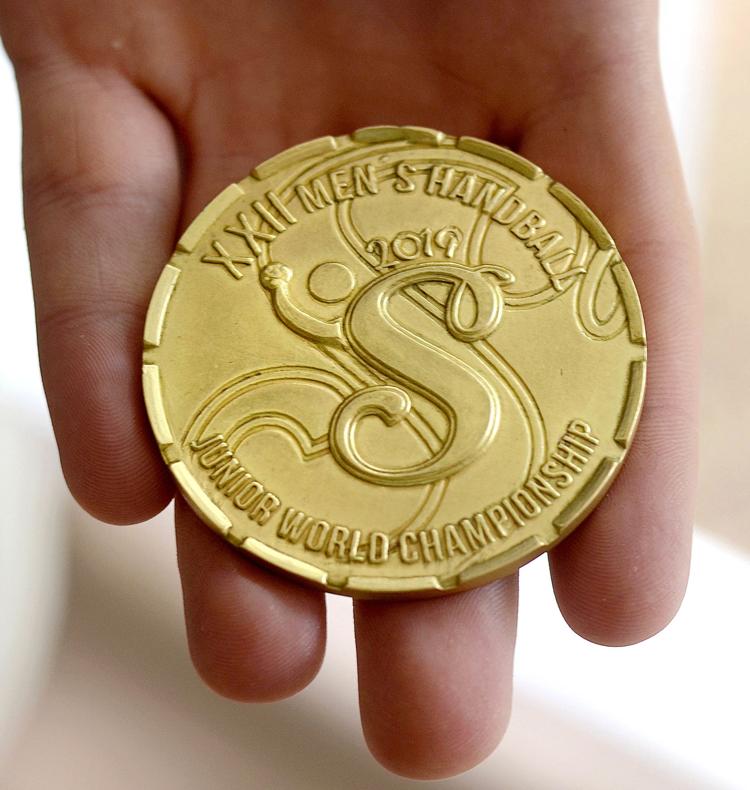 Despite the losses, Hamm said he enjoyed the experience. "Every team that we played had players playing at pro clubs … and to pick up the game a year-and-a-half, two years ago and then to immediately go into playing people of that caliber is a pretty unique experience," Hamm said.
Hamm discussed his toughest game during the championship, his favorite memory and how handball compares to other sports.
The following interview has been edited for length and clarity.
On the toughest game he played in the world championship:
The toughest game was probably against Slovenia.
They were the European champions so … really them and France were probably the favorites coming in to win with Spain.
And we ... started kind of slowly and then I messed up my shoulder about halfway through and didn't play anymore. That was probably the toughest as a team. We ended up losing pretty bad.
On his most memorable moment of the championship:
I think for me the biggest thing that stuck out was in the Japan game.
It was maybe four minutes before halftime and we had kind of went on a run.
We were playing a man down … where they had six plus a goalie on the court and we had five plus a goalie.
I got a steal and like falling out of bounds threw a fast break pass and I think we went up at that point 11 to 5.
And that was like the climax of our tournament almost.
Everyone was really, really excited, because Japan, I mean, they've got a ton of money.
The Tokyo Olympics are coming up so the International Handball Federation has been really trying to get their team really good, so to do that against a quality team.
On the physical toughness of handball:
You can pretty much, as long as you have an intent of going for the ball sort of, you can pretty much hit people as long as you control them and stop their movement and they don't get around you.
The second that they are by you, you have to let them go or you'll get a two-minute penalty, a yellow card or whatever.
But yeah, the physicality is very tough. I mean, you get pushed down in the air if you're jumping. They're not supposed to push you but it happens.
It's hard to compare it to football because you're wearing pads but I would say honestly, playing both, I come out more sore from a handball game (than a football game).
On how handball compares to other sports:
I think it's relatively easy if you've grown up playing these sports to get good at handball relatively quickly but it's challenging to take the next step and that's what I'm kind of trying to work out right now.
I'd say it draws on you know the kind of court vision instincts of basketball, the movements of soccer and the physicality of football.
It's like a hybrid of all of these sports...and that's why I think it would be popular in America for kids that are like me that play a lot of everything.
On his future with handball:
I kind of have a choice to make about whether or not I want to pursue anything playing in Europe or just staying here and continuing at UNC. But we'll see, I guess.