The Catawba County Sheriff's Office recently welcomed two new additions to their force: police dogs Thor and Loki.
But don't let their cute, furry faces fool you — their handlers, deputies Jeremy Graham and Daniel Ikerd, say their partners are ready to go to work.
"We spent six and a half weeks in Raleigh," Graham said. He added that they would train 10-12 hours a day, and by the end of it both handlers and the dogs, known as K9s, had spent 311 hours in training.
Graham and Loki, a narcotics detection K9, will be spending their time visiting Catawba County middle and high schools to conduct searches.
"Sometime after the first couple weeks of school, we'll start visiting a school or two each day to get him (Loki) acclimated to the school setting and layout," Graham said.
Loki and Graham will continue training practices for 16 hours each month. Graham said Loki is capable of doing article searches as well as tracking missing persons.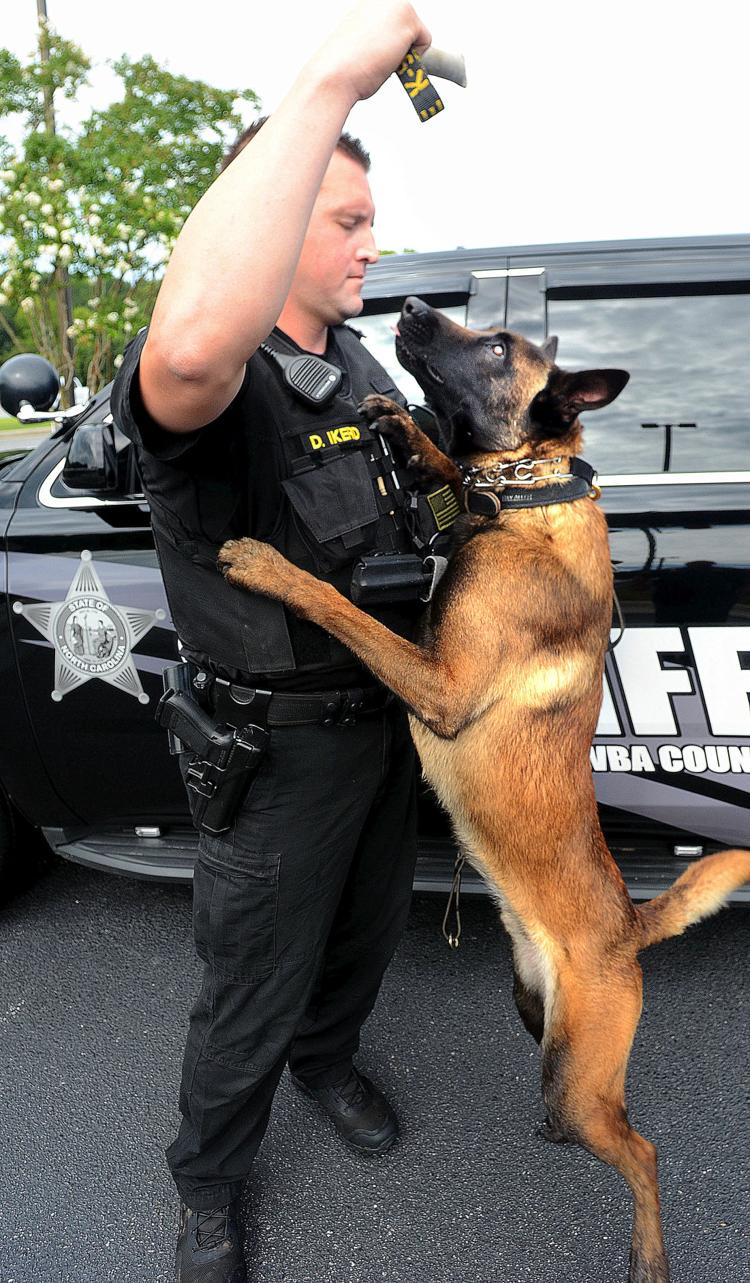 Thor has more training in store for his professional career. Ikerd said Thor is capable of the same work as Loki but will be adding apprehension training in a few months.
"We'll be seen doing more traffic stops and tracking work, as well," Ikerd explained. "After a few months, we'll start the apprehension training. Right now we're letting him (Thor) acclimate to the job." Thor will also continue training practices 16 hours every month.
Graham and Ikerd have looked forward to being K9 handlers for some time now. "This is something I've been wanting to do for 17 years. It's a blessing that I am able to do this now," Graham said. He has been with the sheriff's office for 10 years and in law enforcement for a total of 17 years.
Both K9s passed their training easily. Graham and Loki were presented with the Golden Collar Award for best handler and K9 duo. "I feel like we're lucky enough to get that award, because Deputy Ikerd and Thor could have easily won that award along with the other handlers that trained with us. We were just the lucky duo to get it," he said.
Ikerd, who has been with CCSO since 2012, said he is also thankful for the opportunity. "I've not been a handler before, but I've wanted to for a while. I'm glad we're able to do it now," he said.
Thor and Loki are Belgian Malinois bred in Holland. They were introduced to Graham and Ikerd just three days after being flown from Holland to the United States. "We've been with the dogs from day one," Ikerd said.
"We were fortunate that this came together so quickly," Graham said. "Like Deputy Ikerd said, we were with these dogs every step of the way."
Taxpayer dollars were used to purchase Thor. Loki was purchased by donations from community sponsors. "We are thankful for the corporations that donated to help cover the cost of Loki," Sheriff Don Brown said. "We know Loki will do a great job in the schools. We are looking forward to having Loki and Thor, and know they will be an asset for our agency and community."