The success of players in climbing the ladder in the minor leagues often is contingent on the athlete seizing the opportunity to perform when it comes. It is often the case in the front office, as well.
Now in his 10th season with the Hickory Crawdads, Douglas Locascio was announced as general manager on June 3. He replaces Mark Seaman, who was named as recreation and sports tourism director for the city of Hickory.
Locascio got the chance to show his mettle when opportunity knocked during the first game in 2010 as the box office manager.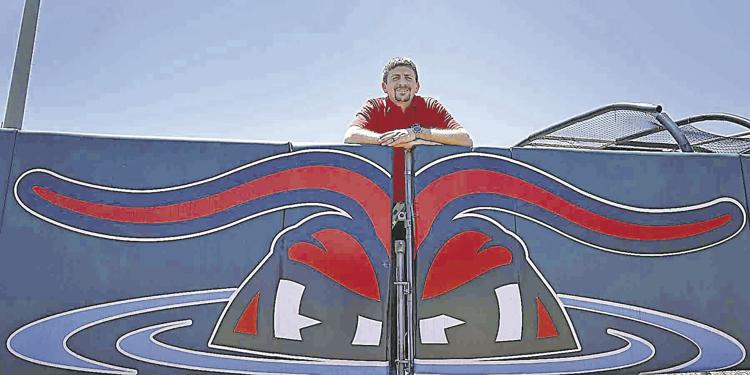 Hired as an intern after graduating from Campbell University, where he attended on a wrestling scholarship, Locascio, a native of Largo, Fla., was put in charge of ticket sales his first day on the job in March after the box office manager quit over the previous weekend. Four weeks later, the Crawdads opened the home season at L.P. Frans Stadium to a packed house.
"We had Friday night fireworks," Locascio recalled. "We had a sellout capacity crowd of 4,500 people here that night and our presale was only a thousand. So, we had a 3,000-person walkup. The line was all the way from the ticket office to the upper parking lot. It was looping around. Mark kept coming in to say, 'What can I do to help?' And I had no idea what to say. But we got them in and survived and learned from it."
Since that wild first home game, Locascio's opportunities for more responsibilities with the club presented themselves. After his first season as an intern, he became the director of ticket operations and merchandising. In 2014, he was promoted to executive director of sales and merchandising and just this past January, Locascio was tabbed as the assistant general manager.
While in college, Locascio spent time as an intern with the NFL's Tampa Bay Buccaneers and the Wilmington Sharks, a team in the Coastal Plain League, a collegiate baseball summer circuit. Though his internships prepared him for the unpredictable expectations of low-A minor league baseball, Locascio said his wrestling days had a larger impact.
"I'd say it prepared me for my work ethic," said Locascio. "In that aspect, you get what you put in, and that every day, someone is working harder than you, and are you going to outwork them bettering yourself… I think it prepared me mentally. You're going to get beaten up and you're going to go through your two-a-days. You're going to get just worn out, but you're going to show up the next day."
While most front office workers in the minors are looking for that next opportunity elsewhere, Locascio, now 31, has found Hickory to be home. After his move to Hickory, he met his future wife Lydia, a native of Lawndale. Together, they have two children, Grayson, who is 6, and Sophia, 2. While there have been chances for Locascio to make his own mark elsewhere, the family roots have taken hold in Hickory.
"The community embraced me and I embraced the community," Locascio said. "Over time, I met my wife here. Our family is here, so your priorities change. Now, you're focusing on them with your work and checking your opportunities … Now we've got a house and we've got kids who are in school now."
With the reins of the team in hand as the general manager, Locascio is looking to get settled into the new office and responsibilities. And just as he was given a risk in those first few days of his own career here, Locascio now sees opportunities ahead as the man in charge. He is unwilling to let the second half of the season roll past without beginning to place his own thumbprint.
"I'm still trying to figure that out," answered Locascio, when asked about his first initiatives. "Right now, it's let's get the transition going and not close off the 2019 season. I think we have a great opportunity ahead of us from a staff standpoint."
Saturday: Charleston (S.C.) at Hickory, 7 p.m. (Jon Reep appearance, Crawdads T-shirt giveaway to first 1,000 fans)
Sunday: Charleston (S.C.)  at Hickory, 5 p.m.  (Church Bulletin Sunday, Social Media Sunday, Hospitality Night)
Monday: Hagerstown (Md.) at Hickory, 7 p.m.(Make-a-Difference Monday, Tribute to OJ)
Tuesday: Hagerstown (Md.) at Hickory, 7 p.m. (Dollar Dog Tuesday)
Wednesday: Hagerstown (Md.) at Hickory, noon
PROSPECTS: Hickory Crawdads (team rankings by MLB.com) (Texas Rangers affiliate): RHP Hans Crouse (1), RHP Cole Winn (2), IF Jonathan Ornelas (18), 3B Sherten Apostel (22), RHP Ronny Henriquez (30)
Charleston RiverDogs (New York Yankees affiliate): C Anthony Seigler (6), RHP Roansy Contreras (10), RH Luis Gil (13), RHP Luis Medina (14), RHP Tanner Myatt (27), RHP Harold Cortijo (29)
Hagerstown Suns (Washington Nationals affiliate): C Israel Pineda (7), RHP Jake Irvin (16), RHP Joan Adon (20), OF Justin Connell (30). Area connections: LHP Ryan Williamson (NC State)
Note: Roster changes following Tuesday's all-star game are likely to be announced as late as Thursday. Players listed above are subject to change,
NOTES OF INTEREST:  Crawdads pitcher Hans Crouse, the Rangers No. 1 overall prospect, is expected to return from the injured list this weekend after nearly four weeks away… The Crawdads representatives performed well at the South Atlantic League All-Star Game held Tuesday at Charleston W. Va. Jonathan Ornelas started at third and went 2-for-4 with a run scored. OF Pedro Gonzalez singled during both plate appearances, scored a run and knocked in another. First baseman Curtis Terry won the pregame home run derby, and then singled in two at-bats during the game. Pitcher Yerry Rodriguez pitched a scoreless inning… Playing in a tough division, the Crawdads finished third in the first-half, Northern Division at 41-25. It was also the third-best record in the SAL…Josh Breaux, the Yankees No. 15 prospect, is currently on Charleston's injured list… The RiverDogs lost six of the last 10 games in the first half and finished a half-game behind Lexington (Ky.) for the Southern Division title.