William Stewart, 17, a graduating senior at Hickory High, has signed to play baseball for Caldwell Community College where he will be coached by Frank Pait, according to a press release from Hickory Public Schools.
Stewart has played baseball for the past four years under Hickory High School Head Coach and Athletic Director, David Craft, according to the release. He played second base until his senior year when he rounded out his high school career serving as pitcher for the Red Tornadoes.
" Coach Craft helped me to grow as a person and as an athlete," Stewart said. "He has been a strong mentor and role model for me, pushing me and encouraging me to be strong. I am very appreciative of Coach Craft's leadership."
Stewart's baseball stats include a 5-4 pitching record, over 70 strikeouts in 56 pitched innings, with a 2.15 earned run average. He also hit .333.
" William has worked very hard to become a great baseball player. We are proud of his efforts on the field and in the classroom and wish him the best at Caldwell Community College," Coach Craft said.
Stewart finished his high school career through the Lenoir-Rhyne University Scholars Program, earning credits for his entire first year of college.
Following his education with Caldwell Community College, Stewart plans to continue his education with a four-year institute of higher learning where he will major in biology, the release said.
Stewart is the oldest son of Les and Alyssa Stewart.
Hickory High's Paradine selected as Lacrosse All-American
Mason Paradine, graduating senior from Hickory High, has been named to the 2019 US Lacrosse NC All-Americans, according to a press release from Hickory Public Schools.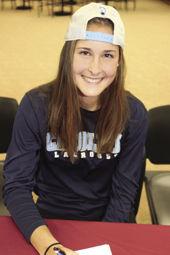 Paradine was included among a list of outstanding athletes during a very competitive year, according to the official posting from the All-American site.
With a full scholarship to play lacrosse at the University of North Carolina at Chapel Hill, Paradine's career stats include 239 goals, 65 assists, 304 total points, 153 ground balls, 77 caused turnovers and 358 draw controls.
Paradine, coached at Hickory High by Bailey Leonard, will follow her dad's athletic career to University of North Carolina, the release said. Her father, Greg Paradine was also an All-American and a national champion while playing at University of North Carolina.