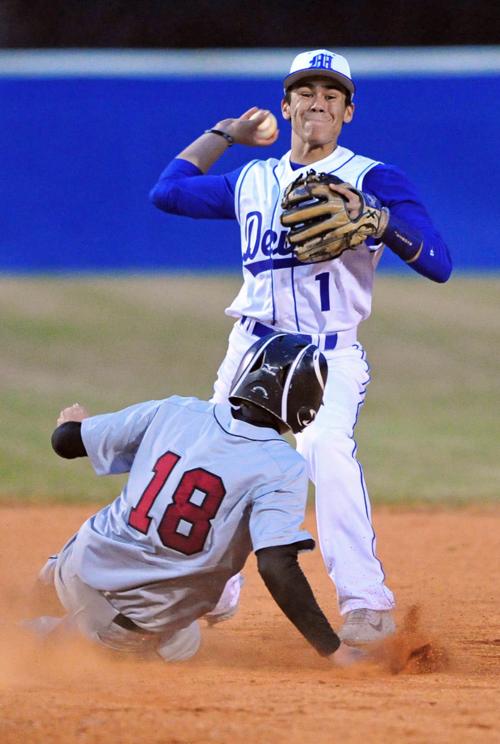 Two undefeated baseball teams faced off as Maiden hosted Lincolnton on Thursday in Maiden, with the Blue Devils overwhelming the Wolves 10-0 in five innings to improve to 6-0 overall and 2-0 in the South Fork 2A Conference. Maiden outhit Lincolnton 9-2, scoring four runs in the first inning, three in the second, one in the third and two in the fifth.
Dalton James paced the Blue Devils with three hits, while Ross Fowler had two hits and four RBIs. Brenden Harrison, Austin Hoyle, Bain Sipe and Cody Lawing added one hit apiece for Maiden.
Fowler also earned the win on the mound, throwing five innings of scoreless, two-hit ball with 11 strikeouts and no walks. He tossed 70 pitches in his complete-game effort.
The Wolves fell to 4-1 overall and 1-1 in the South Fork 2A following their fourth straight loss to Maiden dating back to the 2018 season.
The Blue Devils cruised past the Wolves in three innings on Thursday in Maiden, moving to 3-1 overall and 1-0 in the South Fork 2A Conference. Lincolnton dropped to 0-5 and 0-2.
Alexander Central 0, Hibriten 0
The Cougars and Panthers played to a scoreless tie on Thursday in Lenoir. Alexander Central is now 1-2-2, while Hibriten is 0-3-1.
South Caldwell 5, West Caldwell 0
The Spartans shut out the Warriors on Thursday in Hudson, upping their record to 3-0. West Caldwell remained winless at 0-4.
Bunker Hill hosts Northwestern Foothills 2A meet
The Bears hosted fellow Northwestern Foothills 2A Conference squads West Iredell and Hibriten, along with nonconference teams Lincoln Charter, Bessemer City and Mountain Island Charter, on Thursday in Claremont. Hibriten took first on the girls' side with 156.5 points, while Lincoln Charter (115.5), West Iredell (110), Bessemer City (65), Bunker Hill (63) and Mountain Island Charter (11) came in second through sixth.
Finishing first through sixth on the boys' side, in order, were West Iredell (182), Bunker Hill (112), Hibriten (70), Lincoln Charter (61), Bessemer City (46) and Mountain Island Charter (4).
First-place finishers for Bunker Hill included Na'Mya Hector in the girls' 100-meter hurdles (18.69), Naeousha Ramseur in the girls' 100-meter dash (13.11), Kaliq Ramseur in the boys' 100-meter dash (11.58), Maya Cappelletty in the girls' 1,600-meter run (7:17.33), DaLesha Lineberger in the girls' high jump (4 feet, 6 inches), Olivia Ellis in the girls' pole vault (7 feet, 6 inches), Ivan Perez in the boys' pole vault (11 feet, 0 inches) and its girls' 4x100-meter relay team (53.51).
For Hibriten, winning participants consisted of the girls' 4x200-meter relay team of LaTayviona Horton, MiQuishia Patterson, Felice Simmons and Skyler Hollifield (1:58.14); the boys' 4x100-meter relay team of Cedric Shuford, Marcus Jones, Daren Perry and Quaidyn Tugman (45.30); Perry in the boys' 200-meter dash (23.88); DJ Moore in the boys' discus throw (124 feet, 4 inches); and Jamarion Wilson in the boys' long jump (20 feet, 10.5 inches).
The Indians defeated the Trojans on Thursday, winning five of six singles matches and all three doubles contests. St. Stephens (3-1 overall) got singles victories from Zach Swisher (6-1, 6-1), Ajay Swisher (6-0, 6-2), Matthew Walker (6-2, 6-6 (5-7), 10-7), Cole Rector (6-0, 6-0) and Andrew Schultz (6-6 (7-4), 6-6 (7-5) while also receiving doubles wins from the teams of Ajay Swisher and Nick Apollonio (6-0), Evan Parke and Charles Connor (6-2) and Michael Grant and Samuel Adam (6-1).
Jose Rojas (6-6 (7-5), 0-6, 10-6) earned the only win for Bandys (1-3 overall) at No. 4 singles.
Freedom 5, East Burke 4
The Patriots slipped past the Cavaliers on Thursday in Morganton, winning four of six singles matches while also adding a victory in doubles action. Freedom improved to 1-0, while East Burke dropped to 2-2.
North Lincoln 7, Alexander Central 2
The Cougars lost all six singles matches on Thursday in Taylorsville, but were able to win two of three doubles contests. Alexander Central (0-3 overall) received wins from the teams of Elijah Campbell and Evan Sharpe (8-6) and Bodie King and Jose Rodriguez (8-4).
The Knights improved to 2-1 overall.
Be the first to know
Get local news delivered to your inbox!