HICKORY — The 2018-2019 Hickory High School Key Club, sponsored by the Hickory Kiwanis Club, achieved high honors during the spring state convention for the Carolinas District, qualifying the students to compete at the recent international convention, which was held in Baltimore, Maryland.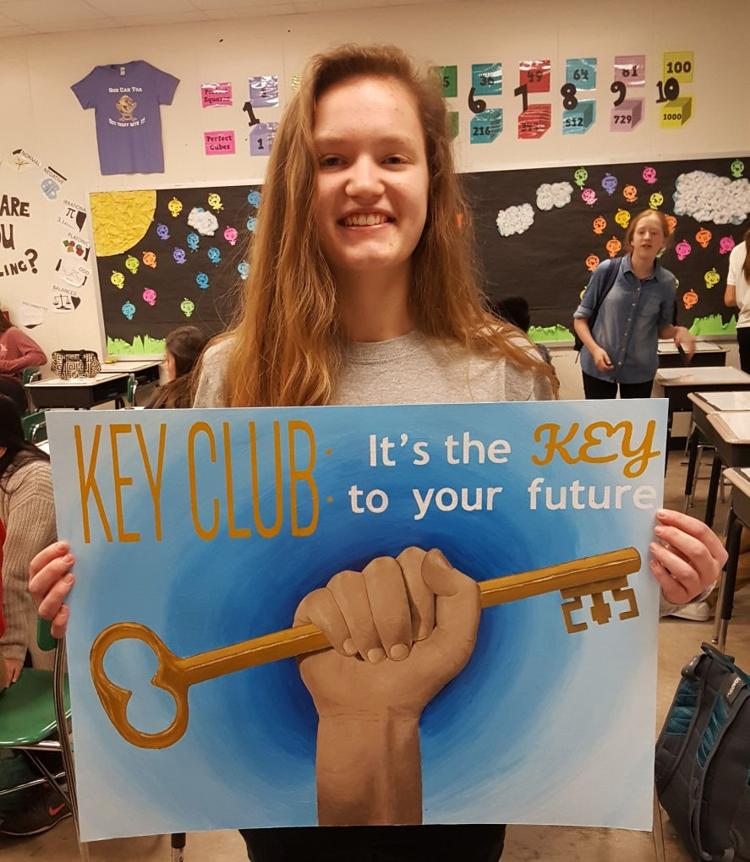 After winning first place at the state competition for the Traditional Poster Contest, HHS student and Key Club member, Stella Hughes, won first place at the Key Club International Convention.
This international award is the grand culmination for a school year that represents excellent achievement by the 80-student member club at Hickory High. Recognized as one of the two highest performing Key Clubs in the Carolinas District, which includes North Carolina and South Carolina (with 220 active clubs), the HHS students received the Distinguished Club Diamond Level for the 16th time since 2002. Less than 1 percent of Key Clubs worldwide have ever earned this level of achievement.
The HHS Key Club members were also recognized this year for their efforts in fundraising for the Boys and Girls Home, UNICEF, Children's Miracle Network, and the top fundraising in the Carolinas District for the March of Dimes.
This year's accolades also included the HHS Key Club winning first place in the Major Emphasis Program for service to underprivileged children. At the state level, the HHS Key Club won first place in the Single Service Award for the 20th Annual Teacher Appreciation Breakfast.
The 2018-2019 Hickory High Key Club was led by elected student officers: president, Claire Hutto; vice president, Weston Eden; secretary, Sierra Eaton; treasurer, Eric Schoellner; and past president and editor, Mac Johnson. The club is advised by HHS faculty member, Robin Chicelli, retired faculty member, Danny Seaver, and representing the Kiwanis Club, Helen Devlin, also a retired faculty member.
The club was recently recognized by Hickory Mayor Hank Guess for their state achievements with a special proclamation.
The Hickory High School Key Club is focused on following the Key Club Motto: "Caring – Our Way of Life" through their service to home, school, and community.
Key Club International, founded in 1925, is the oldest and largest student-led service program for high school students in the world. Key Club is a sponsored youth organization of Kiwanis International and promotes leadership through serving others.