HICKORY — Gov. Roy Cooper had K-64 on his mind Wednesday as he visited Catawba Valley Community College's furniture academy and the Workforce Solutions Complex being built on the main campus.
"One of the reasons I'm here is because you have been a great example of local innovation," the governor said to members of the K-64 board and other local community leaders. "I'm here to learn more about what's going on and hopefully take it across the state."
K-64 (kindergarten to retirement) is an education and economic development initiative that prepares students of all ages with the skills needed to compete in the global economy with a focus on six priority areas: 1-to-world technology, character development, tech-savvy educators, work-based learning, employer engagement, and career adaptability.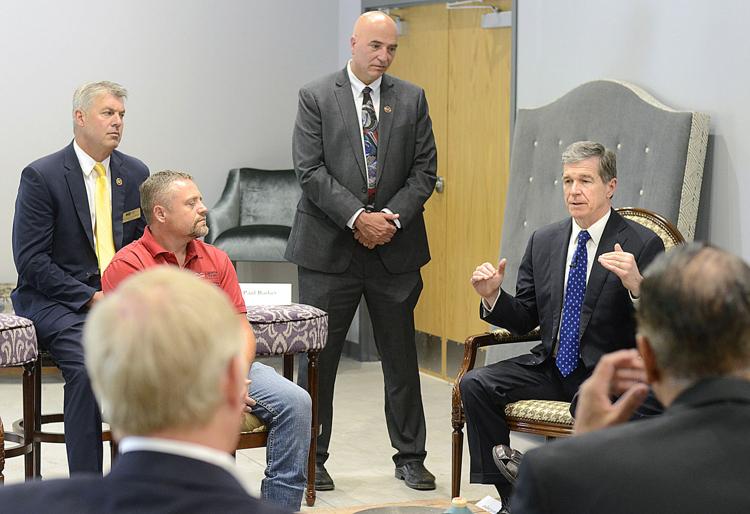 The governor said K-64 pulls in all of the aspects of workforce development he believes are important, building partnerships between education, local industry and government.
"This is great example of what could be done statewide, but I think each community, each locality has to come up with its own ways of dealing with this issue," the governor said.
Kimberly George, a vice president with Alex Lee Inc. and a K-64 board member, said her company has always looked at supporting education in the community not just for workforce development but for attracting people to the community.
"The education system is always the first thing we're asked about when we're recruiting people," George said.
From hourly warehouse positions to store management, she said they have jobs available, they just need to attract more talent to the company. Reaching out to students before they graduate from high school is one way to do that.
Cooper was equally interested in the apprenticeships, internships and other work-based learning programs in the county.
K-64 CEO Mark Story said last year there were more than 1,000 students from the three public school systems and CVCC involved in work-based learning. They were placed with 150 different local employers.
The governor said from what he's seen, these kinds of programs have provided a good return on investment for companies, and it's something he wants to encourage.
"I proposed in my budget an innovative way to create grant programs for small and mid-sized companies so they don't have to make all the capital investment in work-based learning," Cooper said.
According to the governor's proposal, $10 million would be provided to address workforce training needs and employee skill gaps. The funds could be used to support employment opportunities for students, apprenticeship programs and projects to help current employees develop the skills needed to fill new roles.
When it came to innovation in the classroom, the governor was interested in why the K-64 board decided to start the Chromebook initiative for middle school students.
Hickory Public Schools Superintendent Robbie Adell said middle school seemed like the "logical place to begin the journey of putting devices into the hands of kids."
One impact is on the underprivileged students who wouldn't normally have the opportunity to have a computer to use at home and at school.
"We've extended their learning and are making a huge difference in their lives with this," Adell said. "We even have some of our English as a second language students taking their devices home and teaching their parents English by using those devices."