The Delaney family is making a transition unlike any other in their years of service with The Salvation Army.
Capts. Tim and Bethany Delany have led the Hickory Salvation Army Command for four years. The nine-county district is one of the most far-flung corps in the Southeast. Now, they're moving to Capetown, South Africa, as missionaries.
"We have enjoyed our time in Hickory," Capt. Bethany said, "but it will be a nice change to concentrate on the ministry with one church and one small thrift store."
In the Hickory District that includes the High Country Coordinate, there are eight thrift stores. The stores are the main source of Salvation Army funding.
"We've always had the desire to serve overseas, but wherever the lord sends us we will go. This time, He's sending us to Capetown."
The Salvation Army is first and foremost a church, founded on the Bible and quite similar to traditional Methodism, including the rotation of ministers, called officers in the Army. The church has been in Hickory since 1925.
Of course, when officers move, so does the rest of the family. That means Jubilee, Zoe and Israel face their own challenges. "The children are in good spirits," Bethany said. "We've talked to them and they understand the importance of this move. They've been spending a lot of time with their friends before it's time to leave."
She said the school year in Capetown begins in January, but the children will continue their studies in other ways. They won't wait for the school year to start, but they may have some catching up to do when the family returns to the United States.
The Delaneys are committed to three years in South Africa, with an option for another three years. "We'll see how it goes," Bethany said, "and where we feel the Lord is leading us."
The family will travel light to Capetown. The Salvation Army provides furnished homes for its officers, so they don't have a lot heavy stuff like furniture. "We don't even own the bed we sleep in," Bethany said.
"We have a trunk, a box for clothes, a box for books and things, and suitcases for the children. Everything will go into a shipping crate that should be there when we arrive," she said.
The rest of their belongings will remain with family members here in the United States.
The Delaneys say they won't forget their four years in Hickory, their fifth assignment as officers. "Hickory is a great town, a great community. This has been a good experience for us," Capt. Tim said.
"You have to be committed to the mission. There is more to do than can ever be done," Beth said. Before officers receive their first posting, they undergo two years of intensive training. Officers serve as teams. All district commands are led by married couples. Husband and wife are officers.
The mission always comes first. "It's not just about you, but what God wants," Bethany said. "We grow with every appointment."
One of the hallmarks of The Salvation Army is the continuity of the mission. "Each of the officers who have come to Hickory has a desire to do the ministry and continue the vision of The Salvation Army in Hickory," Tim said.
"You don't come to negate what's been done. You respect the work that's been done. You have briefs from previous officers to help with the transition."
He said the command staff is a primary reason transitions are smooth and the vision continues uninterrupted. "This is a great, solid staff to work with," Tim said, a sentiment he expressed at a farewell dinner Tuesday night.
Indeed, most of the staff members are seasoned veterans. All are committed to the mission, Tim said.
The Delaneys have met their successors and talked about the Hickory command. They will leave behind a brief, just like everyone who has come before.
"The Salvation Army is a family," Beth said. "We still want success in Hickory." And all nine counties within the command: Catawba, Alexander, Caldwell, Burke, McDowell, Watauga, Avery, Ashe and Wilkes, the newest county added during the Delaneys' tenure.
Outreach includes The Angel Tree and the Christmas Bureau, the Boys and Girls Club, The disaster response mobile canteen, and of course the Shelter of Hope that houses hundreds of people and serves thousands of meals every year.
The Shelter of Hope underwent extensive renovation that increased the number of beds through a capital campaign during the Delaneys' stay in Hickory.
They're just a few ways the Army serves the district, so activity in Capetown will be a dramatic shift.
Preparation for a new assignment is a whirlwind of effort, but the actual departure is abrupt.
Tim will deliver his last sermon Sunday, the last day for all transitioning officers in the Southern Division. Then, they'll hit the road enroute to Georgia for a bit of training before flying overseas.
There will be no lengthy sendoff after church, no going back to the house one last time. "We have spent time saying our farewells to the congregation," Tim said. "We go knowing Hickory supports The Salvation Army, and we appreciate it."
Tuesday's goodbye dinner included guests, staff and advisory board members. The most-used phrase that night from everyone was "God bless you."
The Delaneys believe their blessings are abundant, and they share them no matter where they go.
Larry Clark is a member of the Hickory Salvation Army Advisory Board.
Hickory Salvation Army gets new leadership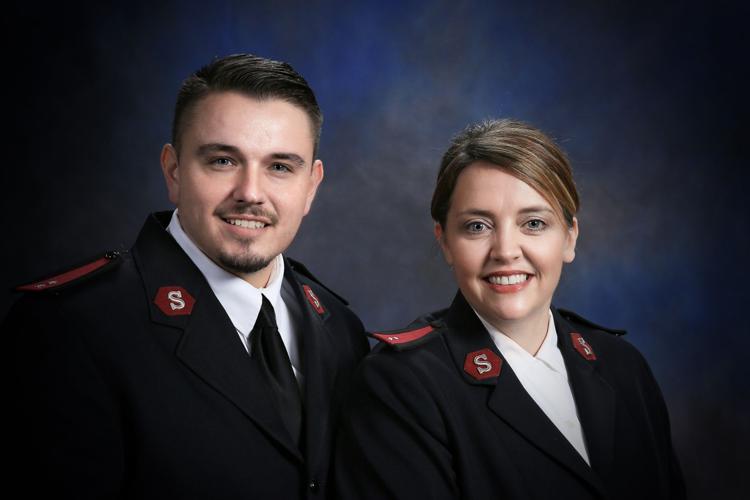 Majors Matt and Rebecca Trayler will be the new leaders of the Hickory Command. They have served The Salvation Army for 18 years, 15 as officers.
The Salvation Army brought them together. "We actually met at the summer camp we have been directing for the last four years," Rebecca said. That's Camp Grandview, an annual event that attracts more than 1,000 youth campers from all over Georgia.
It's one part of The Salvation Army's youth programs for the state. Running Camp Grandview includes the hiring and training of 100 seasonal staff members. "The Salvation Army is very vested in youth ministry and outreach," Rebecca said.
"Camp Grandview is a residential camp," Matt said. "It was a lot of hard work, but it was worth it to see kids come and experience something that they may not have experienced before and see them grow."
The Traylers prepared for the move to Hickory while conducting the camp.
Matt and Rebecca are from Georgia. They grew up attending Salvation Army churches.
"I've always been involved with The Salvation Army for as long as I can remember because it's been my church all my life, Rebecca said. "Prior to becoming an officer, I was a stay-at-home mom."
Matt spent time looking at the world through a camera lens. "I worked in television broadcasting. I worked for NBC, ABC and Fox as a photojournalist. I've also freelanced."
But they heard the call, and their dedication to the church's mission has resulted in various appointments such as Irving, Texas (first one) and Louisville, Ky. They have also served in the Caribbean, pioneering the work of The Salvation Army in the Turks and Caicos Islands.
The Traylers have four children: Hannah, 18; Aubrey, 15; Mason, 13; and Ethan, 8. As should be expected, they are spending as much time as possible with their friends before relocating.
"I wouldn't say they are accustomed" to the periodic moving required by the church, "but they are understanding," Rebecca said. "It's never easy to leave friends or a school that you love, but they are always up for a new adventure – which is how we always try to look at it.
"This will be a very different move for us because we will leave our oldest daughter behind to attend college."
Matt and Rebecca are no strangers to North Carolina. They spent two months in Asheville in the summer of 2003 in a Salvation Army internship program.
"Having lived in North and South Carolina, we love the area and are grateful to be a part of Hickory," Matt said. "We are humbled to have the opportunity to lead The Salvation Army in Hickory and look forward to being a part of the community."
Rebecca agrees. "We are really looking forward to living and serving in Hickory. We believe the Lord has great things in store."
The Trayler family will arrive in Hickory this Sunday afternoon.
Letter carriers stamping out hunger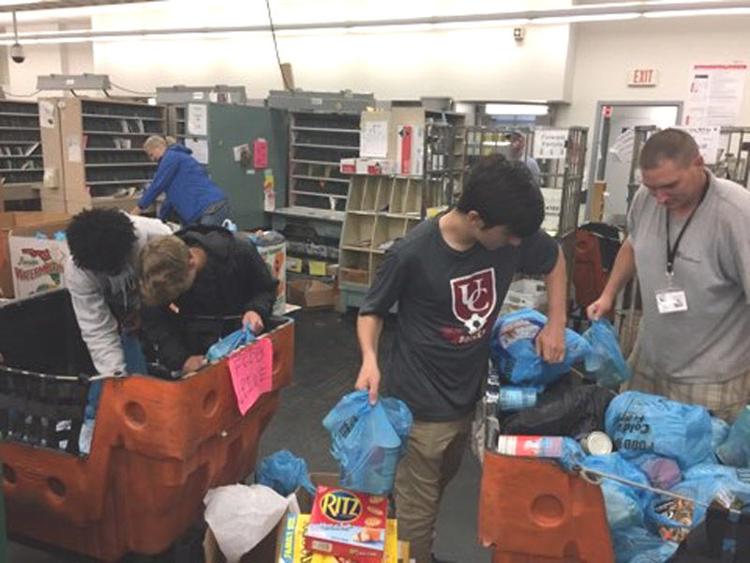 NEWTON — The National Association of Letter Carriers conducted their 27th annual national food drive to stamp out hunger recently.
Through the Newton area post offices, more than 17,452 pounds of food was contributed to Eastern Catawba Cooperative Christian Ministry (ECCCM) to serve as the distribution vessel. ECCCM remains true to the mission of the original founders in 1969, bringing together the resources of the Christian community to serve the people in need of crisis assistance, support and education, in response to God's call.
"We are grateful for the food donations," said the Rev. Robert Silber, executive director of ECCCM. "The impact from the food donations will assist over 350 persons who are struggling with hunger and food insecurity and will help ECCCM provide the necessary food to those in need."
ECCCM, a Catawba County United Way partner agency, provides assistance with mortgage/rent payments, utility bills, hunger relief, transportation, and financial coaching. ECCCM has extended "a hand up, not a hand out" to those in need in eastern Catawba County since 1969, never turning away a qualifying client.
Catawba Valley Interfaith Council to hold assembly
HICKORY — "Who is My Neighbor: Understanding Islam in an Age of Islamophobia" is the topic of Catawba Valley Interfaith Council's upcoming assembly.
Council members and the general public are encouraged to attend the 2019 Assembly of the Council. This event will be held at 7 p.m. on June 20 at Belk Centrum on the Lenoir-Rhyne University campus.
The program this year will feature the Rev. Christy Lohr Sapp of St. Andrew's Lutheran Church who will present a conversation-style program with Abdul Rahman Latif on the topic of "Who is My Neighbor: Understanding Islam in an Age of Islamophobia." Abdul Rahman Latif is a PhD candidate in Columbia University's Department of Religion. He formerly served as Muslim campus minister at Boston College and spent many formative years here in North Carolina.
Subsequent to the program, a business meeting will provide an opportunity for current 2019 members to vote on a slate of board nominees and bylaws changes. Initial membership applications and 2019 membership updates can be completed prior to the voting process.
There are presently 14 people serving on Catawba Valley Interfaith Council's board of directors, four of whose terms are expiring. Two incumbents are being nominated for an additional term as noted above. If these, along with the two new nominees are elected, board composition would be maintained at 14. CVIC by-laws permit a maximum board size of 15. Additional nominations may be made by members from the floor at the June 20 meeting.
Belk Centrum (625 Seventh Ave. NE) is directly behind the Rhyne Building. The closest parking is on Seventh Avenue NE, which runs in front of the venue. The University Christian High School lot at 602 Seventh Ave. NE is another option. "Faculty" slots can also be used for parking, as this is an evening event.
The Catawba Valley Interfaith Council (CVIC) is a compassionate interfaith community in the Catawba Valley that fosters acceptance and respect for all. Its mission is to be a group of faith-based and secular communities serving as a catalyst for hope and cooperating for the purpose of dialogue, information sharing, and celebration.