NEWTON — People are invited to join Eastern Catawba Cooperative Christian Ministry and The Corner Table Soup Kitchen on Sunday, Oct. 20, at 3 p.m. in downtown Newton to participate in the 2019 Eastern Catawba County Hunger Walk.
The Hunger Walk is a community event designed to raise awareness and funding for hunger initiatives at both organizations. The walk is approximately 3.1 miles through downtown Newton. Registration will start at 2 p.m. The walk will start at 3 p.m. followed by refreshments and presentation of trophies. Awards will be provided for the largest team, top team fundraiser and top individual fundraiser.
Individuals can participate by walking, starting a team, fundraising or donating toward the event. Participants are encouraged to register and raise money online. Offline donations and registrations are also accepted the day of the event. All participants who collect at least $25 will receive a 2019 Hunger Walk T-shirt and those who collect $50 or more will receive a T-shirt and water bottle.
The Corner Table, Inc. is a soup kitchen outreach ministry provided by the people of the community for the hungry in the community. Its primary purpose is to provide nutritious meals in a comfortable environment for any men, women or children who are in need in the eastern Catawba County area. Located in downtown Newton, The Corner Table has served more than 715,000 meals since its inception in 2002.
ECCCM, a Catawba County United Way partner agency, provides assistance with mortgage/rent payments, utility bills, hunger relief, transportation, and financial coaching. ECCCM has extended "a hand up, not a handout" to those in need in eastern Catawba County since 1969, never turning away a qualifying client.
Ministry introduces Whole Life Center
HICKORY — The Greater Hickory Cooperative Christian Ministry is expanding its ministry to include the Whole Life Center (WLC), a center for "next steps" services to assist clients to gain independence from the poverty cycle.
GHCCM is a nonprofit faith-based organization founded in 1969 and is celebrating 50 years of serving people in need. The ministry sees more than 2,000 clients per month who are in crisis, living in poverty and/or experiencing homelessness.  
During the past 50 years, GHCCM has served Catawba County, Alexander County and surrounding communities through a ministry that includes Neighbor Navigator case management; nutrition; free and charitable pharmaceuticals and medical care; clothing and housewares; intentional communities through NETworX Catawba; wellness and recovery; and disability income benefits case management.
The addition of the Whole Life Center actively assists people with taking the "next steps." The WLC provides resources and services to clients in a convenient and accessible one-stop shopping location to assist them in taking the steps needed to break the poverty cycle.
The WLC has a director of community case management who journeys with each neighbor to assess where they are in their life's path and what resources are needed to build a framework that offers guidance and training towards independence. The client and the case manager develop a holistic plan that is feasible and contains achievable goals with a plan of action. Addressing barriers that impact whole life changes include affordable housing, affordable child care, cultural barriers, transportation, employment, addiction, nutrition and much more depending on individual needs.
The WLC collaborates with community partners/agencies to avoid duplicating services and to assist clients with taking the "next steps." The areas of emphasis within the WLC include, but not limited to the following: offering employment services; educational and job training opportunities; housing and shelter support; therapy services; support services; a recovery program for those struggling with hurt, pain or addiction of any kind; financial counseling; spiritual counseling; benefits counseling; nutrition; and health and wellness awareness.
The WLC sees each of its clients as unique individuals with unique needs. As stated by GHCCM Executive Director, Kathy, H. Wood, "To successfully move out of one's current life circumstances of poverty/homelessness, a desire to make a change is an essential component before real change occurs. With that desire and commitment, the WLC offers counselors, programs and services to assist with making change happen. The WLC is not 'this is how it's done', but it offers a guiding hand as each neighbor progresses through the program."
On Monday, Aug. 26, the public is invited to visit the WLC, meet the staff and hear about the new ministry. This is a casual introduction to the services and mission of the WLC. The hours to drop in are from 9 a.m. to 4 p.m. The Whole Life Center is located at 206 1st Ave. SE – one block from the main campus of GHCCM and directly behind the Hickory Soup Kitchen.
To make a donation to GHCCM, to sponsor through naming a space in the WLC or become a Champion, Ambassador, Guardian, Ally and Friend sponsor of the WLC, contact Linda Wade, director of development, Greater Hickory Cooperative Christian Ministry, 828-323-7903, lbwade@ccmhickory.org. Sponsorships and naming opportunities offer a variety of benefits.
GHCCM will provide information/programs to churches, civic organizations, individuals about the entire ministry including the WLC.
Hickory Christian young adult group to meet
HICKORY — Foothills Faith and Fellowship, a Hickory Christian young adult group, will meet on Saturday, Aug. 31, at 6:30 p.m., at Salsaritas restaurant in Viewmont.
This is the second time the group will meet to share food, discuss scripture, make friends, and experience faith-based fellowship.
At 7 p.m. the group will walk across the street to St. Aloysius Catholic Church's lower level for scriptural discussion and fellowship.
Church sponsors and supporters include St. Aloysius Catholic Church, Episcopal Church of the Ascension, and Corinth Reformed Church.
All are welcome to participate and no membership is required. For more information, contact group organizers and facilitators Aaron Kohrs or Caroline Wilson at Facebook.com/HickoryChristianYA.
Church plans events for children, families
HICKORY — Hickory Church of Christ and its Youth Ministry/Bible Education Program will present a back-to-school family day and cookout Sunday at the church, 1218 Fairgrove Church Road.
The church is between McDonald's and Catawba Valley Medical Center.
The event is designed for area students, school staff and their families. School starts for many local primary and secondary students on Monday. Before the school doors open this year, the Hickory Church of Christ leaders will be praying for school attendees, teachers and administrators and giving those attending the Sunday events a tasty meal from the grill, along with sides, drinks and desserts.
The family day and cookout schedule will be: 9:30 a.m., Bible classes for all ages; 10:30 a.m., worship and prayer service; followed by a hamburger and hot dog cookout, to close out the day.
The church's Youth Bible Education Program is preparing to implement a year-round bacation Bible school-style Bible class curriculum on Sunday, Sept. 1, in its Sunday classes for kids. pre-school through grade five. So, all kids and families are invited back the Sunday following the family day and cookout to experience the new and exciting faith-building Bible classes.
E-mail hickorycofc@gmail.com or call 828-464-4983, to give children's names, grades, and school names, for those who will be present for the family day and cookout. These will be recognized during the worship and prayer service on Sunday.
For more information, call 828-464-4983. Follow the church on Facebook and its website: www.hickorychurch.org
United Way announces new funded partners for 2020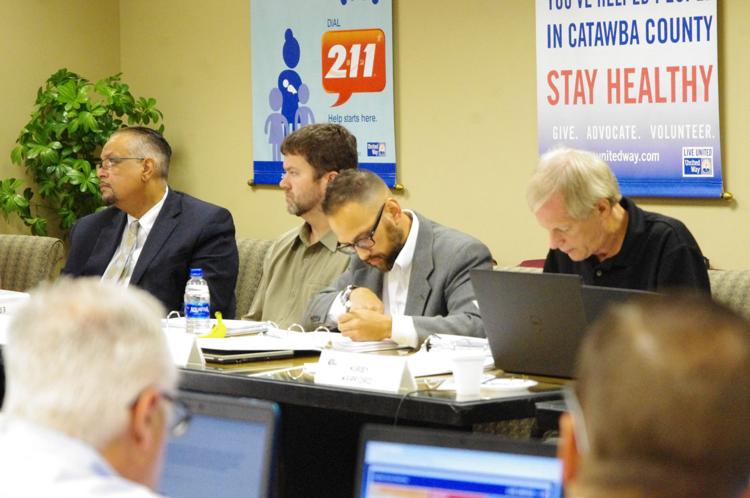 Catawba County United Way
With a new program, a new agency and a solid focus on its traditional impact areas of education, income and health, the Catawba County United Way's board recently approved the agency's funded partners for 2020.
Catawba County United Way (CCUW) will use the donor dollars pledged during this year's campaign to help support 22 programs run by 14 local funded agencies.
"At Exodus Homes we are very concerned about the rising death rate from opiate overdoses in Catawba County. We want to be part of the solution to save lives and give people a chance to recover," Exodus Homes Assistant Executive Director Rev. Susan Walker said.
Along with the agency's transitional housing for the homeless program, Exodus received funding for the new Medically Assisted Treatment program (MAT).
The program will start with two beds for homeless recovering people referred from local detox programs or the Catawba County Jail who otherwise meet Exodus Homes admission criteria, according to the Request for Funding submitted to the United Way.
The MAT clients will be in a day treatment program while taking buprenorphine (suboxone) under supervision to help them with the mental craving, mental obsession and physical withdrawal experienced in recovery from opiate addiction.
In 2017, there were 1,953 overdose deaths involving opioids in North Carolina — a rate of 19.8 deaths per 100,000 persons compared to the average national rate of 14.6 deaths per 100,000 persons, according to a National Institute on Drug Abuse report at drugabuse.gov.
The desire to address the local opioid addiction problem led to the United Way reaching out to its existing funded partner, Exodus Homes.
"They've had great success already working with and improving the lives of people who are battling other addictions, so we are confident this is a good fit for their agency," CCUW Executive Director Jennie Connor said.
The CCUW Campaign Chair Amy Guyer said the county benefits every day from the work of all the United Way funded partners.
"Whether in response to a fire or weather emergency, domestic violence or family crisis, giving preschoolers access to books, or helping families remain employed or handle a financial crisis, these agencies impact people around us every day," Guyer said. "Those services exist through the generosity of our United Way donors and the support of our employer-sponsored campaigns."
A new agency receiving funds for 2020 is Greater Hickory Cooperative Christian Ministry. It is receiving support for the Crisis Rent and Mortgage Assistance program.
Preparing for its 75th anniversary of community impact, United Way volunteers recently picked up campaign packets and will be taking them to local businesses and other organizations this month.
If you or your company would like to participate in Catawba County United Way's upcoming campaign call Sylvia Long at 828-327-6851 or visit ccunitedway.com.
Legal documents to be discussed at program
HICKORY — In these turbulent times you need some basic documents to help understand how to plan for the future. Do you know what can happen if you don't have the correct documents and how to make sure your asset titling is set up properly to work with your documents and facilitate your desired asset disposition so beneficiaries can avoid probate?
During an upcoming program, Kimberly Whitley from the Hickory law firm of Patrick, Harper & Dixon will review the five basic documents necessary to provide for decision-making during incapacity as well as passing assets at death. Whitley will also review how a will or trust works with assets so that costly mistakes can be avoided.
Five Legal Documents Everyone Needs … And Why will be presented at 5 p.m. Sept. 8 at Episcopal Church of the Ascension, 726 First Ave. NE, Hickory. The program is free and open to the public.
Whitley, a partner in the law firm of Patrick, Harper & Dixon, concentrates her practice in estate planning and administration, elder law, and corporate law. She is a Board Certified Specialist in estate planning and probate law.
Gospel concert today
The Parables of Christ will present a Southern gospel concert at 6 p.m. today at Central Baptist Church.
Admission to the concert is free. A love offering will be taken. The church is at 201 U.S. 70 East, Hildebran. For more information, call 828-446-4141.
Safe Harbor event celebrates recovery
HICKORY — More than 150 people turned out for Safe Harbor's first Freedom in Recovery event recently to kick off their co-ed Thrive Recovery Community Center (RCC).
Thad Coggins Band provided music, and many community members, groups, organizations, and businesses came together to make the event a great success. Representation from the recovery community included The Cognitive Connection, Integrated Care of Greater Hickory, CCM, Celebrate Recovery, NA, AA, and Drug Treatment Court.
The Thrive Recovery Community Center seeks to provide collaborative, peer-led recovery supports for reducing barriers to accessing treatment, connecting individuals and families with education, support and services; and bringing the community together to celebrate the recovery journey.
RCC offers family support and education nights, recovery peer groups, recovery coaching, serenity cafe, and other community events. Safe Harbor's RCC also collaborates with 12-step recovery fellowships such as NA, AA and Celebrate Recovery (CR), to meet at their facility. RCC is an all-inclusive place for all those in recovery to gain support along their journey.
Safe Harbor is a faith-based 501(c)(3) organization founded in 2006. Safe Harbor offers services to help women, children and families in the Hickory area restore their confidence and renew their sense of purpose through immediate and long-term programs of faith-based support, skills education and personal empowerment. A nonprofit, non-denominational human services organization, Safe Harbor offers a safety net to those in the community who are hurting, homeless or at-risk of becoming homeless as well as those struggling with substance use disorder or emotional brokenness.
It can be reached at 828-326-7233.
Movie to be shown at Clover Baptist Church
GRANITE FALLS — The movie, "Play The Flute" will be shown at Clover Baptist Church on Saturday, Sept. 14, at 7 p.m. and again on Sunday, Sept. 15, at 6 p.m.
Rich Christiano, Christian movie writer, director and producer, usually partners with churches to place his films in a local theater and sell tickets in advance of the showing. This new movie can only be viewed in a theater hosted by a church. Christiano has given Pastor Keith permission to host this movie showing at Clover Baptist Church.
In the film, a new youth pastor, portrayed by Brett Varvel, begins his youth ministry with a heart for the young people in the church where he grew up. His goal is to not only reach these young people with the gospel but to get them into the word of God. Expanding on an idea taken from Luke 7:32, he conveys the message that "we are either playing the flute or the flute is being played to us."
All seating is free, and free "movie style" refreshments will be shared. A free will love offering will be received.
Clover Baptist Church is located at 100 Pinewood Road, Granite Falls, a mile off of U.S. 321 between Hickory and Lenoir. If you would like to view the trailer of this movie, search Play The Flute The Movie.
Meditation: The lord is still the world's answer
BY THE REV. DAVID E. ROBERTS II
Morning Star First Baptist Church
The psalmist David in verses 7-10 was calling out to God for help and understanding. He knew that only God could help him out of his dilemma.
In Psalm 27:7-10 we find these words "Hear my voice when I call, O Lord; be merciful to me and answer me. My heart says of you, 'Seek his face!' Your face, Lord, I will seek Do not hide your face from me, do not turn your servant away in anger; you have been my helper. Do not reject me or forsake me, O God my savoir. Though my father and mother forsake me, the Lord will receive me."
The psalmist is showing his total trust in God. He is saying I need thee oh God if I am going to make it. Looking at our great nation and all the evil in it at this day and time all the killings, racial tension, ugliness for God and country, like the psalmist we need to turn to God cry out for help and realize even if we are forsaken the lord will receive us. As we were becoming an independed nation and no longer a colony of Great Britain we forged a resolve that this new nation would let God be our guide and that we would trust in him.
We decided to form a more perfect union one that had high regards for God and love for fellow man. We believed in save the women and children, each man and woman being accountable for his or her actions and each carrying his or her own load. We gave each other our blessing and we prayed at night for our families and for God to bless America. We would come together and pray before we faced any challenges, trials, wars, threat abroad or domestic. We trusted that if the lord was on our side we could not lose or be defeated, that God would fight the battle. We prayed and sought the lord for advice and guidance.
The lord is still the answer for the world today. If we call on him he will answer and he will heal our land. He promised to do just that. "In God we trust. Do we?