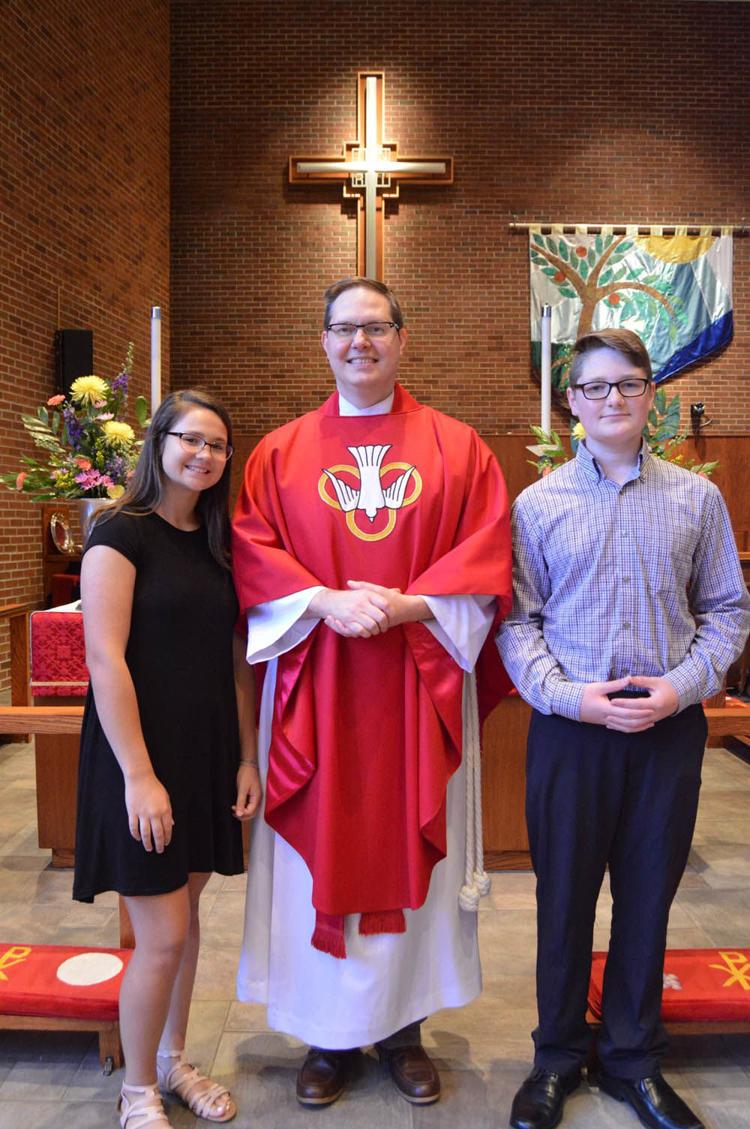 Mount Olive Evangelical Lutheran Church in Hickory confirmed two youth through the Affirmation of Baptism on Pentecost Sunday, June 9. 
Meditation: What's missing from your life?
BY CHAPLAIN (LTC) ROBERT L. FORD
Retired Army/Hospital Chaplain
It was the weekend of the annual end-of-the-season sales at the mall. Not wanting to pass up on some good bargains, my family was off to the mall. In one of the department stores, my wife was looking around the various clothes racks, while keeping a close eye on our 4-year-old daughter. Lauran had wondered around to the other side of the clothes rack, but still in view of my wife's very watchful eye.
At some point, Lauran looked around and didn't see us. Immediately, panic struck her! She had been left behind! She then came running around the clothes rack and upon seeing us, she exclaimed, "I was lost! I was lost!" Her mother informed her that she had not been lost. We knew exactly where she was all the time. But, in our daughter's mind, she was lost and that was that, no matter what anyone said.
In the Gospel According to Matthew, we have the following words of Jesus about the issue of being lost: "Come, let us reason together, if you have 100 sheep and one of them comes up missing, do you not leave the 99 and go looking for the one that has gone astray? When the sheep is found, you would rejoice!" Matthew 18: 12-13 (Paraphrase by RLF)
Amy-Jill Levine, professor of N.T. at Vanderbilt Divinity School, writes about lost sheep and coins in her book, "Short Stories by Jesus." From a Jewish perspective, there would have to be something very special about this one sheep for the shepherd to leave the other 99 unattended. In looking for the one sheep that was lost, the shepherd would risk losing the 99. So, in spite of this risk, the shepherd leaves the 99 and looks for the one that is missing. In his mind, it is worth the risk. This particular sheep that is missing is one that he cannot live without. He must find it, because his life will not be the same without it.
Taken from this perspective, the story confronts us with the question, "What have you lost from your life that you would be willing to risk everything to find? What have you lost from your life that you can't live without?"
In the Book of Revelation, our lord is described as standing at your door, knocking, knocking, and knocking calling out, "I'm lost, open your door and find me." [Paraphrase by RLF] From this perspective, he is the one who is lost and we are challenged to take the risk of going outside our comfort zone to find what we can't live without.
There is a credit card commercial that asks the question, "What's in your wallet?" Our lord would ask the question, "What's missing from your life?" What have you lost that you are willing to risk everything to get back?
So, what's missing from your life?