Carolina Caring President & CEO
Each one of us owes our military veterans a debt of gratitude for their selfless service. As part of our mission to provide exceptional, compassionate care and enhance living for individuals and their families facing the end of life, Carolina Caring is committed to honoring all veterans in our country and in our care.
That's why we've built our "Salute to Heroes Memorial" on our campus at 3975 Robinson Road, Newton, which will be officially dedicated this month. The memorial pays tribute to the heroes in our community, honoring the sacrifice and commitment of law enforcement, firefighters, active military and veterans, health care professionals, teacher, and others who have dedicated their lives to serving others.
This beautiful memorial features the American flag, the North Carolina state flag, and a flag bearing the emblems of the U.S. Armed Forces. Leading up to the memorial are bricks honoring heroes along the walkway. It is visible from all buildings on our campus and will be illuminated at night to emphasize our nation's heroes' unwavering devotion to keeping us all safe.
We believe it is a privilege to care for our nation's heroes. Carolina Caring is a Level 4 partner with the national We Honor Veterans program, a join collaboration of the National Hospice and Palliative Care Organization and the U.S. Department of Veterans Affairs that focuses and supporting the specialized needs of military veterans by providing education and resources to hospices like ours that meet those needs.
One out of every four dying Americans is a veteran. We are proud to have served more than 700 veterans and their families since 2013. In addition to our services, Carolina Caring also partners with local businesses and veterans' organizations to host our monthly Veterans Coffee Connection in Hickory and Gastonia. These free events are designed to be a welcoming place for veterans to meet other veterans in the area and learn more about government resources, veteran's benefits and nonprofit organizations that provide veteran's support in our community.
The service and sacrifice of our nation's veterans have made an undeniable impact on all of us. Now, it's time to give back to those who have given so much to us.
Carolina Caring will host the dedication of our "Salute to Heroes Memorial" on Sunday, May 19, at 2 p.m. All are welcome. To learn more about this project, or to honor a hero in your life, please contact Carolina Caring at 828-466-0466.
School sponsors event to help fight hunger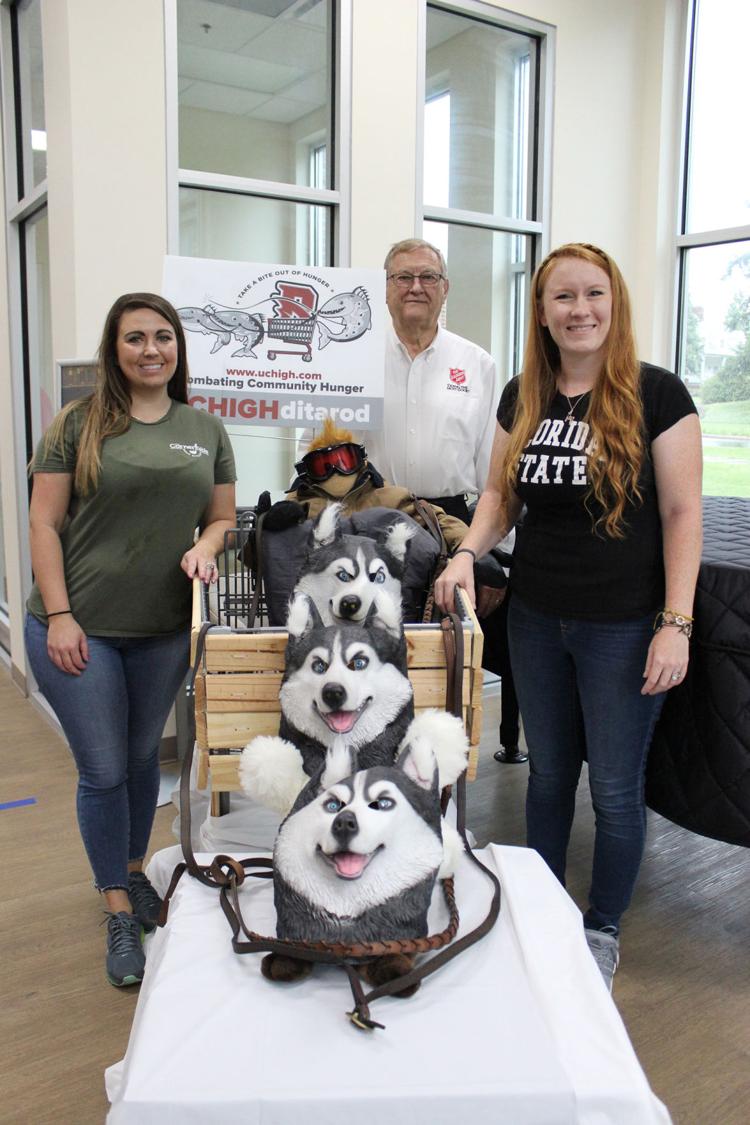 HICKORY — University Christian High School recently celebrated its 10th anniversary by helping fight community hunger with its first annual UCHIGHditarod.
On Saturday, May 11, the UCHS campus bustled with students, faculty, parents, and community members who raised more than $8,000 in cash and food donations for local charities. The Corner Table, the Backpack Program, and the Salvation Army were each presented a check for more than $900, and the three organizations split more than 1,000 pounds of non-perishable food.
Sponsors included Case Farms, Lowes Foods, the Patel family, Mountain Emergency Physicians, Texer Group, Viewmont Urology Clinic, Feetures Socks, Glaze Design Build, ChildHealth Center PA, the Congro family, and Technibilt.
The UCHIGHditarod (loosely modeled after the Alaskan Iditarod) was made up of nine teams who navigated mini shopping carts through a crazy obstacle course held indoors due to weather. Costumed participants traversed through various timed challenges, such as snowball basketball, three-person mukluks, and dizzy bats, to name a few, all to the amusement of the onlookers.
Prizes were awarded for fastest times, most creative team costumes, best-in-show, and crowd favorite. UCHS looks forward to watching this new tradition grow over the coming years.
First United Methodist Church has new service
HICKORY — First United Methodist Church will start a new service called Church in the Garden beginning Thursday, May 23, at 6:30 p.m.
Church in the Garden will run from May 23 to Aug. 29 and will take place on Thursday evenings in the church's Parable Garden. The Parable Garden is set behind the main church parking lot located on Fourth Avenue, NE, right across from the SALT Block.
The public is invited to attend this informal gathering to hear of God's love and to grow together in grace. Contact First United Methodist Church at 828-322-6058 for more information.
Military, police, and emergency services personnel to be honored
BETHLEHEM — All military, firefighters, police officers and emergency services personnel — serving now or previously — are invited to a special event.
This Sunday, May 19, Mt. Pisgah Lutheran Church invites them to its God and Country service. The Mt. Pisgah church family enjoys an opportunity annually to recognize area service personnel.
"Mt. Pisgah wants to say 'thank you' for your commitment," said a church spokesperson. "We encourage you to visit with us for this very special service at 10:30 a.m., this coming Sunday. Please feel free to wear your uniforms and bring your family."
Mt. Pisgah Lutheran Church is located in front of the Lowes Food shopping center on N.C. 127 in Bethlehem. For directions and more information call the church at 828-495-8251, visit the church website at www.mtpisgahelca.org, or find it on Facebook at Mt. Pisgah Lutheran Church ELCA.
Mission Teams Ready
St. John's Lutheran Church of Conover will be sending mission teams to work in five different areas in Alaska this summer.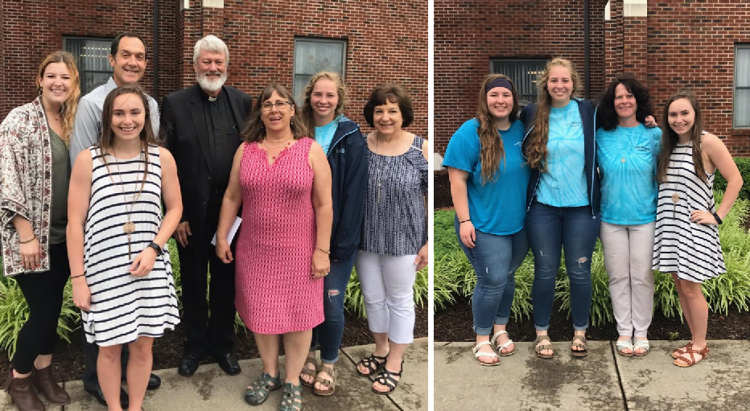 Pictured are two of the short-term mission teams that will be heading to Alaska in the next few weeks. The Arctic Village team (from left) includes Jamie Holchin, Amy Holchin, Diane Holchin and Rebekah Drum.
The Deering team includes (back row, left to right)   Danielle Baker, Randy Baker, Pastor Scott Johnson, Amy Holchin and Dana Drum. In front are Rebekah Drum and Denise Johnson.
Girl Scouts' donation will comfort children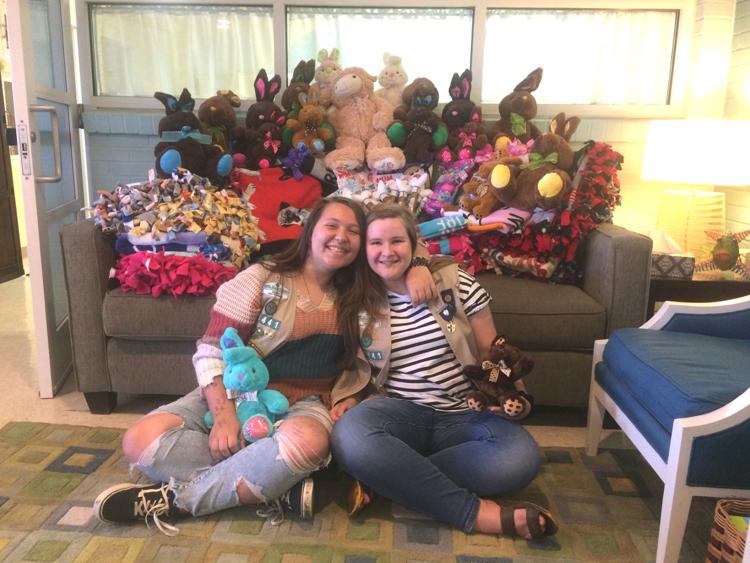 HICKORY — Addie Punch and Erin Moritz, Girl Scouts from Troop 10441, wanted to make a donation for the children served by The Children's Advocacy and Protection Center of Catawba County.
They asked the First United Methodist Church men in Conover for funds to purchase fabric to make blankets. Addie and Erin were able to make 17 hand-tied fleece blankets, and these blankets will be given out to the children who come to the center.
In addition, they were able to secure stuffed animals from Publix to be given to the children. Blankets and stuffed animals are items that give the children comfort while they are at the CAPC, and they get to take them home to keep.
The CAPC is a nonprofit organization that works to prevent and respond to child sexual abuse and serious physical abuse. It coordinates the efforts of Catawba County Social Services, law enforcement, and the district attorney's office. The CAPC seeks to educate adults on prevention of child sexual abuse through its Darkness to Light classes which are offered free in Catawba County. Yello Dyno Safety Classes are also offered free to children from age 4 up to fifth grade.
Giving Tree is a role model for love
Associate Pastor, Exodus Missionary Outreach Church
Pastor, Emanuel Reformed Church of Lincolnton
Last Sunday was Mother's Day and I was reminded of the children's book "The Giving Tree," by Shel Silverstein. This classic children's story is about the love between a special tree and a boy who loved her.
In the beginning he is young and loves to gather her leaves, climb the tree, eat her apples, and sleep in her shade. Giving these things to the boy makes the tree happy because she loves him. As the boy gets older he has less and less time for the tree but when he needs something he goes to her and that makes the tree happy because she loves him.
As a young man he goes to the tree and says, "I need some money," so she lets the boy take her apples to market and sell them. Giving to the boy makes her happy. Time passes and he goes to the tree and says "I need a house" because he is ready to get married and have a family. The tree lets the boy cut off her branches to build a house and this makes her happy. Years go by and the boy is much older now. He wants a boat so he can sail away from the worries and stress of life. The tree says, "I don't have a boat but you can cut down my trunk to make one," so he does, but this time she is not as happy because all she has left is a stump. The tree loves the boy and over the years giving to him has made her happy, but now it seems she has nothing left to help him. 
At the end of the story the boy is an old man and he comes to see his tree. At first she is sad when she sees him coming because she has nothing left to give, and he is too old to want anything. "I don't need very much now," said the boy, "just a quiet place to sit and rest. I am very tired."           
"Well", said the tree, straightening herself up as much as she could, "well, an old stump is good for sitting and resting. Come Boy, sit down. Sit down and rest." The boy did, and the tree was happy.  
Mothers are like Giving Trees. We love our children more than words can say. When they are young we are the center of their world and those are precious memories of giving night and day. Little children need something all the time. We feel needed and important to them. We are together all the time. They are our whole world and we are their whole world. This makes us happy.
As they get older they need us less and less but we still give everything we have at important times in their lives to help them. They still need us and that makes us happy. Even when we are old and they are old, we are like a stump they can sit on in peace and rest.
God's love is like a Giving Tree and is a model for mothers' love. God gave it all for us as his children and so we give it all for our children as well.  
16 For God so loved the world that he gave his one and only Son, that whoever believes in him shall not perish but have eternal life.