The suspects accused of murdering a mother and her two children last weekend appeared in Alexander County District Court on Friday.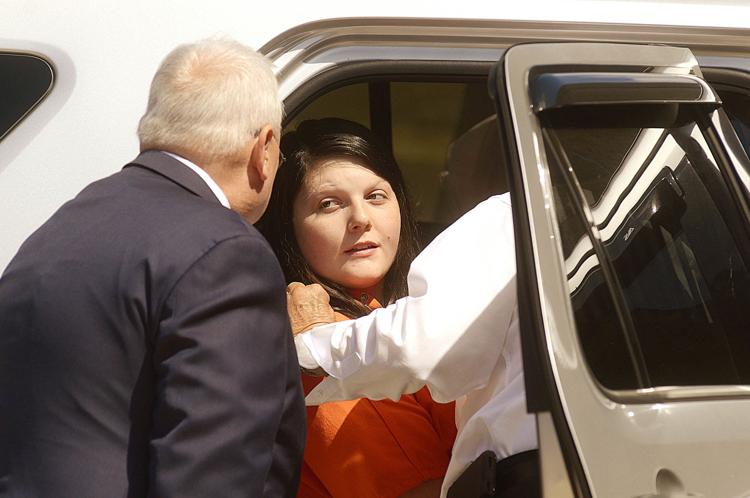 More photos of the suspects are at the bottom of this article.
Areli Aguirre-Avilez, 30, of Taylorsville and his 16-year-old girlfriend, Heidi Darlene Wolfe of Wilkesboro, are each charged with three counts of first-degree murder.
After firefighters extinguished a blaze at Maria Calderon's mobile home on Pine Meadows Lane in Taylorsville last Saturday, investigators discovered the bodies of her son and daughter — 11-year-old Angel E. Pacheco and 12-year-old America D. Pacheco. Rescuers have yet to find Calderon's body, which is suspected to be in the Catawba River.
During Wolfe's first appearance, District Court Judge Christine Underwood told Wolfe her maximum sentence could be life in prison without parole.
Assistant District Attorney Carrie Nitzu requested Wolfe's bond to be set high. Wolfe's pre-appointed attorney, Joel Harbinson, argued that because she is still a student, only 16 and her family is located in Wilkes County, her bond should be set reasonably.
Underwood set Wolfe's bond to $999,999. Her next court date is July 8, according to Harbinson.
During Avilez's first appearance, the court used a language interpreter so Underwood and Avilez could communicate. Underwood told Avilez his maximum sentence is death.
Nitzu requested Avilez not be given a bond. Avilez's pre-appointed attorney, Robert Campbell, did not negotiate the bond.
Rescuers continued to search for Calderon's body Friday morning. Alexander County Sheriff Chris Bowman said investigators will follow any leads on Calderon's location.
"We're definitely asking for the public's help. Be on the lookout for anything they see in the water," Bowman said.
The sheriff's office is attempting to locate Jose Carlos Mendez, who is Calderon's boyfriend, and Luis Fernando Sanchez. Bowman said the two men are missing but are not considered suspects.
"We're just trying to follow up with them, number one, to make sure they are OK," Bowman said. "And if they contact us (and) everything's OK, then we'll take them off the missing person's list."