Some areas in Hurricane Dorian's path will see heavy rains — but not the Catawba Valley, says Scotty Powell, Carolina Weather Group meteorologist.
For photos of the hurricane, scroll to the bottom of this article. 
Although Dorian's path has shifted westward, Powell said if the Catawba Valley were to experience any impact it will be on Thursday.
Powell said Thursday will be cloudy and breezy with a chance of showers in eastern Catawba County. The North Carolina and South Carolina coasts will see more chances for rain and gusty winds, he added.
The breezy conditions will move out of the Catawba Valley by Thursday night. Powell said the rest of the week will be sunny with temperatures in the mid-to-high 80s, and Monday will see slight chances for showers.
RELOCATING TO HICKORY TEMPORARILY
With voluntary and mandatory evacuation orders in place along the Georgia, South Carolina and North Carolina coastlines and eastern Florida coastline, residents of those areas are finding places to stay farther inland. One of those places is Hickory.
As of Tuesday morning, Best Western Hickory and Red Roof Inn have seen an increase in bookings due to Hurricane Dorian.
"We do have rooms available but they are starting to fill," Chanel Owensby, general manager of Best Western Hickory, said.
Red Roof Inn in Hickory is also seeing an increase in bookings.
"(People are) mostly coming from Florida and South Carolina, but we have some from North Carolina, too," said Jessica Greene, who works the front desk at Red Roof Inn.
Other properties are expecting some evacuees but, for now, it's business as usual.
"(We're) not filling up at this point, but people have been calling to see if we have openings just in case they need to evacuate," Laura Pinkham, assistant manager for Quality Inn and Suites Hickory said. "People who have already evacuated have inquired about extending their stay."
Several other area hotels, including Hampton Inn Hickory and Baymont Inn Hickory, have a few evacuees either checked in or on their way.
Holiday Inn Express Hickory front office manager Cutie Clontz said she expects calls for reservations to increase Wednesday. In the past, the hotel has housed Duke Energy workers during major weather events.
As of Tuesday, Sleep Inn Hickory and Days Inn and Suites Hickory still had rooms available and had not seen any evacuee bookings, according to hotel staff.
RED CROSS AID LOADED, READY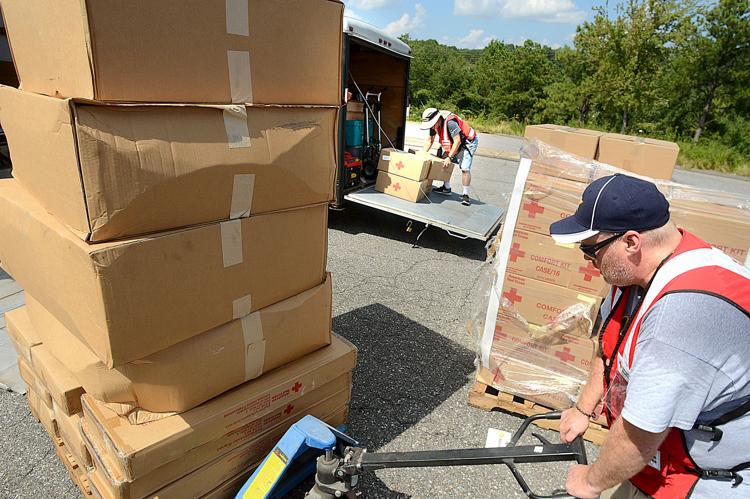 The American Red Cross chapter in Hickory has not received the call to send supplies for Hurricane Dorian relief but the organization's executive director said the Red Cross will be prepared if the call comes.
Scott Loudermelt, executive director of the Blue Ridge Piedmont Chapter of the Red Cross, said the chapter is placing shelter materials in trailers in case those supplies are needed.
"We wanted to lean forward," Loudermelt  said. "We thought that was the best thing to do at this point."
Four volunteers from the chapter have left to assist disaster response efforts.
Those volunteers included one from Catawba County who went to eastern North Carolina and two from Caldwell County who have gone to Florida, Loudermelt said.
Loudermelt said people wishing to assist can donate money at redcross.org . The Red Cross is also always seeking volunteers, Loudermelt said.
For more information, call the Blue Ridge Piedmont Chapter at 828-322-4151.
CONOVER FIREFIGHTERS DEPLOYED
Four Conover firefighters are headed to the North Carolina coast in anticipation of Hurricane Dorian, according to a press release from the city of Conover.
The Conover Fire  Department received orders to send one engine company to Newport, a town in Carteret County, by 2 p.m. on Wednesday, according to the release. 
Firefighters Wayne Isenhour, Jeff Hefner, Darren Chewning and Chris Boston were selected. The deployment could last seven to 12 days, depending on the severity of the storm, according to the release.
---