HICKORY - Catawba Valley Community College's Alumni Association recently presented its annual Distinguished Alumni Awards to graduates who have brought distinction to themselves, credit to the college and genuine benefit to their communities. The 2019 awards were presented during three different spring commencement ceremonies.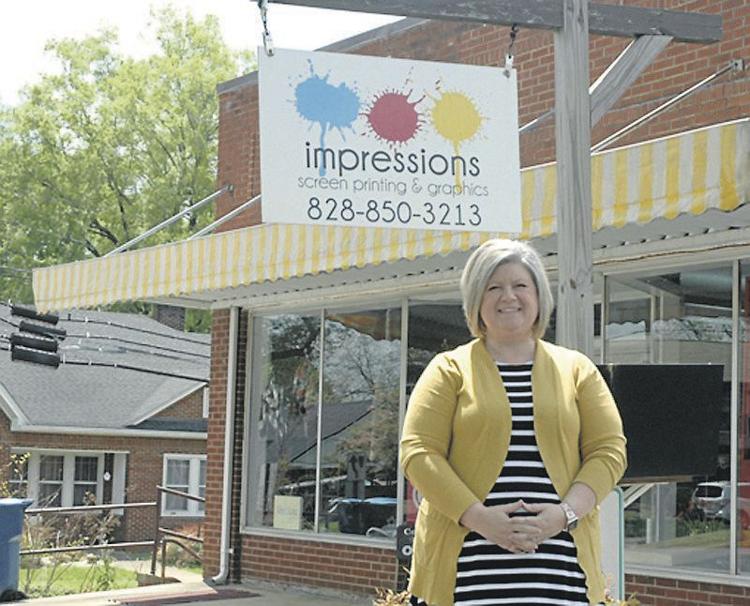 The School of Academics, Education and Fine Arts recognized 2009 graduate and Taylorsville native Tosha Brown. After losing her furniture job of 15 years, Brown embarked on her first college degree and a promising new career in graphic arts. Carefully balancing her roles as mother and wife, she tackled the financial and academic challenges of college life as she began working on an Associate in Applied Science-Graphic Arts and Imaging Technology. She credits the support of faculty members for encouragement when it seemed like too much to handle. Winning a logo design competition and a printing industry award bolstered her confidence along the way.
After graduation, Brown was hired as a graphic designer by The Taylorsville Times. Seeing an opportunity to broaden her creativity, she and her husband developed a home-based screen printing business. Expanding to a retail location in Taylorsville, Impressions Screen Printing and Graphics offers graphic design screen printing, embroidery, and her own T-shirt line. She now employs two other CVCC alumni and advocates for CVCC in volunteer work with church youth.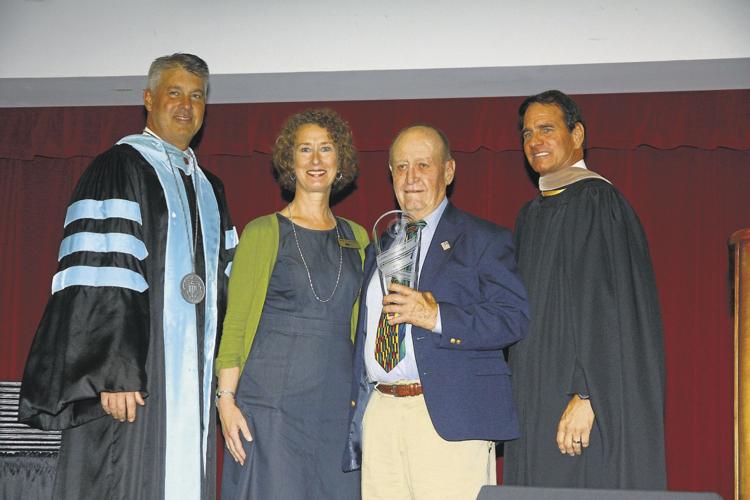 The School of Business, Industry & Technology recognized 1974 alumnus Gerald S. "Gerry" Millholen. Following in the footsteps of his World War II veteran father, Millholen enlisted in the U.S. Navy and served active duty for four years in Vietnam. After graduating from (then) Catawba Valley Technical Institute, he interned with Atlanta Country Club and was hired by Southern Turf Nurseries in Tifton, Ga. As a technical turfgrass representative traveling throughout the country, he worked on golf course projects with some of the industry's legends, including Jack Nicklaus and Arnold Palmer.
Millholen's career advanced with positions at Toro and John Deere, and he served as president of the Florida Turfgrass Association. Returning home to care for his aging father, Millholen switched gears to real estate. Since retirement, he has served as a passionate volunteer for many organizations, including the Hickory American Legion, Marine Corp League, Hickory Aviation Museum, and especially the CVCC Alumni Association. In 2016, he revitalized the Guy Hollar Golf Tournament and has chaired the committee the past four years raising scholarship funds for Turfgrass and Horticulture Technology students.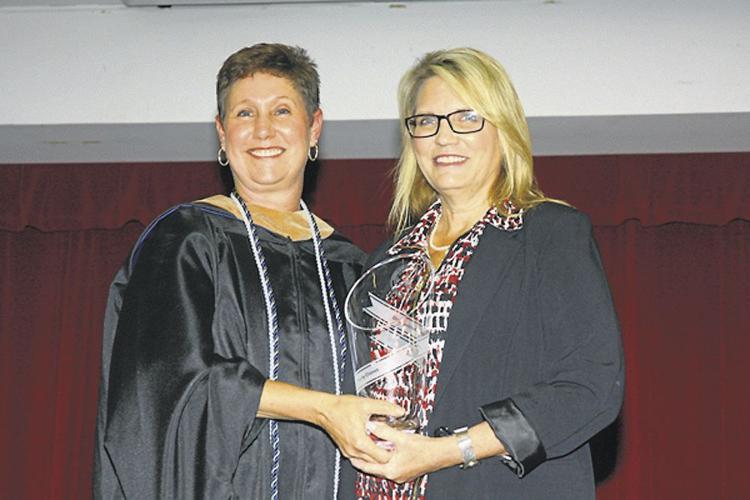 The School of Health and Public Service awarded Associate Degree Nursing graduate Wendy Chavez with the Distinguished Alumni Award. After earning her nursing degree in 1990, Chavez was promoted quickly as she earned a bachelor's and master's degree in nursing. Using her experience as a staff nurse, case manager and clinical supervisor in hospital based nursing, she moved into home health care where she accepted progressively more challenging positions. Today, she serves as director of operations for Thrive Skilled Pediatric Care. In 2015, she was named Professional of the Year by the Association for Home & Hospice Care of North Carolina.
Chavez continued to stay connected to and give back to her first alma mater, CVCC. She is part-time instructor in the Healthcare Management Technology program, and became a member of the program's advisory board and a work-based learning supervisor. She volunteered to serve on the college's first Alumni Advisory Board where she continues to serve. She also volunteers with Catawba County Department of Social Services and serves as a foster parent.
About the CVCC Distinguished Alumni Awards:
Alumni who have been awarded a degree, diploma or certificate from Catawba Valley Community College and who have made outstanding contributions in one or more of the following ways are eligible for nomination:
•    Exceptional accomplishment in their chosen field;
•    Exceptional service in local, state or national affairs; or
•    Exceptional service in support of Catawba Valley Community College.
Nominations from the community at large, as well as from faculty, staff, students and alumni will be accepted for the 2020 awards beginning Nov. 1, 2019. For more information, contact Mary M. Reynolds, director of alumni affairs, 828-327-7000, ext. 4387, mreynolds@cvcc.edu
Moving, storage business celebrates growth
A Hickory-based moving and storage business is celebrating its third year in business and its recent acquisition of AAA Moving & Storage.
Ashe Van Lines Moving & Storage began in 2016 after owner Jamie Eaker found motivation and inspiration from Chris and Melissa Barringer of Barringer Moving & Storage.
Currently, Ashe Van Lines focuses their services in Catawba, Burke, Caldwell and Watauga counties. AAA offers services in Iredell, Lincoln, Gaston and Mecklenburg counties.
Eaker hopes to expand his services into places like south Florida within the next few years. Within the next 10 years, he hopes to upgrade and expand Ashe Van Line's storage capabilities and expand into Atlanta.
Ashe Van Lines and AAA Moving are members of the Catawba County Chamber of Commerce. Ashe Van Lines is also a member of the Catawba Valley Association of Realtors, the North Carolina Movers Association, the Mooresville-South Iredell Chamber of Commerce and more.
Company announces several promotions
HICKORY — The von Drehle Corporation, a leading manufacturer of away-from-home towel and tissue products, has announced the promotions of four key employees. These promotions are aligned with von Drehle's growth strategy and development of the sales and operations teams.
Jason Gscheidmeier has been promoted to the position of chief operating officer. Gscheidmeier has been an integral part of von Drehle's growth and success since joining the company in 2012. Previously serving as the vice president of sales and marketing, Gscheidmeier oversaw the restructuring and development of the nationwide sales team, several market-driven price increases and the development and launch of the Transcend® proprietary towel and tissue dispenser line. In his new role as COO, Gscheidmeier will assume responsibility for von Drehle's two vertically integrated paper mills, four converting locations, supply chain as well as sales and marketing.  
Larry Cook has been promoted to director of Jan San sales. Cook spent the past four years as the national sales manager for von Drehle. In this role Cook restructured and grew the nationwide team of Jan San sales reps. Under his leadership sales reps grew their territories, added distribution and increased proprietary towel and tissue sales. Cook has a deep tenure in the paper industry and through his relationship building skills and vast knowledge he will continue to extend and strengthen the company's partnerships with customers across the country.
David Hine has been promoted to director of national accounts. Spending the past 10 years learning all aspects of the away from home towel and tissue business, Hine most recently held the position of national accounts manager. In this role Hine built and managed several key national account customers. Hine is a true strategic partner to his customers and works closely with all departments of these accounts. The management and development of national accounts is vital to the growth and success of von Drehle. In his new role, Hine will oversee the national accounts team and work closely with the operations team to continue to provide customers with quality towel and tissue products.
Danielle Cannon has been promoted to director of marketing. Cannon joined the von Drehle team four years ago as the product manager. In that role, she led and oversaw the development and launch of the Transcend® towel and tissue dispenser line; a comprehensive proprietary dispenser line offering high-end aesthetics, features and benefits. This dispenser line along with other key product developments has provided sales growth across the country. In her new role, Cannon will continue to drive product development, brand management and provide the necessary tools for the sales team and customers alike.
Weichert, Realtors - Team Metro welcomes agent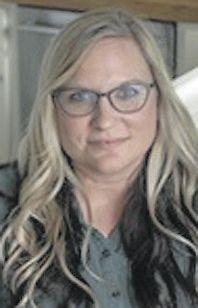 HICKORY — Weichert, Realtors - Team Metro, located in Hickory, announced that Sherry Hollingsworth has joined its team.
Hollingsworth will be assisting home buyers and sellers in Hickory and surrounding areas with all their real estate needs.
"We are thrilled to have someone with Sherry's passion for helping others join our team of talented real estate professionals," said Kim Smith, the company's broker/owner. "Sherry's attention to detail, coupled with her drive to help others, will be a tremendous asset for both our office and clients. We warmly welcome Sherry to our team."
Hollingsworth said she is excited to take advantage of the numerous business tools and marketing strategies Weichert provides its affiliate agents to help them offer the best real estate service in the industry.
Hollingsworth lives in Taylorsville. Weichert, Realtors - Team Metro is an independently owned and operated Weichert affiliate. The office serves the Hickory metro area.
For more information about Weichert, Realtors - Team Metro, located at 1144 Lenoir Rhyne Blvd. SE in Hickory, contact Kim Smith at 828-304-1000 or visit www.teammetro.net.
Realty Executives of Hickory welcomes new agent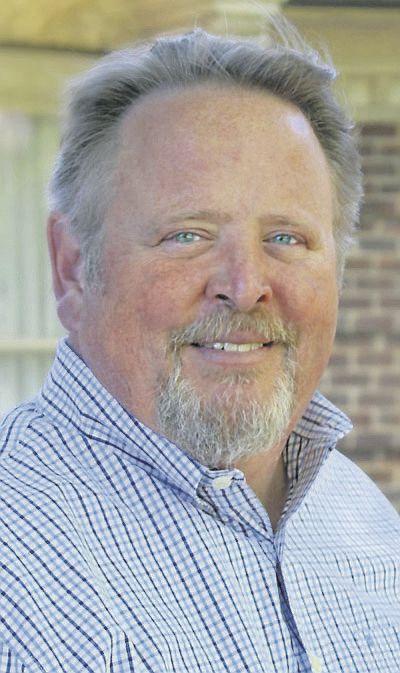 HICKORY — Jim McCormick has joined Realty Executives of Hickory at 785 U.S. 70, SW, where he will specialize in the marketing and sales of real estate. McCormick is a member of the Catawba Valley Association of Realtors and the national and state Realtor associations.
McCormick enjoys spending his free time watching and playing sports and woodworking. He currently lives in the Bethlehem area.
Realty Executives of Hickory has been voted Best Real Estate Company by Hickory Daily Record's Best of Catawba Valley.
Call Realty Executives at 828-328-8900.Call McCormick at 828-612-4187. Visit Realty Executives' website at www.realtyexecs.net.