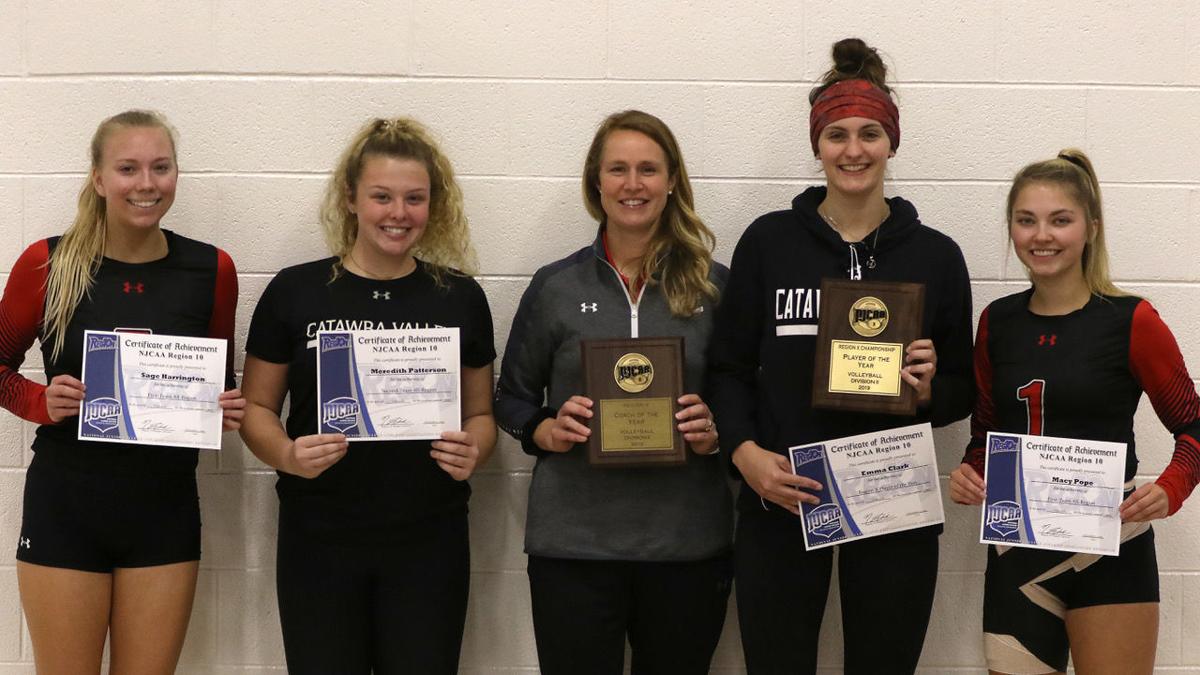 DOBSON — Five members of the Catawba Valley Community College volleyball program have been honored for their performance this season by Region 10.
Middle hitters Emma Clark and Sage Harrington, setter Macy Pope, outside hitter Meredith Patterson and head coach Shannon Hudson all received awards from Region 10 before the Red Hawks' first-round conference tournament match on Friday afternoon against Bryant & Stratton at Surry Community College.
Clark, Harrington and Pope were all named first-team All-Region, while Patterson was selected All-Region second team.
For the second straight season, Clark also received Region 10 Player of the Year — becoming only the third player in program history to win that honor twice in a Red Hawk career (Terri Ferber Fulbright in 2006-07 and Megan Fair in 2015-16).
Hudson was named the Region 10 Coach of the Year — the fifth time that she's earned that honor during her coaching career (2012-13, 2015-16, 2019).
This is the second straight year that Clark and Harrington — both middle hitters — were named All-Region first team.
Clark, a Boone native, was dominant in the Region, leading the conference in hitting percentage (.422), total blocks (100) and blocks per set (1.13) while coming in fourth in total kills (320).
Harrington, who is from Taylorsville, had another solid season for the Red Hawks, finishing second on the team in total kills (220), hitting percentage (.294) and total blocks (73) and ranks third in kills pet set (2.20).
A sophomore captain from Statesville, Pope finished the regular season with 459 assists, which are the ninth-most in the conference. She recently surpassed the 1,000-assist mark for her career — becoming just the fourth Red Hawk to break the century mark.
In 22 matches this season, Patterson recorded 155 kills, 2.31 kills per set, 181 digs and 26 service aces this season. The outside hitter from Statesville has been sidelined with a right knee injury she suffered on Oct. 8 against Davidson County.
The fifth-ranked CVCC volleyball team (32-4), which won the Region 10 championship this past weekend, will attempt to clinch its ninth national tournament appearance on Saturday when it hosts Region 7 champion Walters State (20-8) in the Southeast District championship game at the Tarlton Complex. Match time is set for 2 p.m.
Be the first to know
Get local news delivered to your inbox!