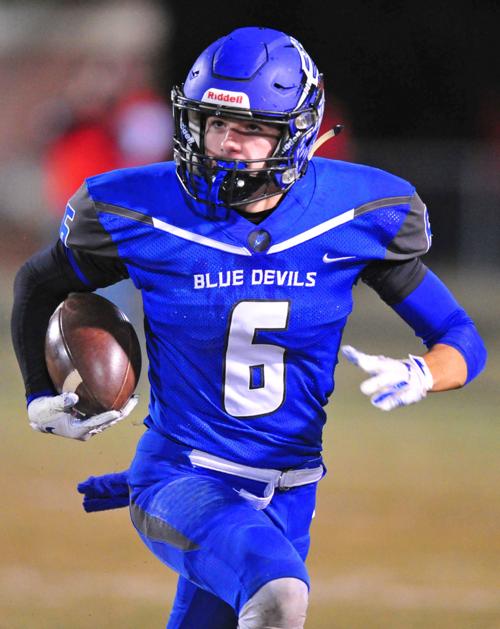 The Maiden football team scored three touchdowns in the first quarter and cruised to a 49-16 win over Lincolnton in both team's regular-season finale on Friday in Lincolnton.
Following an 8-yard touchdown pass from Ethan Rhodes to Dylan Abernethy to start the scoring, the Blue Devils (8-3, 5-2 South Fork 2A Conference) added another TD moments later when Abernethy intercepted a pass and returned it 55 yards for a score. Later in the opening period, Amarion Craig scored from 19 yards out to give the visitors a 21-0 advantage.
Although the Wolves (3-8, 1-6) managed a field goal and two TDs over the final three quarters, Maiden continued to pour it on. The Blue Devils got a 21-yard TD pass from Rhodes to Christopher Morgan in the second quarter, a 35-yard scoring strike from Rhodes to Abernethy and a 2-yard TD run from Craig in the third and a 34-yard scoring scamper from Isaiah Thomas in the fourth.
Rhodes completed 6 of 11 passes for 128 yards and three TDs, while Craig had 23 carries for 120 yards and two scores. Morgan (2 catches for 57 yards and a TD), Abernethy (3 catches for 54 yards and 2 TDs) and Carson Hansley (1 catch for 50 yards) all registered at least 50 yards receiving.
Bunker Hill 34, West Caldwell 13
After having their four-game winning streak snapped by Patton last week, the Bears defeated the Warriors by three scores on Friday in Claremont to finish 6-5 overall and 5-2 in Northwestern Foothills 2A Conference play.
Jay Abrams got the scoring started for Bunker Hill with a 33-yard TD pass from Carson Elder in the opening quarter, with West Caldwell (1-10, 1-6) later tying things at 6-all. The Bears answered with the next three TDs , including a 14-yard TD pass from Elder to Desmond Anderson and a 22-yard TD run from Garrison Davis in the first quarter and a 28-yard scoring strike from Elder to Abrams in the second.
After the Warriors scored another TD to make it 27-13 at halftime, neither team was able to register any points in the third period. However, Bunker Hill added a 37-yard TD pass from Elder to Chadz Stevenson in the fourth quarter to account for the final score.
Elder completed 20 of 27 passes for 281 yards and four scores, while Abrams had seven receptions for 118 yards and two TDs. Davis led the Bears on the ground with 75 yards and a TD on six carries, with Kaden Robinson adding six carries for 63 yards.
Alexander Central 41, South Caldwell 12
The Cougars led 13-6 after the first quarter, 34-6 at halftime and 41-12 through three periods on Friday in Hudson, capturing their fourth straight win with a 29-point victory over the Spartans. Steven Montgomery put Alexander Central (8-3, 4-2 Northwestern 3A/4A Conference) on the board with an 8-yard TD run just over three minutes in as the visitors never trailed in both squads' regular-season finale.
Montgomery finished with 198 yards and two TDs on 17 carries, while Cougars quarterback Lance Justice completed 6 of 7 passes for 106 yards and two scores. AJ Miller caught five passes for 81 yards and a TD to go with seven carries for 32 yards and another score.
South Caldwell (4-7, 1-5) was paced by Isaiah Kirby's 16 carries for 59 yards to go with three receptions for 25 yards, with Avery Raynor completing 10 of 22 passes for 113 yards and two TDs. Austin Raynor added six catches for 55 yards and a TD for the Spartans, who lost for the fourth straight week.
Hibriten 52, Patton 0
Hibriten outgained Patton 473-122 including a 385-87 edge in rushing yards on Friday in Lenoir, receiving three carries for 133 yards and two TDs from Zion Norwood, a 67-yard TD run from Kobe Morrison on his only carry and 11 carries for 61 yards from Taylib Howell. Trey Piercy added five carries for 46 yards and a score, while Daren Perry completed 4 of 8 passes for 88 yards and two TDs to go with three carries for 10 yards.
Marcus Jones was the top pass catcher for Hibriten (10-1, 7-0 Northwestern Foothills 2A Conference) with three receptions for 69 yards and two TDs. Meanwhile, Patton (4-7, 3-4) was led by Jackson Vance's 10 carries for 34 yards and West Fleming's 35 passing yards and 23 rushing yards.
Draughn 38, East Burke 7
The Wildcats turned a 7-7 tie after the opening quarter into a 31-point victory on Friday in Valdese. The win was the second straight for Draughn, which finishes the regular season at 7-4 overall and 5-2 in Northwestern Foothills 2A Conference.
Draughn quarterback Braxton Cox completed 24 of 39 passes for 333 yards and two TDs to go with 14 carries for 30 yards and a score, while Nick Chrisco caught 10 passes for 124 yards and two TDs and Denver Treadway had eight receptions for 120 yards.
On the other side, Josh Moore led the Cavaliers (2-9, 1-6) with 20 carries for 49 yards and a TD.
West Iredell 29, Fred T. Foard 14
The Tigers completed a winless season at home with a 15-point loss to the Warriors on Friday in Newton. Fred T. Foard (2-9, 2-5 Northwestern Foothills 2A Conference) hasn't won at home since defeating East Burke 63-14 on Oct. 25, 2018.
West Iredell (6-5, 4-3) snapped a two-game losing skid as it finished 3-2 on the road this fall.
North Lincoln 50, Bandys 13
The Trojans couldn't keep up with the Knights on Friday in Catawba, falling for the sixth time in their past eight games. Bandys dropped to 5-6 overall and 2-5 in the South Fork 2A Conference.
North Lincoln (10-1, 7-0) reached 10 wins for the second straight year after tallying just seven wins over the previous three seasons combined. The Knights outscored opponents 495-105 during the regular season.
Be the first to know
Get local news delivered to your inbox!