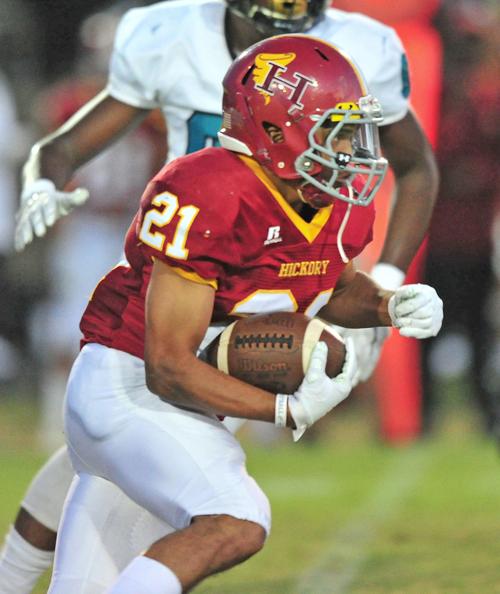 After starting an injury-plagued season with five straight losses, the Hickory football team finally was close to full strength Friday night during its Northwestern 3A/4A Conference game against visiting Freedom. The Red Tornadoes showed what they could be during a 23-22 win over Freedom. However, the win may have come at a price.
The win snapped a 10-year drought by Hickory (2-5 overall, 2-0 Northwestern 3A/4A) against the Patriots. Freedom (4-3, 1-1) had won seven in a row in the series dating back to a 20-9 defeat by Hickory in Morganton in 2009.
"Coming in at 1-5, this as a huge win for us, obviously," said Red Tornadoes head coach Russell Stone. "We just had to believe that we could get it done. I knew we could if we could get our players healthy. Unfortunately, I think this game cost us the same problems we had before with injuries."
The biggest concern is that of starting quarterback Jason Martin, who broke his left collarbone during a preseason scrimmage and missed the first five games. Martin returned for last week's conference opener, a 20-14 win at McDowell.
On Friday, the senior signal caller completed 13 of 15 passes for 134 yards in the first half, during which the Red Tornadoes took a 20-0 lead by intermission. However, Martin appeared to suffer an injury to the same shoulder during a sack in the fourth quarter.
"I'm just tickled to death to get this one," said Stone. "I thought Jason Martin played well for us in the first half. He hit some big passes and was just a picture of composure."
Hickory thoroughly controlled the game in the first half in both time of possession and yardage. The Red Tornadoes held the ball 15:18 out of 24 minutes in the first half and, in running 10 more plays, outgained the Patriots in total yardage 160 to 35.
The tone was set on the first possession on a 14-play, 70-yard drive that was boosted by Martin, who completed 7 of 8 passes for 72 yards. Two of the completions for 30 yards went to tight end Harper Hancock, who left with a possible concussion. Cody Young slashed in from the 3-yard line to make it 7-0.
The Red Tornadoes' script was similar on the next two drives of nine and seven plays that also ended with Young scoring from 5 and 2 yards, respectively.
Young, Hickory's biggest offensive threat this season, managed just 41 yards on the ground. However, Stone said the attention Freedom paid to Young allowed other threats to attack.
"I don't know how many yards Cody got," said Stone. "But it opened up some things for other people. I saw some of the best four-yard runs I've ever seen from him."
Freedom lost starting quarterback Jayden Birchfield to an injury in the first half, with Ty Little taking the reins of the offense. The Patriots kept the ball on the ground and found success in the third quarter. Chase Young ran for 45 of the 70 yards on the drive with Mekhi Spates punching it in from the 1.
A quick three-and-out set up the Patriots' second score in quick fashion, as they needed 3:11 to go 65 yards with Cameron Silvers slipping in from the 2 to get within 20-14.
But Hickory retook a two-possession lead on Ben Boston's 36-yard field goal with 11:20 to go.
Chase Young broke off the biggest run of the night for either side, a 36-yard scamper for the touchdown. Young also ran the 2-point conversion to get Freedom within 23-22 with 9:32 left.
But that was as close as Freedom could get as Hickory forced a fumble on the next possession. X'zayvion Huitt's interception in Red Tornadoes territory with 8.1 second left sealed the victory.
Coach Stone said the defense has improved greatly since giving up over 30 points in each of the five losses.
"We're undersized and we have to do a lot of moving and scrambling," said Stone. "But tonight, we played really physical football and took the fight to them. I thought we outhit them."
The Red Tornadoes also lost two offensive linemen to injuries, but Stone said the beat goes on as his team will play at Watauga for the conference lead next week.
"Now we've got to go play Watauga who's going to run the ball right at you all night long," said Stone of facing the Pioneers.
Freedom: 00 | 00 | 14 | 08 — 22
Hickory: 07 | 13 | 00 | 03 — 23
H — Cody Young 3-yard run (Izzi Woods kick), 5:34
H — Cody Young 5-yard run (kick failed), 10:23
H — Cody Young 2-yard run (Woods kick), 3:03
F — Mekhi Spates 1-yard run (Onyx Velez kick), 7:14
F — Cameron Silvers 2-yard run (Velez kick), 2:49
H — Ben Boston 36-yard field goal, 11:20
F — Chase Young 36-yard run (Chase Young run), 9:32
First Downs: Freedom 16, Hickory 13
Rushes-yards: Freedom 41-185, Hickory 29-3
Comp-Att-Int: Freedom 10-21-1, Hickory 16-21-0
Passing yards: Freedom 80, Hickory 178
Fumbles-Lost: Freedom 4-1, Hickory 1-0
Penalties-yards: Freedom 12-112, Hickory 9-55
RUSHING — Freedom: Chase Young 17-135 and 1 TD, Mekhi Spates 7-21 and 1 TD, Curt Young 5-21, Jayden Birchfield 5(-4), Ty Little 3-(-13), Day-day Burgess 2-16, Cameron Silvers 2-9 and 1 TD. Hickory: Cody Young 24-41 and 3 TDs, Jason Martin 4-(-34), Team 1(-4).
PASSING — Freedom: Birchfield 5-11-0 for 20 yards, Ty Little 5-9-1 for 60 yards, Team 0-1-0. Hickory: Martin 16-20-0 for 178 yards, Gage Lackey 0-1-0.
RECEIVING — Freedom: Desmond Caldwell 4-47, Burgess 3-16, Chase Young 2-7, Damien Dula 1-10. Hickory: Malakei Sumner 5-51, Lackey 4-35, Cody Young 3-30, Tristan Rankin 2-32, Harper Hancock 2-30.
Be the first to know
Get local news delivered to your inbox!