A little over 50 years ago, on the third weekend of November 1969, history was made when the Hickory Community Theatre (HCT) presented Lorraine Hansberry's groundbreaking play, "A Raisin in the Sun."
It was the first time a play with a majority African American cast had been presented by a community theater in North Carolina. HCT is celebrating this milestone with a new production of the play, which has four more performances this weekend, today through Sunday.
"A Raisin in the Sun" is a play about dreams; what it means to dream big, to lose faith in your dreams, and to discover new dreams. It is also a story about family. As the play begins, the Younger family is anticipating a $10,000 insurance check from the death of the father, Walter Younger.
Different members of the family have different ideas of how to use the money: Mama wants to buy a house with a little garden in the back, Walter Lee Younger (her son) wants to invest in a liquor store, Ruth (Walter Lee's wife) wants a house with some space and a nice kitchen, and Beneatha (Walter Lee's sister) wants to go to medical school.
Tensions increase as each member of the family tries to get their own way, eventually threatening to break apart their foundation completely. The stakes continue to climb as questions about identity, class, value, race and love become forefront issues, and outsiders to the family make it impossible to forget the world that the Younger family cannot seem to escape.
It was a bold choice when Charles Jeffers, HCT's managing artistic director at the time, chose to produce "A Raisin in the Sun."
"Nothing like this had ever been done before," said Richard Triplett, the HCT board treasurer at the time, "and there was some concern over how it would be received."
Several cast members from the 1969 production shared their recollections
Walter Witherspoon, who played Walter Lee, said, "Charles Jeffers was an inspiration. He made us feel that what we were doing was important."
Witherspoon and three other cast members -- Sam Dula, Catherine Tucker and Alberta Williams -- were already well acquainted. As members of Mt. Pisgah Church they performed music regularly both at church and elsewhere.
"They would go all around the community every February, performing music and dramatic skits," Winnie Dula, Sam's widow, recalled.
It was Catherine Tucker, the actor who played Ruth, who convinced Witherspoon to audition. "I'd never done anything like it before," he said. "But the four of us knew each other so well that we were already like family, with Alberta as the matriarch."
Joining this group on stage was a young high school student, Barton Sudderth, who played George Murchison. This was also his first play, although he didn't attend the auditions looking to be cast.
"I just went because my friend asked me to go along with him, but Charles Jeffers convinced me to try. I was intimidated at first, the cast of adults were noble and distinguished people but they put me at ease," Sudderth said.
The 2020 cast members' thoughts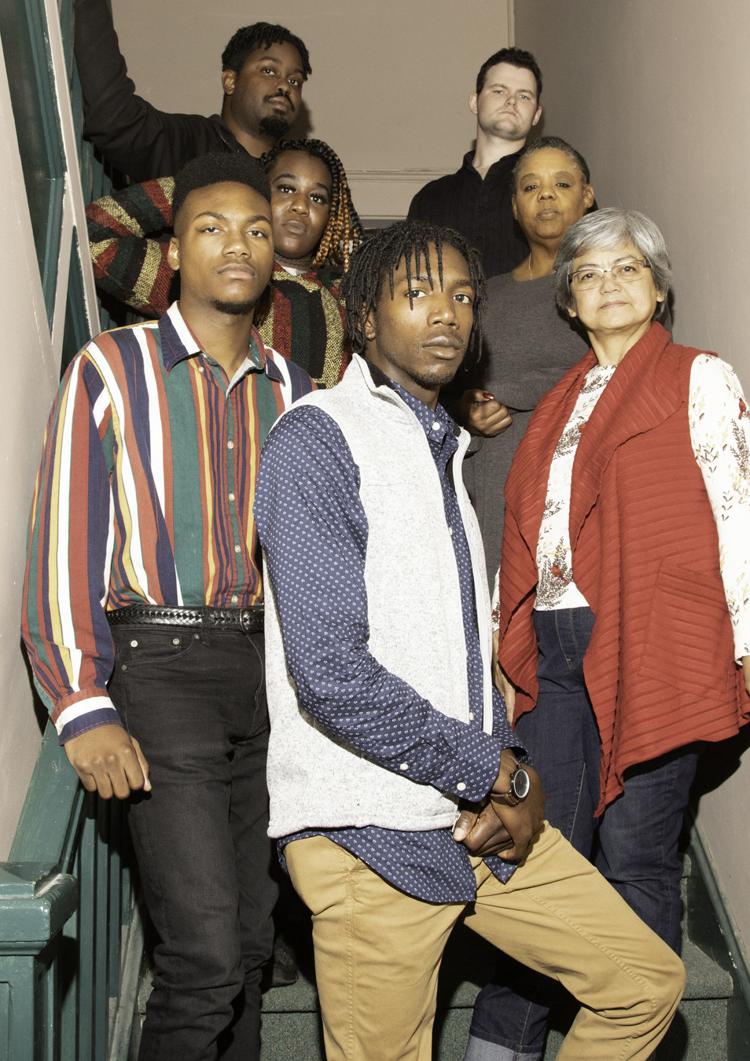 For the 2020 production, Tiffany Christian from Boone has stepped into the shoes of Charles Jeffers as the show's director.
"I don't often get the opportunity to do theater that tells the story of people who look like me," Christian said. "I was honored to be asked to direct this show; it is the culmination of my journey as an actor/director of color. To tell our story to an audience of our people and have it well-received is a deep validation of my identity and belonging."
Kathy Walker, who has the role of Mama Lena, had been looking forward to the show since she was announced. "I marked my calendar and kept a keen eye for audition notices," she said. "Playing the role of Mama, the matriarch of the Younger family is an honor."
Dior Scott, who plays Ruth Younger, Walter Lee's wife, said, "What drew me to this play is the story and atmosphere behind it. These are issues most of us are still facing to this day and it's important for people to know how hard it is for us."
As the youngest member of the Younger family, Branden Taylor says that, "To be part of this production, especially now, is such an honor and contributes to not only black history but to the history of Hickory Community Theatre."
For Will Vogler, the unenviable task of playing the show's antagonist, and the show's sole white character, has yielded positive benefits. "After realizing how meaningful this show is, I felt, and still feel, extremely lucky to be a part of this, and to have a chance to work with these amazing actors."
Playing the neighbor Mrs. Johnson is Carmen Gaston's first stage experience. For her, "It's an honor and privilege to be on stage with such an awesome cast, a group of enormous talent, and an inspiring director."
The role of Lena's daughter, Beneatha is played by Ajah Harold. Being a part of this play she says, "Means that I am reenacting history; that's a powerful thing to do. The connectedness to family drew me to this play." After being cast she was surprised to discover that that connection touches her real life as well, because Barton Sudderth, that young high school student who played George in 1969, is her uncle.
Dontel Mills has stepped into Sudderth's shoes, as George, for a new generation. "Fifty years ago we all might not have even spoken to one another due to the nature of the world and now we come so far," he says. "We still have a way to go but inclusion is the correct path to start."
Being a part of the 50th anniversary revival of "A Raisin in the Sun" has been a powerful experience for all. Director Christian perhaps sums it up best. "This show has reinforced my belief in the power of a universal struggle. It has also given me hope for the future. To see white people touched by the story -- I hope they can remember the empathy and humanity they felt when they deal with different people in their day-to-day lives."
There are four more chances to experience the power of this inspirational story. Performances are today at 7:30 p.m., Friday and Saturday, Feb. 14-15 at 8 p.m., and Sunday, Feb. 16 at 2:30 p.m.
Thursday night tickets are $14 for all adults and $10 for students. Tickets for Friday, Saturday and Sunday are $18 for adults, $16 for seniors and $10 for youth 18 and under. Call the box office at 828-328-2283 or visit hickorytheatre.org to purchase tickets or get more information.