Seventy-six trombones led the big parade, with a 110 cornets close at hand.
Sounds like a description of a rousing Fourth of July procession. It's actually from Meredith Wilson's 1957 Broadway musical "The Music Man." Had anyone associated with the original portrayal or the 1962 film been witness to Hickory Ballet & Performing Arts' rendition at the Hickory Community Theatre on June 14 or 15, I think they'd have been amazed. I certainly was! The 39-member cast, ages 9-17, put on a show so close to professional that I felt like I was in the audience of a Midtown Manhattan playhouse.
Wonderful singing. Excellent dancing. Terrific acting. Hard to believe they were just kids.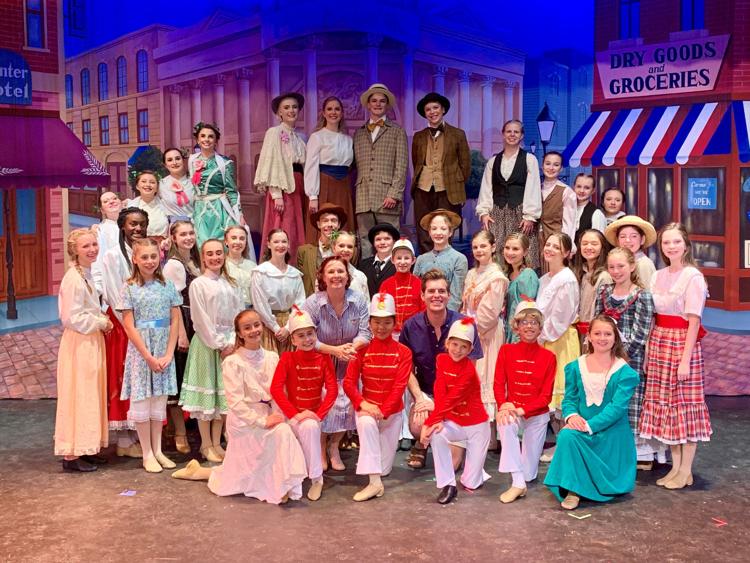 I took in one of the performances because two sons of my cousin Bryan Gibson and his wife Amanda were among the cast. Josh is 17; Zeke, 13. Josh had the lead, playing Professor Harold Hill. Zeke was Mayor Shinn. I'd never seen them perform. I knew Josh was a football player and had appeared in other productions, including plays at HCT, and Zeke was a budding master speechmaker, but, my goodness, those young guys, along with their fellow actors, were magnificent. Some of Josh's moves were reminiscent of Gene Kelly jumping around in the 1952 film "Singin' in the Rain," and as mayor, Zeke, a born orator, was in his element.
Some of the young people who train at HB&PA have their sights set on professional careers in ballet or musical theater. Others are there for recreational training and performing. I don't know if Quinn Mullis is looking to become a star or just having fun, but watching him portray Marcellus Washburn made me think of actors well known for their hilarious physical comedy: Dick Van Dyke, Tim Conway, David Hyde Pierce, and Don Knotts. Some of the younger kids in the ensemble were equally gifted, mesmerizing audience members — even all the little brothers and sisters who'd come to watch their siblings.
HB&PA executive director Leanna Bodnar pointed out that whether a young person wants to turn her talent into a career or just enjoy the performing arts as a pastime, participation changes people for the better: improved communicators, confident public speakers, empathetic human beings, and mentally and physically healthy kids. "We're trying to develop the whole child," said Leanna, "Part of it is they have to put their phones down."
The main thing is they have fun. Here's a sample of actors' comments about HB&PA and being in The Music Man: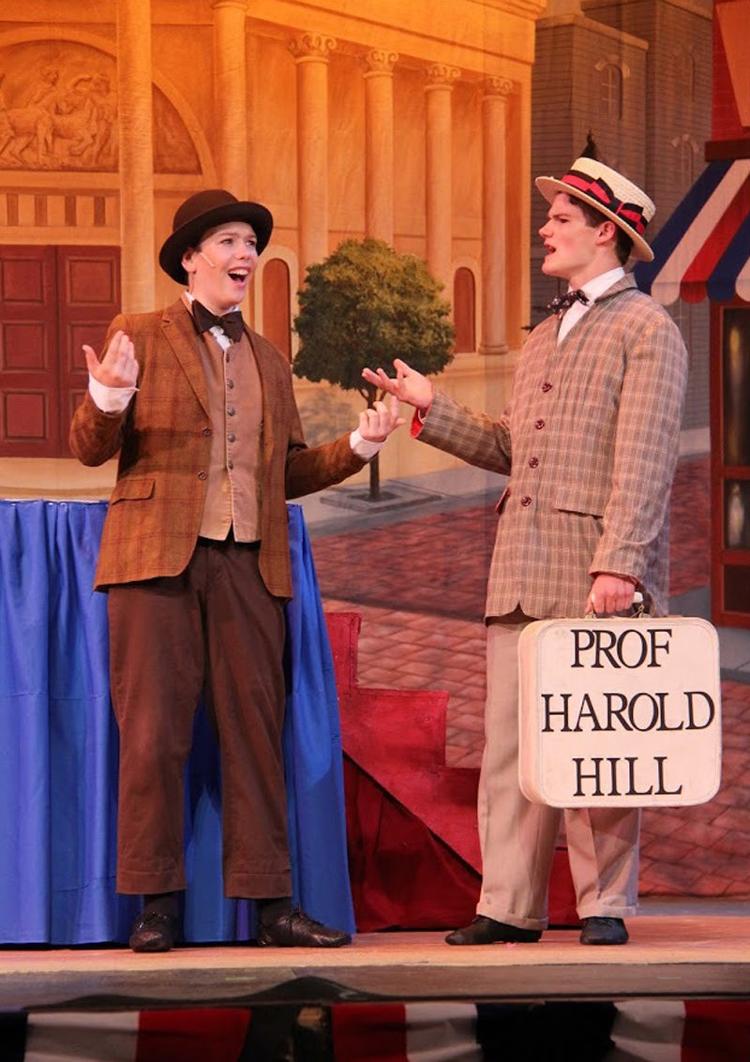 Josh Gibson (Professor Harold Hill) — "The directors and cast made 'Music Man' one of my favorite theatre experiences. I am so glad to be part of HB&PA."
Quinn Mullis (Marcellus Washburn) – "'Music Man' was a classic. It was so much fun, and I am really excited about shows to come."
Zeke Gibson (Mayor Shinn) – "Theatre dares you to believe in yourself, conquer fears, and exceed expectations while making lasting friendships."
Kate Mullis (Marian Paroo) – "One of my favorite parts of 'Music Man' was being able to work with younger HB&PA students. Usually I am only with my fellow ballet level 5/6 students, but this experience allowed me to interact and build relationships with so many other students . . ."
Ella Ford (one of four Pick-a-Little Ladies) – "Being in 'Music Man' with my younger siblings allowed us to build relationships with other students and also strengthened our friendship as sisters because of the time we spent together working on the production."
Lily Bodnar (Eulalie Shinn) — "My dance comes to life at HB&PA!"
Anne Meluch (one of the River City Townsfolk) – "I was surprised how much fun we had performing something 'old-style.'"
"They pulled it off like total pros," said Leanna, who directed the musical. She'd seen how good the kids were in rehearsals, but when the curtain rose on June 14 and 15, they were no longer youngsters and teens. "You forgot you were watching kids."
That's high praise from someone who was a theatre professional for 20 years. Training under a host of performing arts greats in San Jose and San Francisco and then working out of Los Angeles, Leanna sang, danced, and acted in Broadway national tours, including "Cats" from 1991 to 1993 and "Grease" in 1996. She portrayed Patty Simcox and was the first understudy in the role of Sandy portrayed by Sutton Foster, who'd went on to become a two-time Tony-winning actor. Leanna is especially honored to have worked under Jerome Robbins, renowned choreographer of ballet, Broadway, film and TV.
Ten years ago, Leanna and her family relocated to Catawba County, Leanna having determined to become a performing arts educator. She was already friends with Michael and Melissa French, who founded what would become HB&PA. "It's been such a great fit," said Leanna about living in Catawba County. "Hickory is such a vibrant community – such an artistically-based city."
Today, HB&PA offers training in a variety of areas, such as ballet, acrobatics, voice, musical theater, and modern dance. "Some of our students have already gone on to have professional careers in the ballet world," said Leanna. "Many are chosen [through auditions] for summer intensives with ballet companies like Boston Ballet, American Ballet Theatre, and Joffrey Ballet."
Additionally, HB&PA has an outreach program and has performed in libraries as well as during special events, such as the Western Piedmont Symphony's Ice Ball fundraiser in January and the Hickory Museum of Art's 75th anniversary Light Up the Night Gala. Leanna hopes to expand the program to include performances for special needs audiences and retirement facilities, to name a couple.
HB&PA has recently received nonprofit status and is seeking a volunteer to head up a fundraising committee. More funds will mean more outreach and more scholarships. "I think any kid who wants to do this should have the opportunity to do it," said Leanna.
Which brings me to something that amazed me even more than those super talented kids: that Leanna and all the adults who worked to make "The Music Man" such a success were able to manage more than three dozen kids at the same time.
" . . .rows and rows of the finest virtuosos . . ."
For more information about HB&PA, including its summer camps for ages 4 to 17, go to www.hickoryballetpa.com or call 828-612-5738.