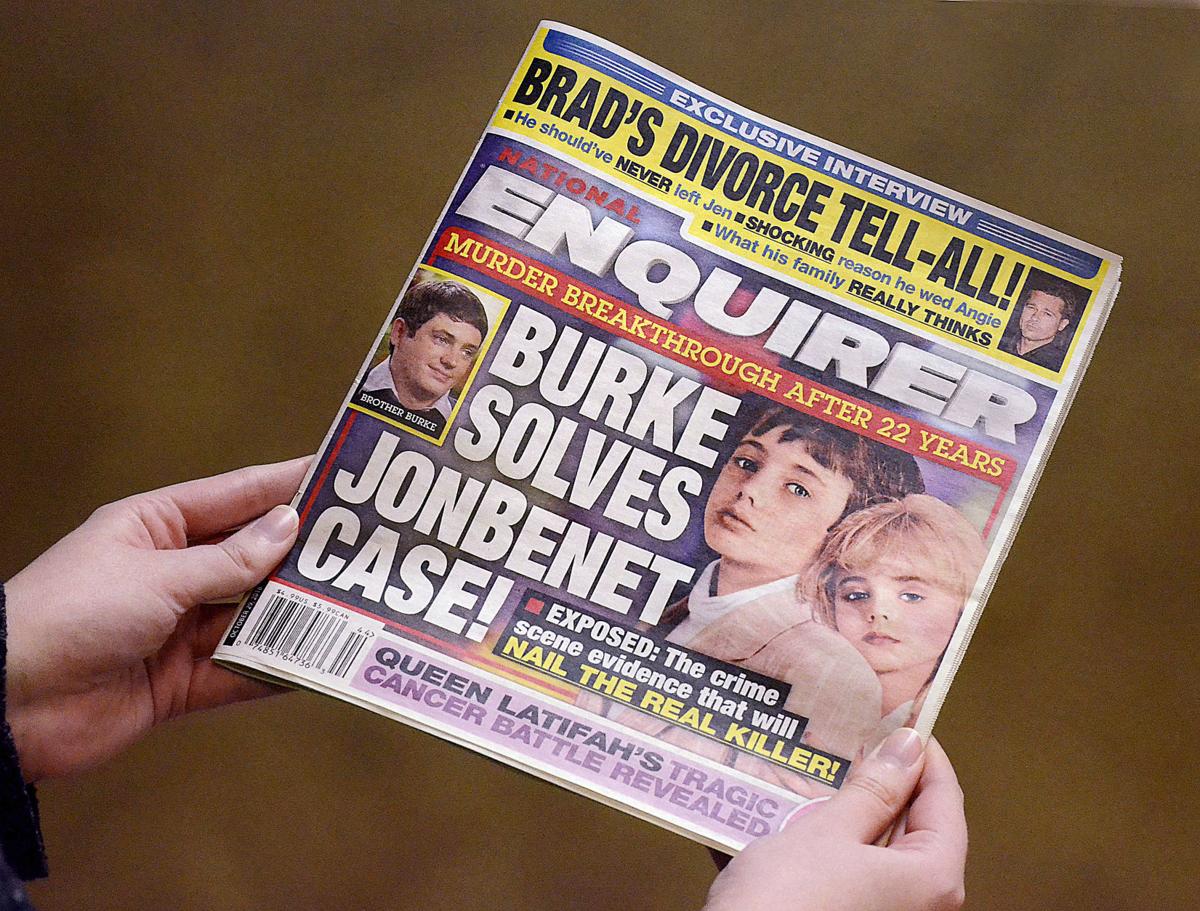 More than 1,300 miles separate Hickory from Boulder, Colo. And more than 20 years have passed since 6-year-old JonBenét Ramsey was found dead in her basement the day after Christmas.
Neither of those things have stopped a Hickory resident with the online name of Jameson.
It was the age of dial up and floppy disks. Pre 9/11 and post O.J. Simpson. America was hungry for something new to obsess over. JonBenét fit the criteria.
JonBenét was a Miss America in the making. Pageant photos depicted JonBenét as a young girl with hair high enough to reach the heavens and a sweet smile.
These images, combined with the gruesome story of her mysterious death, would be broadcast nationwide and plastered on the front cover of every tabloid for years to come.
And her story, a case that ran cold, would give birth to an online phenomenon that would make Jameson famous.
Dec. 26, 1996
Christmas Day 1996 in Hickory was ordinary, with highs in the upper 40s and a chance of rain. The headlines highlighted the end of successful charity campaigns and showcased various Christmas scenes of lights, shopping, opening gifts and nativities.
In Boulder, it was snowing.
As the well-loved and wealthy Ramsey family put their children, 9-year-old Burke and 6-year-old JonBenét, to bed that night, they dreamed of continuing Christmas festivities with family the next day.
But when Patsy Ramsey woke up the morning of Dec. 26, 1996, a mother's worst nightmare became reality. JonBenét was missing. A ransom note found at the bottom of the staircase demanded money in exchange for her safe return.
John Ramsey found JonBenét's body later that day in the basement. She was wrapped in a blanket, still in her pajamas. A garrote was wrapped around her neck and tape covered her mouth. With the discovery of JonBenét's corpse, all eyes were on John and Patsy. Americans tuned in and logged on to witness the chaos.
Others chose to join it. One of them was Jameson.
Meeting Jameson
A light breeze barely cut through the muggy heat one August Saturday at the Hickory Regional Airport. Skies were clear and it was time for the Young Eagles to prepare for take off.
In the terminal building, children and their parents spread out among round tables, filling out consent forms to take part in a free program that allows local youth to fly in small airplanes. I was making my way through the crowd when I noticed someone trying to get my attention. I walked over.
Introducing herself to me as Susan Bennett, she suggested I do a story on the JonBenét Ramsey case. I said, although I find the case interesting, we tend to focus more on local stories.
It was evident from the start the story of JonBenét's murder is a passion of Bennett's. She told me the FBI had been to the Shurtape factory in Hickory to get more information about the tape found on JonBenét's mouth. I asked her to explain more, then she spouted theories of the Ramseys' innocence and disdain for the 2016 CBS special pinning JonBenét's brother Burke as the accidental killer.
"You know, I was a suspect!" she scoffed, before telling me about a linguist who used chat room and message board posts to connect a user by the name of Jameson to the crime.
There was one issue though: Jameson was Susan Bennett.
The linguist, along with other internet posters, were wrong and the Boulder Police figured that out quickly.
I walked away with a website, email address and more questions than answers. The fast-paced conversation left me dizzy. The possibility of Hickory having a connection to JonBenét's case seemed slim, but I wanted to find out for myself.
Returning to the office, I pulled up the link Bennett gave me and entered the world of amateur online detectives who are sometimes called cybersleuths. A world, I quickly learned, that has shunned Jameson for more than a decade.
I contacted Bennett several hours later, and from there on out, we would only communicate via email, save for one phone call. She would cease to call herself Susan Bennett, signing each email as Jameson and insisting: "I have always been jameson and prefer it that way."
After spending just an hour looking through her website, I was intrigued. Has Jameson really spent 20 years of her life working to solve the murder of a 6-year-old girl she never met? Was she really ever considered a suspect? Was she really featured in the Ramseys' book?
Is Jameson who she says she is? Or is she just seeking attention?
Originally, she was open to the idea to do an interview but she had not officially committed. Jameson changed her mind on Aug. 28, 2017. 
"Not now, I have gotten a lot of files on the case because one of the original investigators passed away, I was given all his files and my priority is sorting and studying them before I do anything else," she wrote. Jameson told me when we met she had formed friendships with various investigators on the case over the years.
I told her I would touch base with her in a few months.
The next several months were busy. The Hickory area was hit with several tornadoes. Other more urgent article ideas popped up, and I spent three weeks in the old Catawba County Justice Center covering a murder trial. Then came the holidays.
I let the idea lie dormant until the following summer. Emailing Jameson again in July 2018, I asked if she were still interested in an interview. She did not respond.
By then, I'd fallen deep into a Google black hole. I'd combed archived message boards and chat logs, some dating back 20 years. I even ventured through probably the most famous forum for amateur detectives: Websleuths.
Jameson's website has a similar name. Her site Webbsleuths, with two B's, is named for actor Jack Webb. He starred in  "Dragnet," a 1940s and '50s radio and television series about Los Angeles Police Sgt. Joe Friday.
"He used to say, 'Just the facts, Ma'am,'" Jameson wrote to me on Aug. 15, 2017. "There is another site — weBsleuths and that is a site for the Ramsey lynch mob who will twist anything and everything in order to make it seem the accusations against the parents is the ONLY possible solution."
Jameson's lack of response in July was disappointing. As a true crime junkie, I wanted to pick the brain of someone who is practically an expert on one of the most famous cold cases of all time.
As a journalist, I felt this story — the story of the average person refusing to let  amurder go unsolved that she began to investigate the crime herself — needed to be told.
JonBenét's killer is still at large and police often rely on tips from the public to solve cases. Who's to say that couldn't still happen in the JonBenét case?
I continued my research, hoping Jameson would change her mind.
Information on Jameson is bountiful, so I was able to learn a lot about her, but most of it is unflattering.
I discovered extensive archives of chat logs and message board posts as well as transcriptions of interviews. I've been able to find two YouTube clips of her television interviews: a CNN segment on cybersleuths from 2006 and a clip from the CBS show "48 Hours" in 1999.
The CNN interview has been viewed more than 8,000 times, and the comments, spanning from 12 years to a year ago, are not kind.
Why do people hate her? What would motivate someone in the comments to call her a "sick, fraudulent opportunist?"
ACandyRose would tell me.
Creating Jameson
Jameson knew things she should not have known.
When she logged on for the first time in 1997, others were baffled at this new poster who was so sure of John and Patsy's innocence. She also seemed to know details of the case that had not been made public, so who was she?
In those days, the local paper in Boulder had an online forum for readers.
The odd circumstances surrounding JonBenét's murder drew in an online audience that frequently took part in heated debates.
I learned this through a poster named ACandyRose. This poster has documented the case and the internet subculture surrounding it. And it's thorough.
"Message From The Webmaster: www.acandyrose.com is not a BLOG that is updated daily with news flashes or personal journal entries, it's a web site of close to 25,000 files documenting found materials to create an archive history timeline of various true crime cases, some current, some cold cases," the site reads at the top of the homepage.
But it is ACandyRose's extensive documentation on Jameson that proves just how influential Jameson is in the cybersleuth community.
Catfishing, pretending to be someone you're not online, was not a common term used in the late 1990s, but that's what Jameson did. Other cybersleuths did not know Jameson is actually a woman from North Carolina. They thought she was a man whose life had been filled with abuse and loss.
But the facade did not last long. The truth of her identity leaked, and the cybersleuth community felt betrayed, especially since the stories she made up about her troubled childhood were told in explicit detail.
A poster named spencer claims to have outed her, according to ACandyRose's records.
"Jameson proceeded to tell me the most gruesome stories of hir (sic) upbringing I had ever heard," spencer wrote in a post on the Boulder News Forum on Dec. 31, 1998. "I never once asked Jameson to tell me these things. Never once. A month later, I 'outed' Jameson for acting like a man when in fact hir (sic) was a woman."
Jameson expressed no remorse for her lies. She felt it was her right to keep her personal life private, and when other posters wouldn't accept that, she felt the need to lie.
"I have consistently said that the personal information I gave out in early 1997 was a lie. No secret there," Jameson wrote on Webbsleuths in 1999. "I always said that I did not want to discuss personal information. In the beginning, I used to leave the chats when the personal stuff started because I was not interested in sharing. I was attacked for not being 'friendly.'"
Even with part of her identity exposed, Jameson carried on as Jameson. In fact, in later television interviews, Jameson continued to refer to this online persona as "he."
Being unpopular would become the least of Jameson's problems, though. Soon, a linguist would decide she was JonBenét's killer.
Identifying Jameson
Even though he had not been asked to, Donald Foster fired up his PC in May 1997 determined to solve JonBenét's murder.
At least, that's Jameson's version of events. Much like ACandyRose, Jameson has her own records on JonBenét's case on her websites jameson245.com and Webbsleuths.org.
Jameson's posts caught Foster's eye, so he emailed her, introducing himself as a text analyst and a Vassar College professor of English. He had accurately identified columnist Joe Klein as the anonymous author of "Primary Colors," a work of fiction thought to have been inspired by Clinton's 1992 presidential campaign.
"I'm writing this note for just one reason: to commend you for your internet posts," Foster said in his first email to Jameson, according to her page on Foster. "You're one of the few folks urging restraint - and about the only one who's done so with much intelligence and eloquence."
They continued to correspond, and little did Jameson know, Foster was hanging onto every word. By June 1997, Foster determined Jameson was John Andrew Ramsey, JonBenét's older brother from her father's first marriage. He believed John Andrew was hiding out in North Carolina. Foster also believed he could get John Andrew to confess.
But he was wrong. Jameson was Susan Bennett. Always has been. Susan had no connections to Colorado or the Ramseys prior to 1997 and wouldn't meet the Ramseys for the first time until 1998.
But before he knew of his error, Foster wrote to Patsy, telling her he knew she was innocent.
"I would stake my professional reputation on it," Foster wrote.
By this point, many suspected Patsy was responsible for writing the bizarre ransom note.
"At the very least, I think I can exonerate you from a presumption of guilt with respect to the ransom note," Foster added.
Jameson and Foster spoke on the phone for the first time on June 25, 1997. Expecting a male's voice, he was greeted with Susan's. Instead of accepting he was wrong, he thought he was speaking to the person helping John Andrew hide and offered to help her, Jameson says on her website.
Jameson wouldn't speak publicly about Foster until 1999. On her site, Jameson wrote she'd spoken about what had happened to the people who needed to know about his giant error.
Sometime within the next several weeks, investigators would be informed of Foster's theory on Jameson.
Eventually, Foster changed his mind and pointed to Patsy as the author of the ransom note, as former investigator Steve Thomas reflects on in his book "JonBenét: Inside the Ramsey Murder Investigation."
Foster was asked to join the Ramsey investigation by Thomas as an expert witness in the spring of 1998, and he presented his analysis on the ransom note to the DA's office and investigators.
Thomas was impressed, but by July 1998, Foster was dismissed from the case.
His inaccuracies from a year earlier came to light. Foster's interactions with Jameson discredited him. A few months later Foster would go public with his analysis of the ransom note, making an appearance on "20/20."
Jameson decided to speak publicly about Foster soon after the special aired, and she organized an appearance on "48 Hours," which aired in April 1999.
In a letter to "48 Hours," Foster said he was just speculating Jameson was John Andrew and that John Andrew was the killer. He said he never accused anyone of anything.
Confronting Jameson
If Jameson wouldn't speak to me, I would find someone else to talk to.
I started with ACandyRose. Perhaps they were friends? My email received no response, which didn't surprise me. No updates had been made to the website since 2014.
Next, came the cybersleuths on the "anti-Jameson" Websleuths. No luck there either.
After that, I emailed Cmdr. Ron Gosage with the Boulder Police Department. He was a lead investigator on the case and had traveled to Shurtape in Hickory with Detective Steve Thomas nearly 20 years ago. I hoped he would be able to at least issue a comment on the tape.
Gosage responded the following afternoon.
"Although I can appreciate the work you've put in, and the predicament you're in, I cannot discuss the details of our ongoing investigation," he wrote. "That includes who, or who not, may be a witness or, obviously, any of the evidence."
Fair enough, I thought. I thanked him for his response and moved on.
I emailed Jameson again in October. I let her know I was doing the article with or without her, but with her would be better. I had some things I wanted to discuss, including the rumor she sold evidence she'd obtained through her friendships with detectives to the National Enquirer for $40,000.
A Rocky Mountain News article from 2002 says the tabloid obtained a transcript of an April 1997 police interrogation of the Ramseys, videotapes of a June 1998 police interrogation and a few of Patsy's handwriting samples.
Jameson responded to my Oct. 17, 2018, email a few hours after I sent it.
"Have I made money from this case? Yes," she wrote. "I worked hard and was paid for some of that work. No apologies there. Hello, you will get paid for your research and writing, will you not? Why should I not?
"But have I done anything to hurt the investigation or the family? NO! I have done what I believe will advance the investigation and tried to find closure for the Ramsey family who lost their child/sibling as well as a way of life."
As for the cybersleuths, Jameson said she is respected in the circles that count and she's learned to not pay "those people" (the Ramsey lynch mob) any mind.
"But who are those people? Truth be told, they've been there since the first day when I went online and asked people to wait and see the evidence before hanging the parents," Jameson wrote. "They couldn't wait, they chose a position and can't EVER admit they were wrong. They call me names as they ignore the facts, twist the truth, tell lies and try to discredit what I do."
In the time since Jameson and I last spoke, she said she hasn't given up on the case. She's been to Colorado three times, met with the Ramseys, lawyers, reporters, investigators and the district attorney. She was even consulted for a documentary.
"I hope my work, whether I get credit or not, helps someone solve this," Jameson wrote.
Jameson calls her previous interviews, other than the "48 Hours" interview, mistakes.
"In 1998, I went on 48 Hours to discredit the 'key witness going into the Grand Jury' (Foster) and have no regrets for that," Jameson wrote. "He needed to be exposed and I was the only one who could do it."
Jameson wouldn't talk about herself, but she would talk about the case, she said. So, I asked her about the tape on JonBenét's mouth.
"I can tell you it was manufactured in November of 1996, just weeks before the murder," Jameson said. "They know because the material and adhesive used were only paired for a short time."
While Patsy had shopped at a hardware store that sold that tape prior to the murder, she denied buying tape and no one could confirm that she or anyone in the family did or didn't.
When investigators Ron Gosage and Steve Thomas came to Hickory, they didn't bother to let Jameson know. By then, they were aware of who Jameson was and had already cleared her as a suspect.
"They didn't tell me they were coming, didn't even call and invite me out for coffee," Jameson wrote. "Never spoke to me about the tape."
Information on the tape is scarce. A report was never released, but Jameson knows it was not duct tape, the fabric and adhesive were unique. Photos of the tape and experts reveal there were perfect lip prints on the tape.
"... that shows the tape was put on when JonBenét was unconscious or dead," Jameson explained. She believes it furthers the theory the killer was acting out a sexual fantasy.
After giving me access to Webbsleuths, our conversation tapered off. Once again, I became busy but spent time on the website when I could.
It was at this time I decided to order John and Patsy's' book: "The Death of Innocence."
When it arrived I was surprised to discover that Jameson didn't just have a page or two dedicated to her, but a whole chapter.
Meeting Jameson
Some would argue that John and Patsy are not reliable sources. Many believe they killed their child or were at least involved in the cover up.
But neither was ever charged with the murder of JonBenét and or any crime in relation to the case at all. However, a grand jury voted to indict the Ramseys on child abuse resulting in death and accessory to first-degree murder charges, but the district attorney chose not prosecute.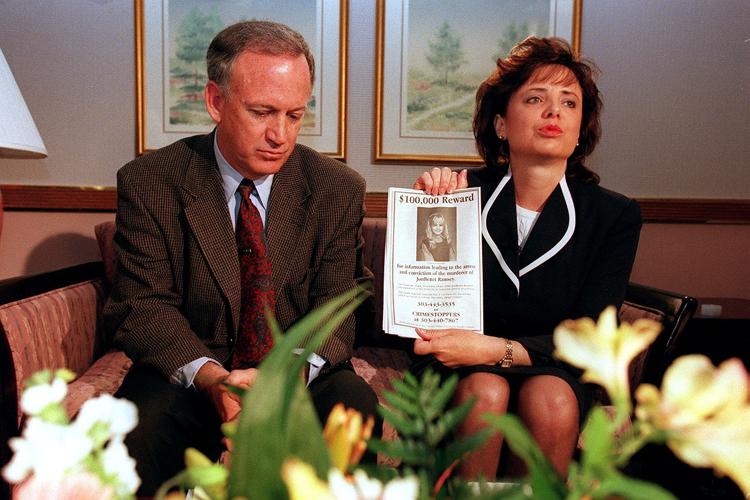 Patsy died from ovarian cancer on June 24, 2006, two years before she and John would officially be cleared of any wrongdoing in relation to JonBenét's death.
Their book "The Death of Innocence" was published in 2001 and it is just another example of the influence the cybersleuth community has had on the case.
Chapter 28, titled "Rumble on the Internet," introduces an internet poster named Jameson.
"While most opinions floating through cyberspace were hostile toward Patsy and me, Jameson maintained a straightforward approach to reporting information that was generally factual and correct," John wrote.
In the fall of 1997, Jameson would pen a letter to the Ramseys, letting them know she is a North Carolina woman named Susan Bennett.
Jameson met the Ramseys in Atlanta coffee shop Moonbean in 1998.
"I wanted to thank her for being one of the very few supporters of our innocence," John wrote. "We expected to meet briefly, but it ended up that we talked for over three hours."
John describes Jameson as a regular-looking mom with long dark hair, big eyes and broad smile.
"She had a good sense of humor and wasn't sure how she had gotten so wrapped up in all of this," he added. "If anything, Jameson was on the quiet and shy side."
Jameson told the Ramseys about her journey and explained to them how the message boards and chat rooms worked.
"Jameson soon found that other forums would ban her involvement because they decided she was too pro-Ramsey," John wrote.
Then the chapter dives into the Donald Foster fiasco.
"What an ego!" John wrote. "He should have bitten off his tongue, but it looked okay to me when I saw him on television."
While Jameson believed the Ramseys were innocent, she made her intentions with the Ramseys clear as their first meeting came to a close.
"As we ended our conversation, Jameson looked both of us straight in the eyes. 'While I totally believe you are innocent, I will continue to look at any evidence the other side shows me … If anyone proves that you were involved in the murder of your baby, you will find me as tenacious an enemy as I was a friend,'" John wrote.
As they parted, Jameson asked Patsy what people could do to show they care. Patsy said people could hang an angel on the tree next to JonBenét's grave.
Jameson returned to North Carolina and collected angels to be put on the tree on JonBenét's birthday. Jameson wrote on her angel: "Happy Birthday, JonBenét. From Jameson."
John wrote that one of Jameson's enemies learned of this, went to the cemetery, took the angel down and posted a photograph of the stolen angel on the Boulder News Forum.
Final Thoughts
JonBenét's murder is one of six cold cases listed on the Boulder Police Department's website.
Her murder along with the 1983 slaying of 22-year-old University of Colorado student Sid Wells are the only two unsolved homicides listed.
Boulder Police have not given up and neither has Jameson.
I have not spoken to Jameson face-to-face since we met at the Hickory Regional Airport 16 months ago.
Through our minimal interactions over email and through pure observation through message board posts, chat logs, two brief videotaped interviews and more, I can admire her perseverance.
While it may be hard for some people to understand why a person, who is not a professional investigator, would spend over 20 years trying to solve the murder of a little girl they never knew, I understand it.
Jameson, who is now in her 60s, described herself in her pre-cybersleuth days as a housewife who homeschooled her kid and baked bread all day. I imagine in 1997 when Jameson first heard of what happened to JonBenét, she put herself in the Ramseys' shoes. She saw herself and her husband in John and Patsy and she saw her own child or children in JonBenét and Burke.
I can only speculate that her obsession grew from empathy and quickly spiraled to what it is now.
If Jameson were a trained investigator, perhaps she could have been hired by the Ramseys or the Boulder Police Department to help assist in the case. JonBenét's murder inspired Donald Foster, along with dozens if not hundreds of others in various professions, to take a look at the case and offer up their expertise.
"Somebody says, 'but you're addicted, you're addicted.' Well, everybody's got an addiction whether it's to their job or golf or going to bars. Everybody's got something in their life," Jameson said on CNN in 2006.
Perhaps this addiction will lead Jameson to discover something that puts JonBenét's killer behind bars.
If anyone has any piece of information, no matter how big or small, that could be used to solve JonBenét's case, tips can be made by calling the Boulder Police Department at 303-441-1974 or emailing BouldersMostWanted@bouldercolorado.gov. Anonymous tips can be made by calling 1-800-222-TIPS (8477).
Correction: This article was amended on Dec. 23, 2018, to clarify the possible charges the Ramseys faced. 
Jordan Hensley is the court reporter at the Hickory Daily Record. ​
Stay up-to-date on what's happening
Receive the latest in local entertainment news in your inbox weekly!