I watched a tractor hauling a piece of heavy machinery move slowly along 1st Ave. S in Conover and thought of Kelvin White. Maybe it was Kelvin at the wheel, I mused. Kelvin is considered a success story among folks at the Catawba County NCWorks office where he got help finding and funding truck driver training, putting him on an employment path that suited him perfectly. More than an NCWorks story of accomplishment, though, Kelvin is a walking testimony of personal triumph, a poster-guy for pulling himself up by the bootstraps and beating the odds.
Kelvin is 46 years old. About 10 of them were spent in prison after conviction for robbery with a dangerous weapon. The incident was drug related, Kelvin shared. "I put myself in a position to get charged in the first place, and I went and did my time," he stated. "I'm a changed man now."
Kelvin grew up in Newton. He found himself "living the fast life," as he put it. "Selling drugs. Making fast money," he admitted. "A lot of money means a lot of women."
Kelvin was in several prison camps in North Carolina, the final one being the minimum-security Catawba Correctional Center in Newton. "From some great prison overseers, I got help dealing with some personal issues like patience," Kelvin explained. "They also helped me make a life plan for when I got out." He named Catawba Correctional Center superintendent Tim Kerley and assistant superintendent Angie Binge as influencing him the most.
However, Kelvin wasn't aided or influenced by anyone when he made the first — and most important — decision at the start of his incarceration. It was his and his alone. "Mind your own business," he said about how a newly imprisoned person must behave. "There are all kinds of ways to stay in trouble while in prison." Kelvin said inmates can get drugs, they can steal, they can basically just continue doing the things that got them into trouble in the first place.
"I had a lot of time to sit back and think," said Kelvin. "I knew I couldn't keep doing the same thing and expect different results."
"You have to make a change inside [prison]," Kelvin continued. "You can't wait until you're out, or you'll just go right back to doing what you were doing."
Kelvin took every class that prison offered: brick masonry, carpentry, electrical wiring, to name a few. He earned work release while at the Newton facility and was employed at Synthetic Finishing in Long View. All the while, he did research to determine what sort of work he could do when he got out that would earn him a good living while providing an enjoyable experience. For Kelvin, the answer was trucking: "I know that's a guaranteed job that's always going to be there no matter what. People always got to have their product moved."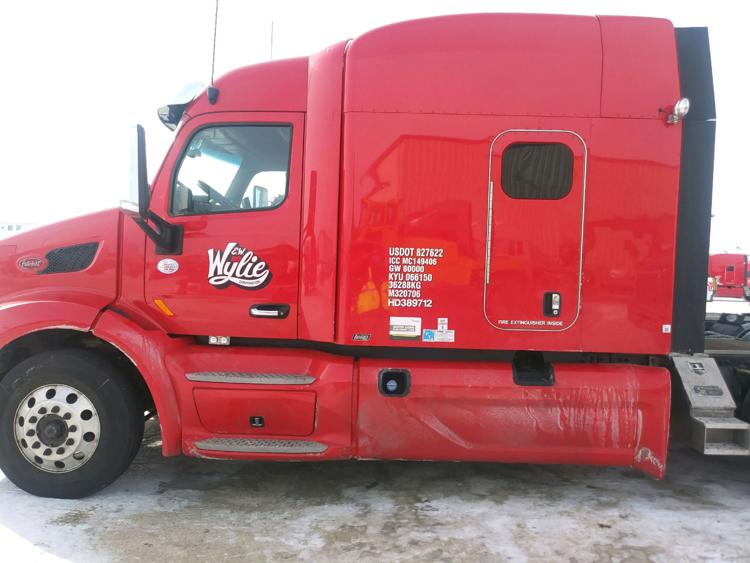 Truck driving would satisfy a number of Kelvin's passions: his love of driving, his appreciation for vehicles, his mechanical aptitude, and his desire to see the country.
Kelvin needed a commercial driver's license (CDL), which meant he needed training. That's where NCWorks came in. As soon as Kelvin was released from prison, he contacted the Catawba County NCWorks Career Center. With an NCWorks scholarship, he took classes at TransTech, a trucking school in Newton.
"[Career advisor] Megan Vann has been a great help to me from the beginning," Kelvin reported. "She went far and beyond to help me attain my CDL, and she continues to maintain contact. She calls to check on me — to see if the job is treating me right."
It took Kelvin 10 weekends to complete his truck driver's training. "The biggest challenge was getting used to that double clutch," he said, saying he had a tendency at first to try to drive the truck like a regular straight drive.
During the training phase, Kelvin continued working at Synthetic Finishing. He graduated on April 22, 2018, and began driving a truck for a Statesville company less than a month later. He's left that business for another that offered a better opportunity. Kelvin's currently with E.W. Wylie Corporation, which is based in Sanford, N.C. "We move everything: heavy equipment, cable reels, pipes, plated steel, lumber." The largest piece he's moved was a front-end loader. When Kelvin gets to the destination, he drives the heavy machinery off the step deck (a type of long trailer).
Kelvin's had no accidents maneuvering his big rig. Even snow hasn't presented a problem. "You just got to slow down and keep going," said Kelvin. "Take your time and keep moving."
And he doesn't take his eyes off the road. "I don't mess with my phone at all," he announced. "Not until I get completely stopped."
During long trips, Kelvin sleeps in his truck at rest areas. He enjoys a heating and cooling system that doesn't require that the engine be running.
Kelvin said he's "making money the right way" these days. The former drug user and seller now understands he can have a good life without drugs. He just had to have patience.
And the icing on the cake? Kelvin has a "special someone" who's OK with all the time he has to be away. "She knows I'm living my dream," said Kelvin with a big smile.
Kelvin still minds his own business, and it's paid off. He doesn't go to places — bars, clubs, homes — where he'll run into the people with whom he led his "previous life," as he referred to it. "I had to distance myself," he stated.
According to the Western Piedmont Workforce Development Board, "for the state of North Carolina, the three-year recidivism rate is 40%." Kelvin is well on his way to proving that his name will never be found among the 40%.
Next time you see a tractor pulling a step-deck loaded with some gargantuan piece of equipment, think of Kelvin and the real possibility that lives can change when folks offer support instead of closing their minds.