VALDESE — Valdese will feature the talents of Carson Hill on the Family Friday Nights Summer Concert Stage beginning at 7 p.m. on Friday, Aug. 16.
Carson Hill, based out of Franklin, TN, is creating a name for herself across the southeast as a singer, songwriter and guitarist. She began writing and performing her original songs at an early age, winning over the hearts of many in her home state of North Carolina. She moved to the Nashville area at the age of eighteen to pursue her songwriting career.
Hill's music has a mix of country and folk elements, which come to the forefront on her latest singles, "Under The Skin" and "Staying Low," produced by Brad Smith, founding member of Blind Melon.
Concessions will be for sale during the concert and a 50/50 raffle will be offered sponsored by Valdese Rotary Club. For further information about events in Valdese and the full concert schedule go to www.visitvaldese.com or call 828-879-2129.
Taylorsville summer concert series ends with Pan Jive
TAYLORSVILLE — In partnership with the Town of Taylorsville and Alexander County Government, the Hiddenite Arts & Heritage Center's 2019 Summer on the Square Free Concert Series will conclude with a performance by Pan Jive.
This free community event will be held on Friday, Aug. 16 beginning at 7:30 p.m. at the new Alexander County Courthouse Park, located at 131 West Main Avenue in Taylorsville. In case of rain, concerts will be moved to the Center's Educational Complex (70 Hiddenite Church Road). Audience members are encouraged to bring lawn chairs and picnic blankets for their convenience.
Pan Jive has been in existence since 1998. The group has evolved into a professional, working ensemble based out of Hickory. Pan Jive is a high-energy steel drum band, offering the sounds of the Caribbean islands as well as many popular and original compositions.
Annual Festival of the Arts planned in Hudson
HUDSON — The fourth annual Hudson Festival of the Arts will be held Friday, Aug. 16 and Saturday, Aug. 17 at the HUB Station in Hudson.
The festival will open on Friday at 5 p.m. in downtown Hudson. Art will be on display in downtown businesses and on Central Street. A cruise in will be held on central street beginning at 5 p.m., followed by a concert in Windmill Park at 7 p.m. Food and beverages will be available.
Vendor booths will open Saturday from 10 a.m. until 4 p.m. The festival will feature artists, musicians, food trucks and wine. A Contra Dance, which will be held in the auditorium that night from 6:30-8:30 p.m., will close out the festival.
For more information, visit the Hudson Festival of the Arts Facebook page or call 828-726-8871.
Neighborhood watch group plans community meetings in Conover
CONOVER — The Southwest Conover Community Neighborhood Watch will hold a series of programs, called 'Conover Community Conversations,' in the coming months.
The first program will be held Tuesday, Aug. 20 at 7 p.m. in the community room of Conover Station, and will focus on natural disasters and the Carolina Thread Trail (CTT). Karen Yaussy, Director of Emergency Management for Catawba County, will focus on the Hazardous Mitigation Plan Update, which addresses natural disaster events.
Bret Baronek, the director of the CTT, will also speak to the history of the trail concept, location of existing connections and future connection plans in Conover and Catawba Valley and regional updates.
On Tuesday, Sept. 17 at 7 p.m., transportation planning and land development will be the topic of discussion. This program will be held in the community room of Conover Station.
Brian Horton, Metropolitan Planning Organization (MPO) transportation planner for Greater Hickory, will discuss the role of transportation planning and land use planning. He will provide updates on current projects, proposed plans and other topics.
The Catawba County 2020 census will be discussed at the Tuesday, Oct. 15 program, held at 7 p.m. in the community room of Conover Station. The Catawba County Census 2020 Complete Count Committee will co-sponsor Stacey Careless, Executive Director of the NC Counts Coalition, to address the significance of the census for communities.
For more information call 828-308-4175. Refreshments are provided at each program.
Back to School luncheon planned at Arts and Heritage Center
HIDDENITE — The Hiddenite Arts & Heritage Center will sponsor their Back to School Salad Luncheon fundraiser on Tuesday, Aug. 20. This fun community event will be held at the Center's Educational Complex (70 Hiddenite Church Road) from 11:30 a.m. to 1 p.m.
The Back to School Salad Luncheon will feature a buffet of delicious homemade salads and desserts prepared and donated by generous volunteers and supporters.
Admission cost for the homemade salad buffet, dessert and beverage is $8 per person. Carry out orders will also be available for your convenience. All proceeds from this event will benefit the Hiddenite Arts & Heritage Center's ongoing programming.
The Hiddenite Arts & Heritage Center is seeking volunteers and donations for the luncheon. If you would like to donate a salad or dessert for the event, please contact Karen Walker at 828-632-6966 or karen@hiddenitearts.org Volunteers to help with food preparation and serving during the luncheon are also welcome.
Karma yoga class offered at Patrick Beaver Memorial Library
HICKORY — Join Yoga Instructor Pradnya Bhende, a.k.a. Swati, at Patrick Beaver Memorial Library for free Karma Yoga classes every Wednesday at 6 p.m.
Prior yoga experience is not necessary and classes can be joined at any time. Simple, safe and practical yoga stretches and movements are taught to help the Karma yogis relax as well as strengthen the mind-body-spirit.
Bhende offers modifications to people with little to no mobility. The class puts emphasis on mindfulness and universal meditation based on the concept of good 'karma,' or deeds. This class is not a substitute for any medical or mental health issues. Participants are asked to wear comfortable clothing and bring a yoga mat.
Karma Yoga is offered at Patrick Beaver Memorial Library on Wednesday evenings at 6 p.m. The class is free and open to adults, teens and children ages 10-16 with an accompanying adult. For more information call 828-304-0500 ext. 7235 or visit www.yoga-reflection.com.
Local actors return to the stage for Hickory Community Theatre's "Hair" production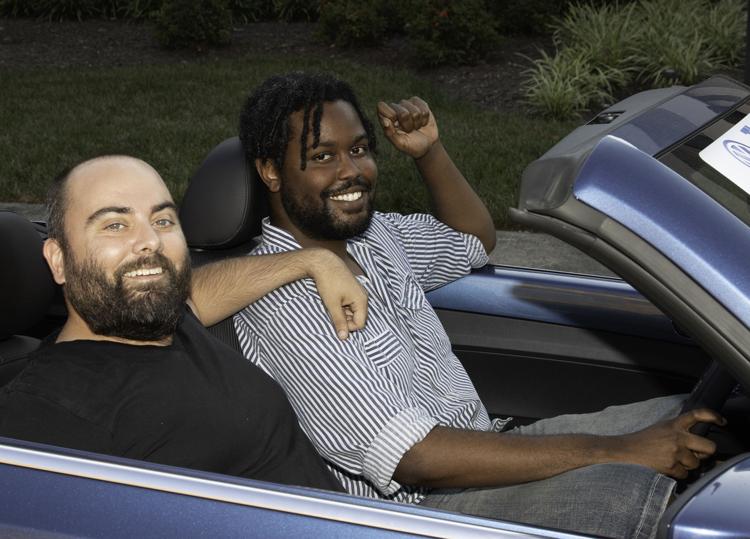 HICKORY — Local actors Taylor Edwards and Donovan Harper will be back on stage together in the Hickory Community Theatre's (HCT) upcoming production of the landmark rock musical, "Hair."
Edwards plays the character of Woof, a gentle soul who extols sexual practices and loves to grow things. "Hair" is Edwards' third show with HCT. He played Dave (of Dave and the Sweethearts) in "Dreamgirls," and was one of the pit singers for "Mamma Mia!" He lives in Hickory and is the site manager for the Henry River Mill Village.
Harper is playing Hud, a black man who describes himself as "the president of the United States of love." Harper is a very familiar face with local audiences and "Hair" is his 15th show at HCT in the past six years. He made his debut in "Willy Wonka Jr." in 2013 as the iconic candy maker. His most recent role was the romantic lead, Orlando, in "As You Like It." He is a home care worker for ARC of North Carolina.
Performances of Hair are Fridays and Saturdays (Sept. 6, 7, 13, 14, 20 and 21) at 8 p.m., Thursdays (Sept. 12 and 19) at 7:30 p.m. and Sundays (Sept. 15 and 22) at 2:30 p.m.
Tickets for Fridays, Saturdays and Sundays are $20 for adults, $18 for seniors and $10 for students and youth 18 & under. Thursday night tickets are $16 for all adults and $10 for students and youth 18 & under.
Call the box office at 828-328-2283 or visit hickorytheatre.org to purchase tickets or get more information.
Plans made for annual Foothills Folk Art Festival
NEWTON — Foothills Folk Art Festival organizers recently announced support from Catawba Valley Community College (CVCC) as the festival's 2019 presenting sponsor.
The juried festival, which will feature close to 100 local and regional folk artists, is a partnership between Downtown Newton Development Association (DNDA) and Hickory Museum of Art (HMA).
Festival hours will be 10 a.m. to 4 p.m. on Saturday, Oct. 5, in downtown Newton. The festival was recognized as Special Event of the Year by the N.C. Main Street & Rural Planning Center and as Hickory Daily Record's Festival of the Year for Catawba County in 2018.
Admission to the Foothills Folk Art Festival is free. Visitors will have the opportunity to purchase a wide variety of folk art directly from the artists. In addition, there will be artist demonstrations, live music, food vendors, a beer garden and other activities.
Festival volunteer committees are now being formed to organize everything from parking and signs to children's art and food. To volunteer, contact Shannon Johnson, Newton Main Street Program manager, at 828-695-4360 or sjohnson@newtonnc.gov.
Festival sponsorship opportunities allow DNDA and HMA to raise funds to provide services within their respective missions. Sponsors enjoy a variety of benefits at a range of sponsorship levels. If you are interested in sponsoring the festival, please visit www.foothillsfolkartfestival.com/sponsor-opportunities.