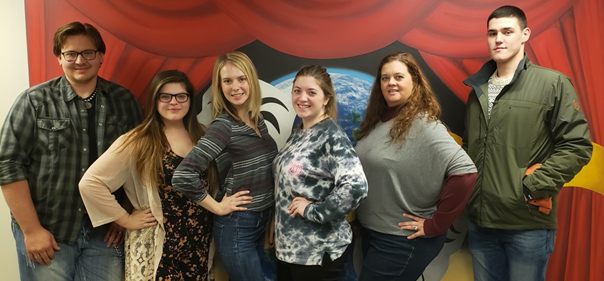 The Green Room to hold first production of 2020
NEWTON — Join The Green Room Community Theatre for their first show of the new decade, 'Crimes of the Heart.'
In this 1981 Pulitzer Prize winner, written by Beth Henley, three sisters – one unmarried, one a failed singe, and one out on bail for shooting her husband – gather, awaiting news of their dying grandfather. Their troubles are highlighted by the other colorful characters of Hazlehurst, Mississippi. 
Production dates are Jan. 10, 11, 17, 18, 24 and 25 at 7:30 p.m. and Jan. 12, 19 and 26 at 3 p.m. Ticket prices are $18 for adults, $16 for seniors (age 60+), and $14 for students (age 13+). The show is rated PG-13.
'Crimes of the Heart' will be performed in the smaller, more intimate Black Box Theatre located in the Old Post Office Playhouse with its entrance on West A Street.  Many of the performances in the Black Box Theatre sell out.
The Box Office is open Wednesday-Friday from 10 a.m. to 5:30 p.m. throughout the run of the show. Call the Box Office at 828-464-6128.
The show is directed by Christian Underwood and is produced by Whisk & Barrel. For more information, call The Green Room Community Theatre at 828-464-6583 or visit www.thegreenroomtheatre.org.
Meet first candidate for Hickory Community Theatre' Artistic Director search
HICKORY — Eric Seale, the first of four candidates vying for the job of Artistic Director at the Hickory Community Theatre (HCT), will be in Hickory the weekend of Jan. 18 and 19. There will be three opportunities for members of the public to meet him.
The first opportunity is for local actors. Seale is holding a workshop on performance techniques and rehearsal exploration for actors on Saturday, Jan. 18 at 1 p.m in the Firemen's Kitchen at HCT. The workshop is limited to 20 participants and advance registration is required to participate. To register, email pam@hickorytheatre.org.
For the general public, Seale will be conducting a "TalkBack" following the matinee performance of 'American Buffalo' on Sunday, Jan. 19 at approximately 5 p.m. in the Firemen's Kitchen. This event is open to all, regardless of whether you have attended the show that day. If you do plan to attend the show, tickets may be purchased online at hickorytheatre.org or by calling the box office at 828-328-2283.
Following the "TalkBack" there will be an open reception upstairs in the main lobby for anyone who would like to attend. The Guild@HCT is providing light hors d'oeuvres and non-alcoholic beverages. Wine and beer will be available for purchase.
Seale's theatrical career has had a focus on directing and administration, but also includes extensive work as a performer, designer and producer.
He served three seasons as the artistic managing director of Central Kentucky Theatre (CKT), where he orchestrated a company rebranding as well as overseeing a massive renovation of the performance space both in style and performance capability.
Before joining CKT he served five seasons as artistic director of Actors Guild of Lexington (AGL), where he created a new performance venue for the company and eliminated debt while building and developing a new thriving audience.
Seale's had previously served AGL in their old space first as director of audience development and then as associate artistic director. Before that, he was a founder and executive producer of The Balagula Theatre and the artistic director of the "Surprise Theatre" series.
Hiddenite's Emerging Artists Wall features artistic chiropractor
HIDDENITE — During the months of January and February, the Hiddenite Arts & Heritage Center's Emerging Artists Wall exhibit space features the work of Dr. Mark T. Freeman.
Freeman is a lifelong learner, but a relatively new artist. A chiropractor for 23 years, he currently operates a practice in Taylorsville, but also holds degrees in biology and in nursing.
"Color and texture are my favorite 'go-to' elements for interpreting artistic inspiration," said Freeman. "My favorite medium right now is acrylic, but I literally want to learn how to use them all. I like sharing my work with my patients in my office and it was my first 'gallery.'"
The exhibit is on display on the third floor of the Center's Lucas Mansion, which is located at 316 Hiddenite Church Road in Alexander County. All Emerging Artists Wall exhibits are free and open to the public Monday through Friday from 10 a.m. until 4:30 p.m. and on Saturday from 10 a.m. until 3 p.m.
Stay up-to-date on what's happening
Receive the latest in local entertainment news in your inbox weekly!