HICKORY — The City of Hickory's Sails Original Music Series returns to The Sails on the Square in downtown Hickory on Friday, Sept. 6 with Missy Raines.  
Raines is a celebrated bluegrass bass player in Nashville, who has now entered the world of songwriting.  In her newest release, "Royal Traveller," she takes meaningful lyrics and combines them with the sweet sound of her bass to create modern bluegrass songs. 
Dubbed the "First Lady of Acoustic Bass" by Bluegrass Now magazine, Raines is a 7-time winner of the International Bluegrass Music Association (IBMA) Bass Player of the Year award, a singer, a songwriter and a teacher, as well as a bandleader.
She is also a member of the First Ladies of Bluegrass band, formed by the only female musicians to win an IBMA Player of the Year award.
The show begins at 6:30 p.m. and will run every Friday evening throughout the month of September. The band lineup includes Sierra Ferrell featuring Nate Leath on Sept. 13, Mac Arnold and Plate Full O' Blues on Sept. 20 and Moves on Sept. 27.
Due to recently-installed sod as part of the Union Square renovations, attendees are asked to refrain from using the lawn areas. Audience members are encouraged to bring lawn chairs for seating on the brick pavers and concrete areas.  
Olde Hickory Brewery and Silver Fork Winery will sell beer and wine in designated areas, and there are a variety of close-by restaurants to patronize.
The City of Hickory has also partnered with Lenoir-Rhyne University to "Paint the Town Red" the week of Sept. 1 - 7, leading up to the football season home opener on Sept. 7. A Paint the Town Red Pep Rally will kick off the Sails Music event in downtown Hickory on Sept. 6. Visit www.LRBears.com/PTTR for more details.
For more information about the Sails Original Music Series and upcoming bands, please visit the Sails Music Series Facebook page at www.facebook.com/SailsMusic.
Upcoming Hickory Community Theatre production opens next week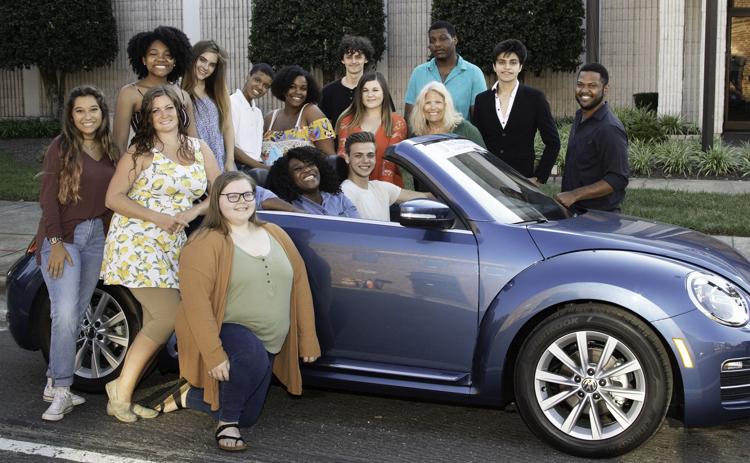 HICKORY — Coming on the heels of the 50th anniversary of Woodstock, the Hickory Community Theatre's (HCT) mainstage season opener, "Hair," opens next week on Friday, Sept. 6.
When it first debuted on Broadway in 1968, "Hair" was a groundbreaking theatre experience and the first to feature a score made up entirely of modern rock music. 
"Hair" was originally produced as a protest to contemporary issues facing the country and contains themes of race, sexual freedom, environmentalism, religion and freedom of speech.  
The musical brings to life the story of a New York tribe of hippies in the "Age of Aquarius," bohemians living, loving and protesting social injustice and repression. Claude, Berger, Sheila and their friends struggle to find their place in the world amid the sexual revolution, rejecting their parent's conservative values. 
"Hair" contains strong language, adult situations and very brief nudity so it is recommended for mature audiences only. Performances of Hair are Fridays and Saturdays (Sept. 6, 7, 13, 14, 20 & 21) at 8 p.m., Thursdays (Sept. 12 & 19) at 7:30 p.m. and Sundays (Sept. 15 & 22) at 2:30 p.m. 
Tickets for Fridays, Saturdays and Sundays are $20 for adults, $18 for seniors and $10 for students and youth 18 & under. Thursday night tickets are $16 for all adults and $10 for students and youth 18 & under. Call the box office at 828-328-2283 or visit www.hickorytheatre.org to purchase tickets or get more information.
Auditions for upcoming Green Room Community Theatre production planned
NEWTON — Auditions for Disney's musical, "The Little Mermaid," will be held on Sept. 9 and 10 at 7 p.m. The show is being present by McCreary Modern.
Join Ariel as she seeks to explore the world up above in this colorful and energetic stage adaptation of one of Andersen's most beloved stories. This show contains all the characters and songs you love from the Disney animated version including "Under the Sea," "Kiss the Girl," and "Part of Your World." 
Roles, including ensemble and principles, are available for adults and students 9th grade and up. The role of Flounder may be played by someone 8th grade and under. Please note that a majority of the roles will be offered to older youth and adult ages. 
Please prepare a selection of a musical theatre song for your audition. Please do not sing a song from the show for your audition. Instead, sing a song related to the show or character that you would like to play in "The Little Mermaid." You may also be asked to do a cold reading from the script. Be prepared to dance for your audition. Wear appropriate clothes and shoes that will help you easily move. Callbacks for principal roles will be Wednesday, Sept. 11.
You must be available for tech week and all performances. Show dates are Nov. 15, 16, 17, 22, 23, 24, 29, 30 and Dec. 1, 6, 7, 8.   There will also be Producer's Nights on Nov. 14 and19, and School Shows on Nov. 22, 26 and Dec. 6.
All auditions will be held at the Old Post Office Playhouse located at 10 South Main Avenue, Newton, NC 28658.  Please enter at the lower level door at the back of the building (on South Ashe Avenue). 
This musical is based on the Hans Christian Andersen story and the Disney film, produced by Howard Ashman and John Musker, and written and directed by Musker and Ron Clements. The music is by Alan Menken, lyrics by Ashman and Glenn Slater, and the book is by Doug Wright. 
If you have any questions, please call The Green Room Community Theatre at 828-464-6583 or visit our website: www.thegreenroomtheatre.org.
Share the Harvest banquet planned for September
NEWTON — Eastern Catawba Cooperative Christian Ministry (ECCCM) announced the Share the Harvest Banquet to be held Sept. 14, at the Catawba Country Club.  
The annual Share the Harvest Banquet will highlight the Faith of Fifty years for ECCCM and will begin with a social at 5 p.m., with dinner at 6 p.m. followed by dancing. The event includes live music by The Extraordinaires, a silent auction, raffle and more. Tickets for the event are $75 per person and may be purchased online at www.ecccm.org
ECCCM remains true to the mission of the original founders in 1969, bringing together the resources of the Christian community to serve the people in need of crisis assistance, support and education, in response to God's call.  
The Food Pantry is a key component for ECCCM and the people they serve. Food insecurity affects 20% of Catawba County residents.  In 2018, ECCCM provided 1.3 million pounds of food to those in need.
ECCCM, a Catawba County United Way partner agency, provides assistance with mortgage/rent payments, utility bills, hunger relief, transportation, and financial coaching. The organization has extended "a hand up, not a hand out" to those in need in eastern Catawba County since 1969, never turning away a qualifying client.
Call for vendors for Claremont Daze event
CLAREMONT — The City of Claremont announced the 2019 Claremont Daze Festival will be held Friday, Oct. 4 and Saturday, Oct. 5. 
Applications for vendors are due to City Hall by close of business on Sept. 27, and must include a nonrefundable booth fee made payable to the City of Claremont. Applications can be found online at www.cityofclaremont.org or at Claremont City Hall located at 3288 East Main St. in Claremont.
Booth spaces are 12ft x 12ft and vendors must furnish their own tents and supplies. Vendors can choose to exhibit on both days or just on Saturday. Please inquire before sending in form and payment about whether your booth will be accepted or not. The City only allows a certain amount of each type of vendor and spots are filling up quickly.
Claremont Daze fills Main Street with food, live music, shopping, games and hometown pride. The live music lineup will consist of Carolina favorites, including rock, top 40, gospel, bluegrass, country and beach music. Check out the City Facebook page for the artist lineup. An event for all ages, the festival will include a variety of food vendors, a beer garden, kid's area with inflatables, crafts, business booths, car and truck show and more.
For more information about Claremont Daze or becoming a vendor, please contact City Hall by phone at 828-466-7170 or email at kmiller@cityofclaremont.org.