HICKORY — On Friday, Nov. 1 at noon, the First Friday Local Author program at Patrick Beaver Memorial Library will feature lifelong educator and author Patricia Middleton.
Middleton is the author of two children's picture books. Her writings have also appeared in Sophie Woman's Magazine. Both books were illustrated by Adele J. McCarty.
Middleton has a Master's Degree in Education and has been an educator in the Hickory area for 35 years. She is a child advocate who is dedicated to bringing families together for quality time and sharing.
The November program will take place in the upstairs conference room. The public is welcome to bring lunch to eat during the program, which is free and open to the public.
To request an application to be a featured local artist, email Linda Campbell at lcampbell@hickorync.gov or ask for an application at the Reference Desk of the Patrick Beaver Memorial Library. Authors representing children, young adult, and adult literature are encouraged to apply.
For more information, call 828-304-0500. Patrick Beaver Memorial Library is located at 375 Third Street NE on the SALT Block.
Annual quilt workshop planned at Hiddenite Arts & Heritage Center
HIDDENITE — The 32nd Annual Quilt Workshop, sponsored by the Brushy Mountain Quilters Guild and the Hiddenite Arts & Heritage Center, will be held on Saturday, Nov. 2 at the Center's Educational Complex (70 Hiddenite Church Road in Alexander County).
This exciting event hosts quilters from across the region for their choice of 5 all day classes in quilting techniques and production.
The 1-day workshop hours are 8:30 a.m. until 5 p.m. Openings are available in each of the 5 classes: Big Block Jelly Roll by Carol Britt, Diamonds in the Sky by Linda Bryant, Beginning Applique by Patsy Caraway, Cone Flower Garden By Susan Edmonson and Painted Barn Quilt Class by Carol Mitchell.
The registration fee is $75 per person, and includes instruction in the class of the participatn's choosing, coffee break and instructor's display, lunch, Lucas Mansion Gallery tour and dessert.
Class sizes are limited; interested quilters are encouraged to register by calling the Hiddenite Arts & Heritage Center at 828-632-6966 or email karen@hiddenitearts.org.
In addition to the scheduled classes, the workshop will feature shopping in a special one-day Fabric Nook, provided by Carol Britt's Batiks Etcetera Sew What Fabrics. The shop is open to the public as well as to workshop registrants.
Bluegrass concert to be held in Valdese
VALDESE— Concerts at the Rock proudly welcomes Russell Moore & IIIrd Tyme Out on Nov. 2, with doors open at 6:30 p.m. Having performed for the first time at the Old Rock School in the early 1990's, IIIrd Tyme Out is no stranger to the Valdese stage.
For over 28 years, Russell Moore & IIIrd Tyme Out have been touring and releasing original bluegrass music. After spending some formative years as a member of Doyle Lawson & Quicksilver, Russell Moore formed IIIrd Tyme Out in 1991, and bluegrass music hasn't been the same since.
The current IIIrd Tyme Out lineup includes a mix bluegrass veterans and some of the music's hottest young pickers. Wayne Benson has been a member of IIIrd Tyme Out for years, and has remained among the top mandolin players in bluegrass for over two decades. Keith McKinnon plays a mean five-string banjo, and Nathan Aldridge's traditional fiddle style gets audiences on their feet. Dustin Pyrtle is the band's newest member, playing bass and singing stellar harmony. The culmination of talent has made for one of the most exciting IIIrd Tyme Out lineups to date.
Doors will open at 6:30 p.m. and tickets are $20 in advance and $25 at the door. Discounts for veterans and children are available by calling 828-879-2129 to purchase. Tickets are also available online at concertsattherock.com.
Craft Club to hold program at Patrick Beaver Memorial Library
HICKORY — Join the Craft Club at Patrick Beaver Memorial Library on Monday, Nov. 4 at 6 p.m. to make a fairy house from an old book.
The library will provide books and librarian Beth Bradshaw will show you how to make the folds to create a house that you can decorate any way you like. Bring accessories to decorate your creation or decorate it at home.
The Craft Club at Patrick Beaver Memorial Library is free and open to the public. No registration is required. For more information, call 828-304-0500.
Cast announced for upcoming production at Hickory Community Theatre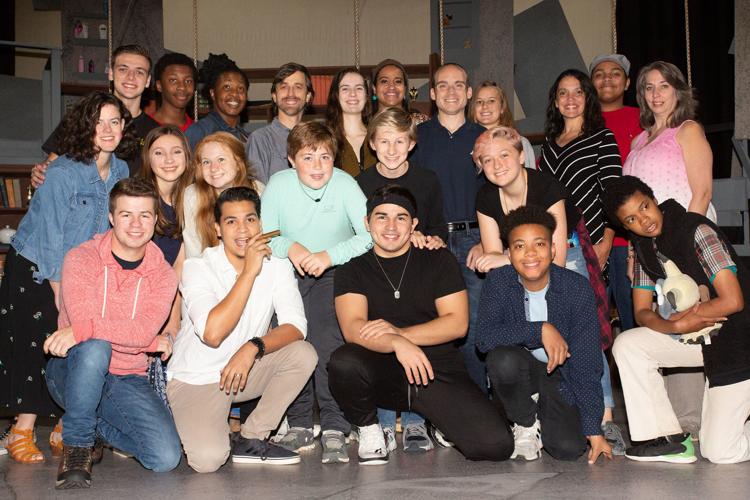 HICKORY — Guest director Rick Seay has announced the cast for the Hickory Community Theatre's upcoming production of "Newsies!," opening on Nov. 22 in the Jeffers Theatre.
Based on the real-life Newsboy Strike of 1899, this new Disney musical tells the story of Jack Kelly, a rebellious newsboy who dreams of a life as an artist away from the big city. After publishing giant Joseph Pulitzer raises newspaper prices at the newsboys' expense, Kelly and his fellow newsies take action.
Corey Knighton, fresh from his star turn as Claude in "Hair," is playing Jack Kelly, reporter Katherine Plummer is played by Mikeala Skelton and Jared Wachsmuth and Grant Sizemore play brothers Davey and Les Jacobs, the newest newsboys. In supporting roles are Mason Burr as Crutchie, Iris DeWitt as Medda Larkin, Watts Rogers as Spot and Chad Schuermeyer as Pulitzer.
Ensemble performers playing multiple roles are Sonya Briggs, Cameron Carroll, Raylen Christian, Tiffany Christian, Alissa Corey, Charlotte Dick, Denise Erby, Jordan Erby, Scott Hudson, Toré Ledford, Sal Loza, Danica Marr, Mary Melnyk, Bryon Phillips, David Sandoval, Emily Stober, Jaid Tilyer and Hayden Waugh.
Performances of "Newsies!" are Fridays and Saturdays (Nov. 22, 23, 29, 30; Dec. 6 and 7) at 8 p.m., Sundays (Nov. 24, Dec. 1 and 8) at 2:30 p.m. and Thursday, Dec. 5 at 7:30 p.m.
Tickets for Friday, Saturday and Sunday are $20 for adults, $18 for seniors and $10 for students and youth 18 & under. Thursday night tickets are $16 for all adults and $10 for students and youth 18 & under. Call the box office at 828-328-2283 or visit www.hickorytheatre.org to purchase tickets or get more information.